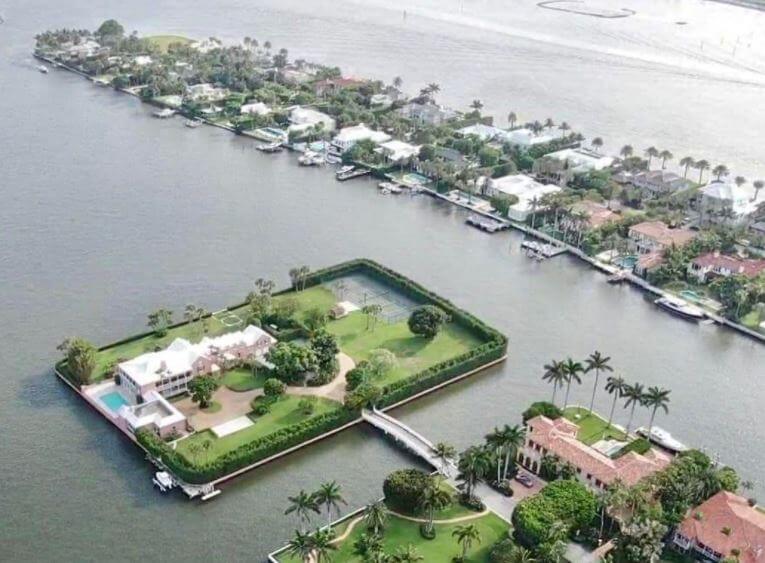 Private Island in Palm Beach Set to Sell for Nearly $90 Million
The private island and residence will be renovated and expanded
A property selling in the high eight digits doesn't happen every day, even in Palm Beach. The fact that it's a private island helps to justify that price.
Local developer Todd Michael Glaser is in the process of purchasing Tarpon Island for $90 million so he can completely renovate the property, which sits on 2 ½ acres of land. The 1930s-era residence is only accessible by taking a small bridge or utilizing a boat, helicopter or seaplane.
"Most people in Palm Beach don't even know this island exists," he told the Wall Street Journal.
Glaser plans to expand the residence to about 22,000 square feet of living space. The renovation project includes indoor and outdoor pools, a tennis pavilion and a paddle ball court.
The property was owned by William and Eileen Toll, and Glaser said it took him nearly a year to the owner convince to sell; he foresees vast potential with the property.
"It's classic old Palm Beach glamour," Glaser said. "Imagine attending a fundraiser there. You have a fabulous time and then you throw your check in a little bucket as you go over the bridge on your way out."
This isn't the first mega-property in Palm Beach Glaser plans to buy and renovate. He recently purchased Jeffrey Epstein's Palm Beach mansion with plans to demolish the estate and construct a new one. Good plan: There's not enough sage in the world to clear the evil spirits from that house.
While the $90 million price tag is jaw-dropping, the potential Tarpon Island sale still pales in comparison to a Palm Beach oceanfront mansion listed at nine digits: $140 million.
Photo credit: Jay Bruns