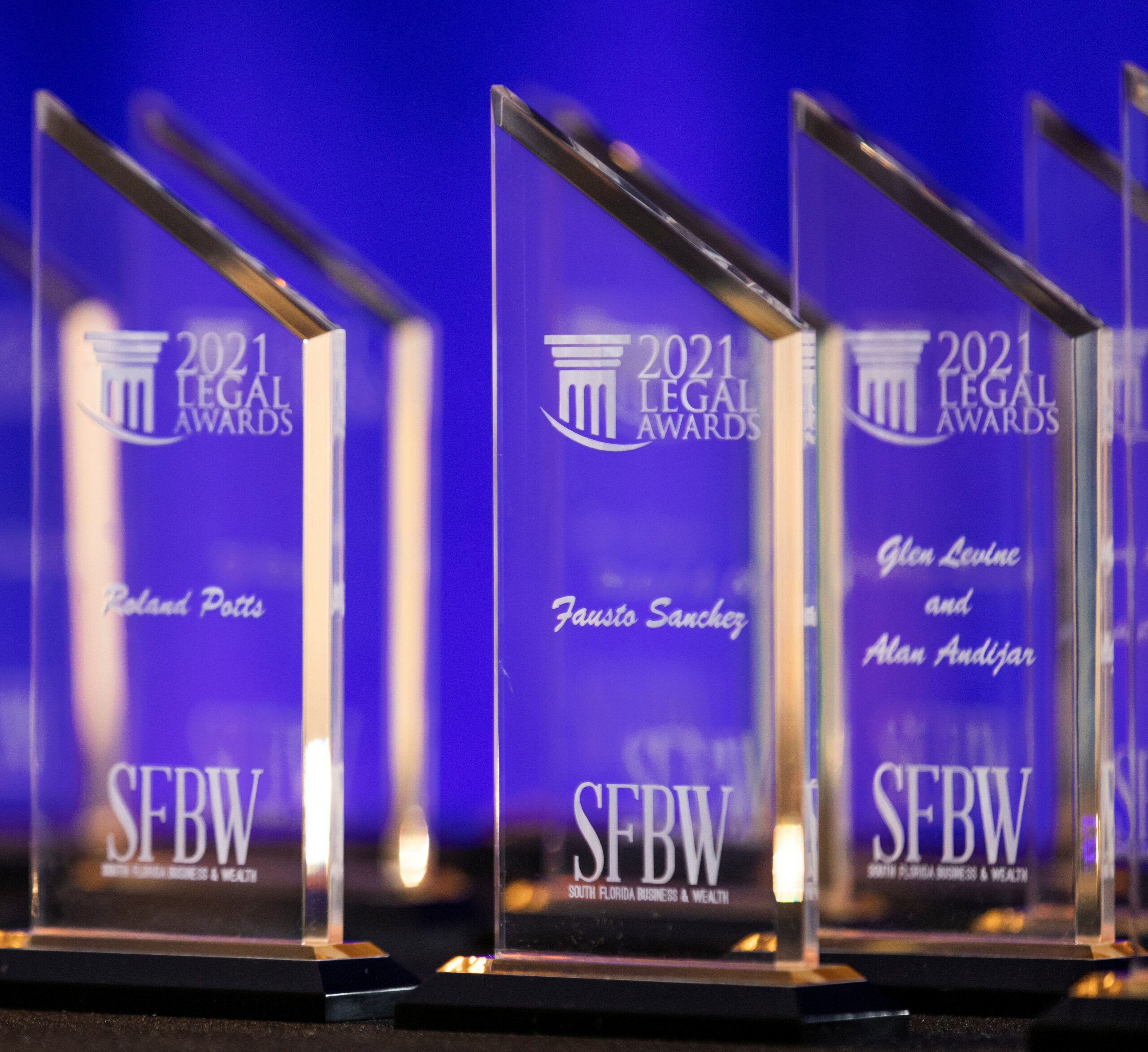 SFBW's Legal Awards Bring out the Best in the Industry
Museum of Discovery and Science was the site for an evening of honors and cuisine
At SFBW's annual Legal Awards, hosted by Fort Lauderdale's Museum of Discovery and Science, no one made any shark lawyer jokes. No one had to. In one of the magazine's liveliest and best-attended events of 2021, a giant megalodon—an extinct species of mackerel shark that lived approximately 23 to 3.6 million years ago—was the unignorable backdrop to a celebratory gathering of South Florida's brightest legal lights.
If the guests were fashionable, the vibe was anything but formal, as lawyers and the tech and logistical personnel that partner with them were easily coaxed into diving into the very mouth of the shark before a bevy of revelers strode to the stage to collect their awards.
"Over the course of several months, the SFBW editorial team undertook extensive research to identify the most successful and forward-thinking legal executives throughout South Florida," announced SFBW's managing director, Kim Sarni, explaining that nominees were judged with a points-based ranking system. The points were awarded for nominees' success, growth, professional accomplishments, as well as charitable and civic achievements. "Throughout the past year and more, the business landscape in South Florida has seen some turbulent changes," Sarni said. "I commend every honoree here this evening for persisting and continuing to push through barriers to become even greater professionals."
In short order, sponsors of the event appeared onstage to offer remarks: certified public accountant Timothy R. Devlin, co-managing partner of Daszkal Bolton (presenting sponsor); Mike Wolfson, director of sales and business development at C3 Complete (gold sponsor); Jason Timmons, senior vice president, private banker manager, law firm group, at City National Bank (gold sponsor); and Anthony Foscolos CFO of NPerspective (gold sponsor). Silver sponsor Jessica Grenat also took a bow for the gastronomic delights she offered courtesy of her events company, Red Chair Catering.
From practice areas from family and international law to litigation and social impact, the region's most accomplished attorneys were toasted and applauded by their peers, none more so than the honorees for lifetime achievement, Manuel Dobrinsky of Dolan Dobrinsky, and Peter S. Sachs of Sachs Sax Caplan.
The evening ended with Red Chair's chocolate-covered strawberries, and no one left without a bite—at least none of them fatal.