Three South Florida companies have teamed up to help athletes protect themselves against the coronavirus.
Brad Rosenblatt, owner and CEO of Rene Ruiz Wholesale Inc. and the Rene Ruiz Collection, entered a joint venture with renowned board-certified orthopedic surgeon Dr. Keith Hechtman, a team physician for division 1 intercollegiate athletic programs, and Courtney Young, athletic director at Riviera Prep in Miami. Together, they introduced CAGEMASK, a patented product. Hechtman, founding member of the UHZ Sports Medicine Institute and the Miami Anatomic Research Center, designed the masks to allow athletes a freer flow of air while stopping the forward exhalation. The product was developed through months of testing and working with doctors and players under CDC guidelines.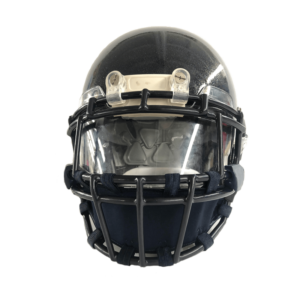 3"CAGEMASK has a unique two-layer fabric construction, when combined with a visor, functions as a face shield while allowing heat dispersion and absorption of moisture to prevent fogging," said Rosenblatt. "At Rene Ruiz Wholesale Inc., we are thrilled to partner with Dr. Hechtman and Courtney Young to manufacture these exceptional sports shields that can not only save lives, but also allow sports seasons to safely continue."
Rene Ruiz pivoted from its evening gown production at its Hialeah design studio to create the CAGEMASK products for distribution. The venture has provided employment for Rene Ruiz Wholesale Inc. employees while the evening gown business has decreased, due to the COVID-19 pandemic.
The product is being distributed throughout the country with users such as the Washington Football Team, which will use them during practice to reduce the spread of the virus between their practice squad and their first-string players. High schools from all over the nation have purchased the masks including Ransom Everglades School in Miami as well as Broward County Public Schools, which plans to use it for football, hockey, lacrosse and softball for the spring 2021 semester.
"Broward County Public Schools always attempts to lead by example while infusing innovative concepts and products. We feel that these face coverings will provide a great service to our schools and add another layer of protection for our athletes," said Director of Athletics and Student Activities for Broward County Public Schools Shawn M. Cerra.
CAGEMASK is reusable, washable, durable and adaptable. It attaches easily to a variety of helmet and cage designs. The stretch design also reduces the risk of injury of another player's finger(s) from being caught between the cage and mask. It will not tear or rip. The middle of the mask/shield has two layers of fabric or plastic that are sewn into the snaps, elastic edging, and straps to ensure maximum durability. It is available in two styles: black, two-layer fabric and clear polypropylene. The two-layer fabric mask is best suited to football linemen, who present the greatest need due to proximity to other players. The clear polypropylene CAGEMASK is transparent and adaptable for hockey, lacrosse, football, softball and youth baseball/t-ball. Learn more by visiting cagemask.com.