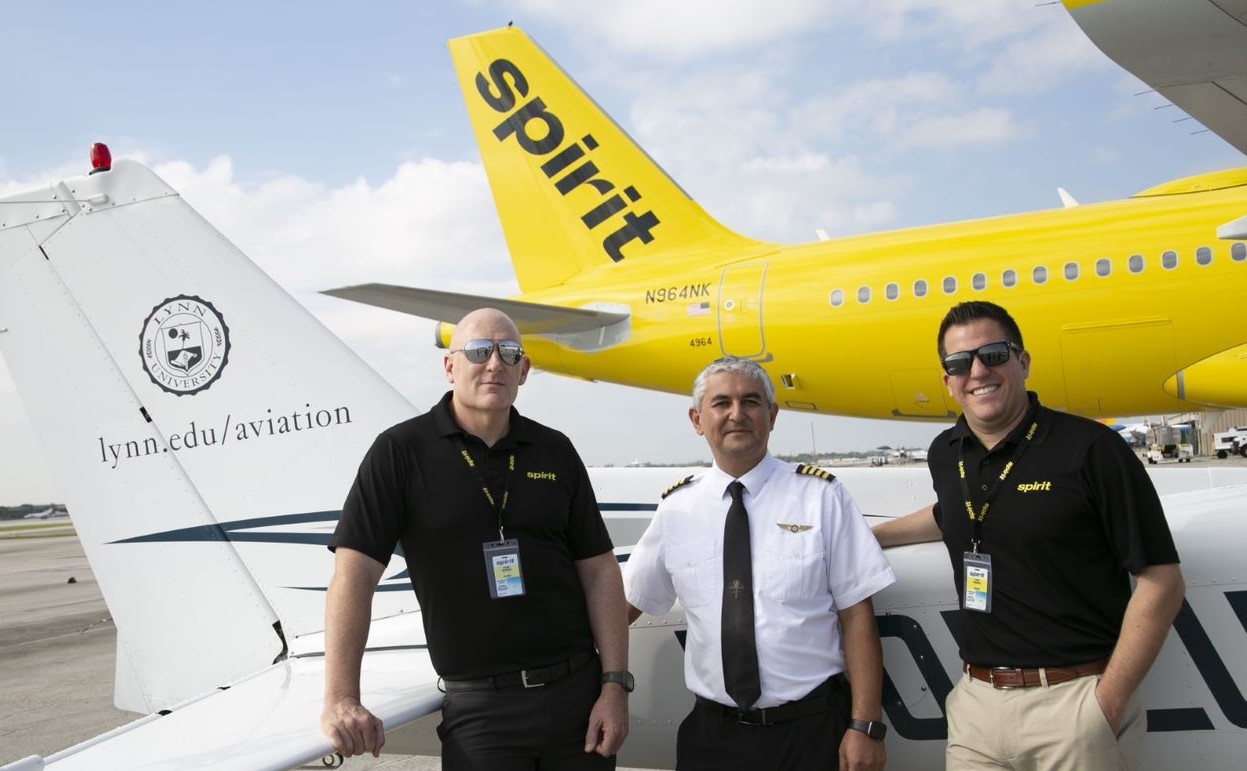 Spirit Airlines and Lynn University Launch Airline's First University-Based Pilot Training Program
The partnership aims to expand the airline's pipeline of professional pilots
Aspiring pilots looking to start a professional piloting career can jumpstart their path in South Florida with the launch of the Spirit Wings Pilot Pathway program at Lynn's Burton D. Morgan College of Aeronautics in Boca Raton. Spirit Airlines and Lynn University created the program to allow students to attend a traditional university while gaining experience toward a future career flying the carrier's signature yellow planes.
"This opportunity with Spirit Airlines opens another door for Lynn's highly trained students to advance and achieve success in their future aviation careers," Mike Petroski says, interim dean for Lynn's Burton D. Morgan College of Aeronautics. "The program allows Spirit access to our pool of talented aeronautic students, who in turn will receive mentorship, quality training, and the opportunity to progress to a rewarding career at a commercial airline."
Spirit Wings Pilot Pathway offers mentorship, program guidance and a clearly defined path to becoming a Spirit First Officer. Lynn students can apply for the program after completing their sophomore year and obtaining a recommendation from a faculty member in the College of Aeronautics. If successful in Spirit's interview process, they will receive a conditional offer of employment and a Spirit Electronic Flight Bag (EFB). They will be mentored as they work toward completing their degree program and the flight hours required for an Airline Transport Pilot (ATP) certificate.
"As a Lynn graduate, it's especially rewarding to work with my alma mater and create valuable opportunities for the next generation of pilots," Ryan Rodosta says, Senior Director of Flight Operations and System Chief Pilot at Spirit Airlines. "Lynn and Spirit both have a strong presence in South Florida, which makes for an exciting collaboration as the school develops highly skilled pilots for our growing airline."
Spirit flies some of the industry's newest, most fuel-efficient aircraft over 90 U.S., Latin America and Caribbean destinations. Many more brand-new planes are planned for delivery in 2023, creating opportunities for First Officers to upgrade to Captain quickly. Spirit's Pilots recently approved a contract with a significant pay increase and enhanced benefits. Spirit also offers its Pilots industry-leading training.
For more information about the program and application process, visit Spirit Wings Pilot Pathway | Lynn University.