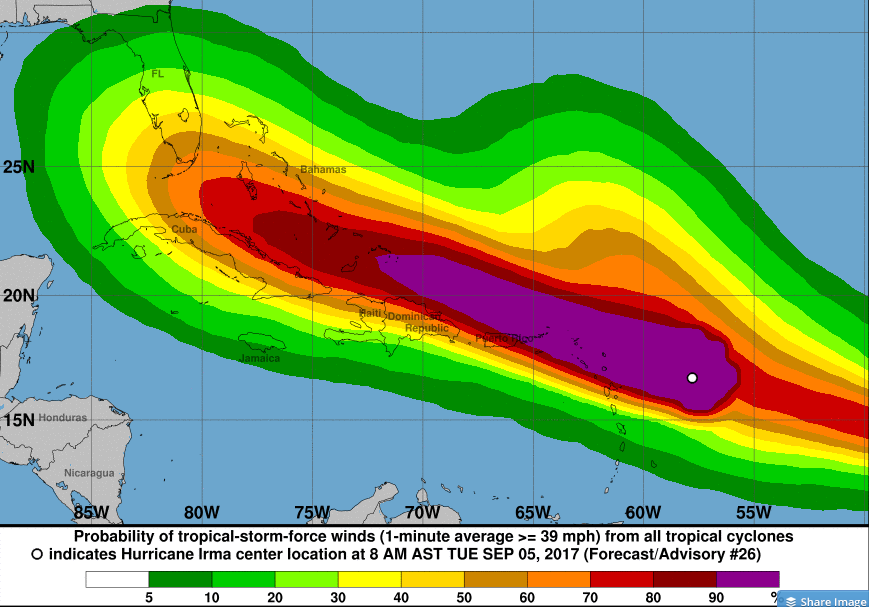 Steps businesses can take in advance of Hurricane Irma
With Hurricane Irma heading towards Florida, there are steps businesses can take to prepare. Here are tips from FEMA, the South Florida Regional Planning Council, Travelers Insurance and the Caribbean Disaster Emergency Management Agency:
Pay close attention to forecasts in order to know when to take action. Hurricane watches are issued 48 hours before the anticipated onset of tropical-storm-force winds. Hurricane warnings are issued 36 hours in advance of anticipated tropical-storm-force winds. An extreme wind warning is issued an hour before sustained winds of 115 mph or more are expected, which usually indicates the eye wall is approaching.
Confirm that your employee contact lists are up-to-date.
Let employees know what number to call for information on when to report back to work.
Ensure sufficient communication systems are in place and operational.
Maintain proper emergency supplies on-site.
Review your insurance policy.
Evaluate your information technology network and verify that protection and back-up mechanisms are in place.
Ensure remote access to your company's website so updates about your availability can be made.
Coordinate with emergency response teams.
Compile a kit that includes blueprints for key facilities and an emergency contact list, such as local fire and police departments.
Confirm that employees are familiar with your organization's emergency response plan and know whom to contact.
Move merchandise, equipment and furniture away from windows and skylights to protect them from water damage.
Clear desks and table tops of small loose items
Remove pictures and plaques from walls.
Identify lightweight, loose items in outside storage areas that may be blown around in the wind.
Ensure all vehicles are serviced and fueled. Determine where they can be stored to safely weather the storm.
Disconnect all electrical appliances and equipment
Box or place any loose papers, books, hanging plants, etc. in desk drawers or storage cabinets
Relocate as many files, boxes, computers and other office equipment as possible to the innermost portion of the building or to a designated offsite safe place
Remove contents of lower file cabinet drawers on ground floors and secure contents at a higher elevation
Cover merchandise, office machines, computer terminals and other office equipment and furnishings with heavy plastic and secure with duct tape.
Close and lock all windows; draw the blinds or drapes.
Turn off the circuit breaker for all electricity, except for refrigeration, and lock all doors when you leave. (Take into account beforehead how this may affect your alarm system.)
Strap or anchor to the roof deck support assembly (the joists) all roof‐mounted equipment such as HVAC units and exhaust vents.
Have cash on hand for post‐windstorm needs, such as buying food and supplies, or paying employees and contractors.
Repair and fill above‐ground tanks with fresh water.