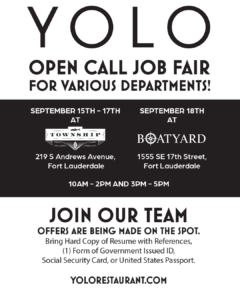 With the hospitality industry starting to return to pre-COVID levels, hiring workers continues to present uniques challenges. To fill nearly 100 vacant positions, a four-day job fair hosted by the Restaurant People's YOLO restaurant aims to bring the popular eatery back to full force. While renovating to prepare for an opening during Q4 of 2021, YOLO has available positions that include server, bartender, hostess, food runner, line cook, grill cook, dishwasher, prep cook, busser and barback.
The job fair lasts from 10 a.m. to 2 p.m. and from 3 p.m. to 5 p.m. Wednesday, Sept. 15 through Friday, Sept. 17. at Township Fort Lauderdale,  219 S Andrews Ave. and Boatyard Fort Lauderdale, 1555 SE 17th St.
Since its founding in 1997, The Restaurant People has developed, managed and operated more than 70 restaurants in South Florida, including YOLO and O Lounge, S3, Boatyard, Spatch Grilled Peri-Peri Chicken, Casablanca Café, Rooftop, @1WLO and TRP Taste and the most recently opened, Java & Jam. The group was founded by CEO Tim Petrillo, Executive Chef and Culinary Director Peter Boulukos, and Alan Hooper, Construction Development Manager. Aaron Abramoff is the chief financial officer and Stavros Florias serves as the chief operating officer.
Pay is based on experience with various positions offering professional development and growth and exposure to industry-leading methods and many cuisines. Full-time employees are offered enrollment into the insurance programs. Job offers will be made on the spot for qualified candidates. Interested applicants need a hard copy of their resume, including references and one form of government-issued ID, Social Security card or U.S. Passport. 
For more information, visit therestaurantpeople.com.