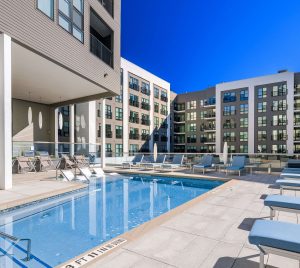 A joint venture between Wexford Real Estate Investors (WREI) and Mill Creek Residential Trust led to the sale of Modera Prominence, a mixed-use apartment community just outside Atlanta, Georgia. The Class-A luxury apartment building was sold to an affiliate of Lone Star Funds. 
The property was completed in 2021 and is located next to the Atlanta Tech Village, Peachtree Park and Buckhead Village. It sits on 2.8 acres and has approximately 319,000 square feet of rentable area, with an average apartment size coming in just over 1,000 square feet—the ground-floor retail area totals about 21,000 square feet of space.
"Modera Prominence is the epitome of luxury in Buckhead," Joseph Jacobs says, WREI president and Co-founder. "Working with Mill Creek was a privilege and it was our pleasure to partner with them on this project."
During the last quarter of 2021, WRWI oversaw the completion of several multimillion-dollar real estate deals. In December, the company joined Key International to purchase the Pompano Beach Marriott Hotel for $54 million to renovate the 219-unit property. WREI also announced a joint venture with Beztak to develop an eight-story, 277-unit Bocora apartment project located in Boca Raton on a 4.1-acre site they purchased together for $12.7 million. In late September, WREI partnered with NYC-based L&L Holding Company and Miami-based 13th Floor Investments to pursue a transit-oriented mixed-use development in Downtown West Palm Beach by purchasing a prime 2.6-acre assemblage.