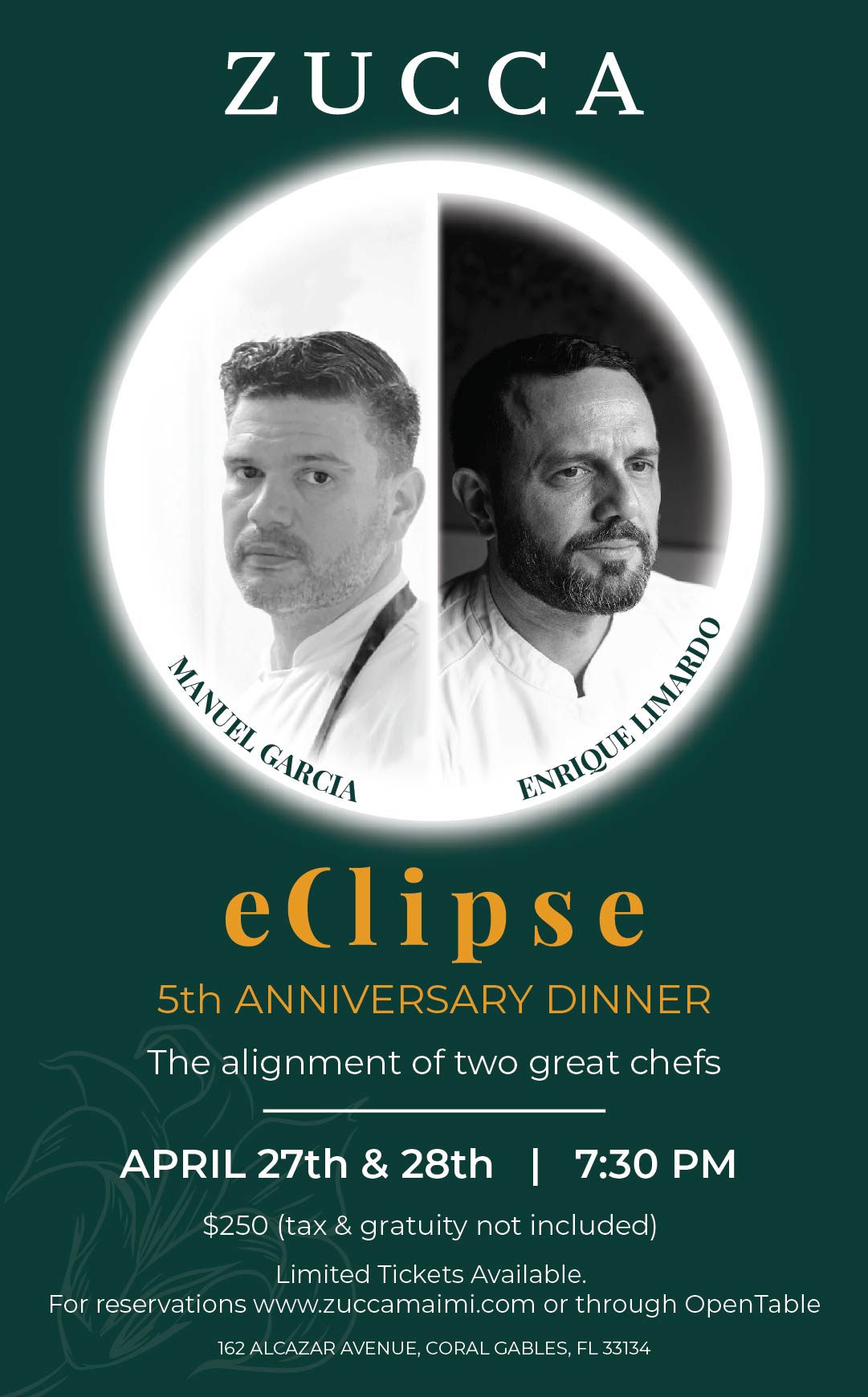 ZUCCA to Celebrate Anniversary With Six-course Culinary Experience
Enrique Limardo and Manuel Garcia will host "The Alignment Of Two Internationally Acclaimed Chefs."
To celebrate the restaurant's fifth anniversary, ZUCCA'S Executive Chefs Manuel Garcia and Enrique Limardo will curate a six-course epicurean journey in Miami on April 27 and 28. The anniversary dinner party will mark five years since the restaurant opened its doors inside the historic St. Michel Hotel in the heart of Coral Gables.
The authentic six-course meal will feature the combination of Limardo's fresh and innovative flavors with Garcia's traditional Italian cooking, providing guests a unique opportunity to see their talents in action. Featured items by Executive Chef Limardo include a bread-basket feast with Sea Urchin Butter, Wild Porcini Soup, Cured Wagyu and Tonnato, while Executive Chef Garcia will be presenting Black Tortelli with lobster and caviar as well as Filet of Veal. The chefs will also serve Crispy Tiramisu Bomb, Guava Cheesecake and Petit Fours for dessert.
Born in Caracas, Venezuela, Chef Limardo is the Chief Culinary Officer of Seven Reasons Restaurant Group and Co-Founder and Executive Chef of Imperfecto in the District of Columbia, where several dignitaries and officials enjoy dining. While working on his post-graduate degree in culinary arts, he worked alongside some of Spain's most distinguished chefs, including Michelin-star greats Joan Roca, Ramon Freixa, Xavier Pellicer, Joan Pique and Carles Gaig. In 2019, his Seven Reasons restaurant was voted number No. 1 best new restaurant in the country by Esquire magazine.
Before joining ZUCCA as its executive chef, Garcia worked at top Michelin Star restaurants in Europe, including L'esperance, La Cote Saint-Jacques and in Mostassa at Hotel Le Meriden. He has been ZUCCA's top chef since 2017, where he prepares exquisite Italian delicacies.
ZUCCA is a restaurant and bar offering authentic, artisanal Italian cuisine from a diverse range of the country's regions within a masterfully crafted, modern space. Their genuine passion involves creating tastes that excite and engage the senses through classic techniques and flawless preparation.
The curated six-course dining experience is $250 per person. Limited reservations are available, and reservations are required and must be secured in advance, as no seating will be sold at the door. Reservations can be made online through Open Table by visiting https://zuccamiami.com/anniversary-dinner/.