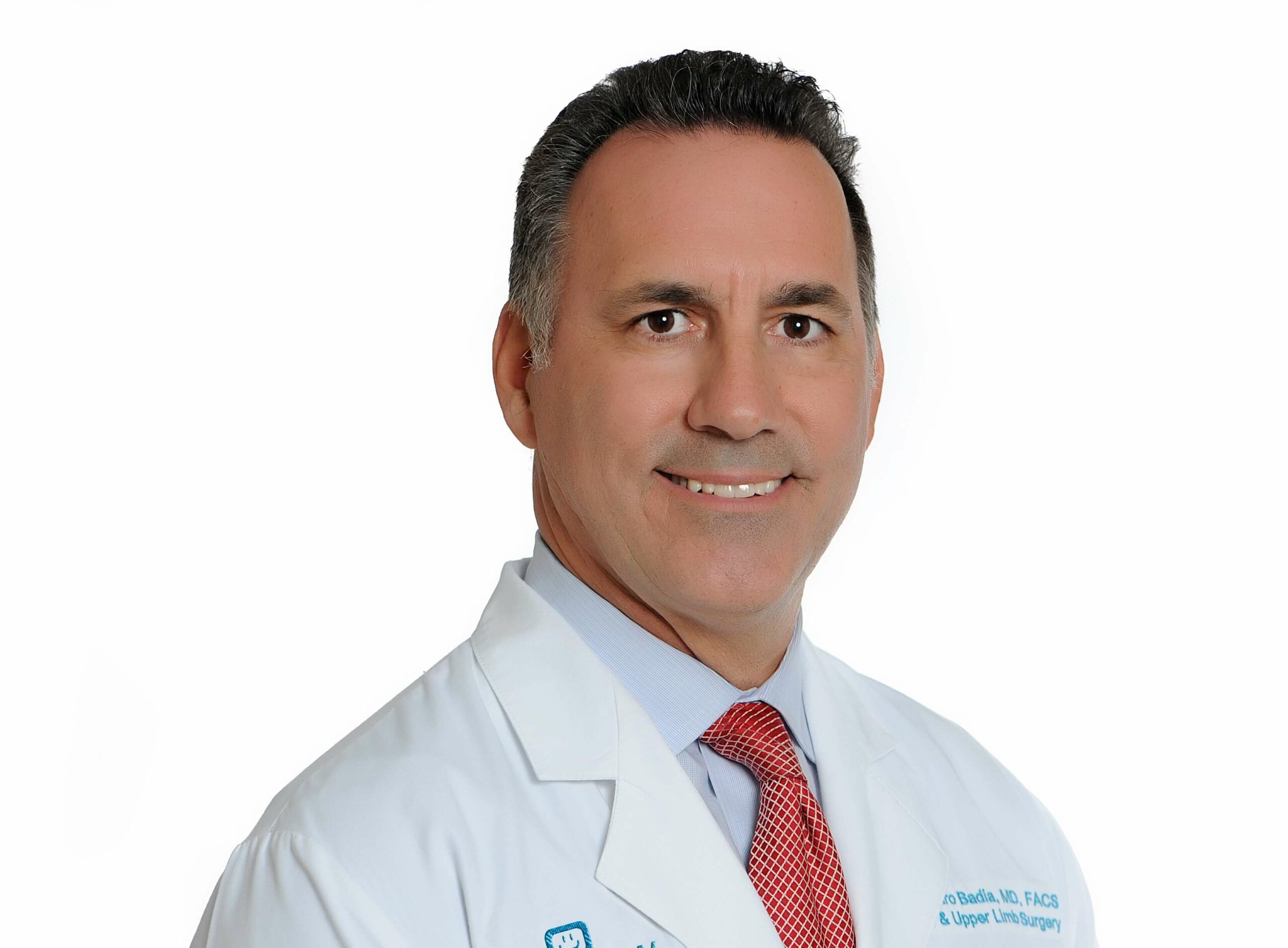 2021 Excellence in Healthcare Honoree: Alejandro Badia, MD
Meet Alejandro Badia, MD, Orthopedic Hand Surgeon/CEO at OrthoNOW Orthopedic immediate care centers
Alejandro Badia, MD, is a hand and upper extremity surgeon, author and healthcare entrepreneur in Doral (Miami), Florida. Badia studied physiology at Cornell University, medicine at NYU, and trained in orthopedics at Bellevue Hospital, followed by a hand fellowship in Pittsburgh and was awarded an AO trauma fellowship in Freiburg, Germany.
He is a past chief of hand surgery at Baptist Hospital Miami, cofounder of the Miami Hand Center in 1995 and later cofounded the Miami Anatomical Research Center ( M.A.R.C. ), the largest cadaveric surgical training lab in the world.
In 2008 he created the Badia Hand to Shoulder Center along with the Surgery Center at Doral, followed by OrthoNOW®, the first immediate orthopedic care center network now seeking to go international.
He has lectured on all seven continents and is currently focused on creating a national dialogue on why our healthcare system is so cumbersome and expensive.
Favorite Quote: Nobody cares how much you know until they know how much you care
Fun Fact: I was a competitive ballroom dancer and rugby player at the same time.
What challenges have you faced in your career, and how did you overcome them? Disrupting how orthopedic healthcare is delivered remains a major challenge, perhaps representative of the overall healthcare system problems. Bridging the gap between patient and "provider," complicated by the presence of the payor, remains a monumental challenge that I continue to work on. Education and dialogue have allowed me to partly overcome this challenge and writing a best-selling book, "Healthcare from the Trenches," has served as a useful vehicle for this engagement.
What has been the most monumental moment of your career thus far? Returning a patient to their premorbid level of function after a challenging surgical reconstruction remains a most monumental moment for me every week. A true privilege. However, a pivotal moment for me was my initial discussion with Senator Bill Cassidy of Louisiana, a fellow physician who read my book and we are both committed to true healthcare reform.
How is the healthcare industry important to you personally? I come from a long lineage of physicians in Cuba. I cannot imagine performing any other societal duty and am honored to continue this calling.
How did the pandemic disrupt your specific role in the healthcare industry, and how did you adapt? The pandemic made clear that most orthopedic care can be delivered outside the hospital, whose role should be to care for the sickest amongst us and performing procedures that cannot be safely done elsewhere. Outpatient care, whether via OrthoNOW or ambulatory surgery centers, has lower cost, greater efficiency, and as we see now, less infection exposure than traditional inpatient settings. The pandemic furthered my goal to deliver this method of care. The lockdown allowed me to write the bulk of my book in a 10 week period and help further the message of healthcare disruption.
What's the best piece of advice you've ever gotten? Maintain balance.
What do you love most about working in healthcare? The joy I feel when relieving pain, and restoring function, for someone in need.