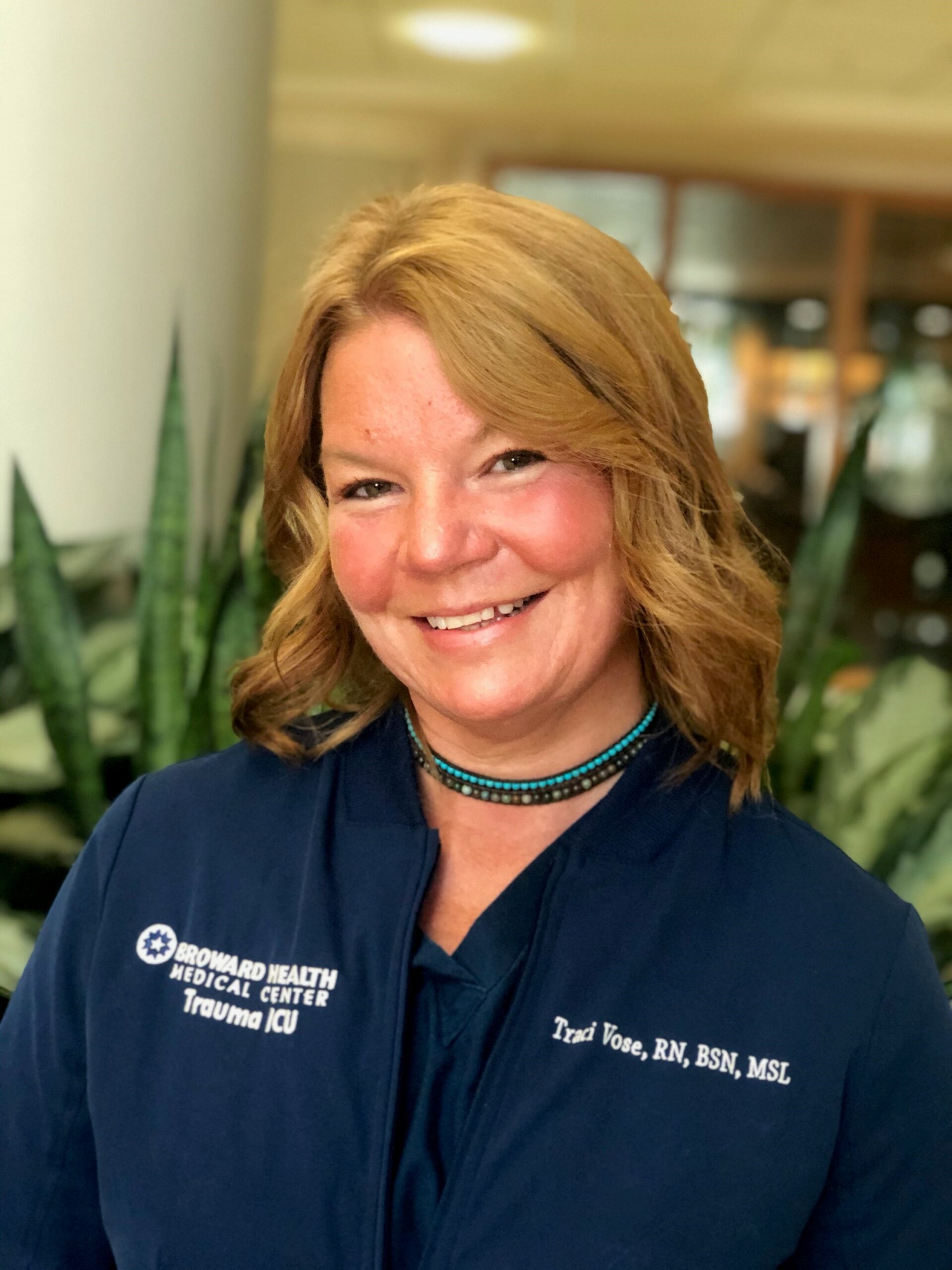 2021 Excellence in Healthcare Honoree: Traci Vose
Meet Traci Vose, ICU Nurse at Broward Health Medical Center
Traci Vose never dreamed of becoming a nurse, although she always had the instinct to take care of others. She was a single mother at an early age and knew she had to have a reliable means to care for her children. She completed her BSN followed by my Master's in leadership while raising children. She was commissioned as a nurse for the Navy nurse corps and her experiences working at BHMC in their trauma ICU have strengthened her critical care and leadership skills.
Favorite Quote: "Sometimes it is our deepest hurts and failures that define our character, that make us dig deep within and find the strength to never give up! The key is to not be blinded by the tragedy but to discover the hope."
Fun Fact: At age 49, I ran my first half marathon and joined the Navy.
What challenges have you faced in your career, and how did you overcome them? I have had many challenges in my career that could have made me want to give up starting in nursing school. Many are not aware that I failed my first year of nursing school and had to wait a whole year to reapply and be accepted. I have applied for several jobs that I did not get hired for and on many occasions, I was told "no" when trying to join the military. What I learned from this is to keep trying and never give up. Timing is essential and tenacity goes a long way, so I persevered, studied harder, took the more difficult assignments at work to make me a better nurse and guided my career in a way that would make me more competitive. I embrace failure as stair steps instead of stumbling blocks in my climb to reach my goals.
How is the healthcare industry important to you personally? Well, outside being a life-sustaining career, healthcare is a basic human necessity. I believe all people deserve, at minimum basic healthcare, which is why medical mission work is a passion of mine. The United States is so fortunate to have the healthcare system that we have. While not perfect, it is far superior to any in the world. When I witnessed families walking for days, while in Africa, just to see a doctor and just how appreciative and humble they were to receive it, it made me appreciate what we have in America. I am proud to be serving as a critical care nurse in the Navy whose other mission is to provide medical services worldwide to countries in need.
How did the pandemic disrupt your specific role in the healthcare industry, and how did you adapt? Covid-19 impacted BHMC both logistically as well as learning to treat a critical population for a virus we knew nothing about. This invoked creativity and a level of communication and teamwork I have never experienced. From the CEO down to the housekeeper, everyone was essential and played a vital role in the care of these patients. Due to the high influx of patients arriving at BHMC, we all worked many hours outside of our scheduled time. We became the first and sometimes the last person these people would ever see. We experienced death and had critical conversations with families via phone and facetime daily. But through this, we became stronger and bonded as a team. Together we learned how to treat this disease and with this, more people survived. The definition of courage is the ability to do something that frightens you and to find strength in pain or grief. I saw courage from day one and it never ceased.
What's the best piece of advice you've ever gotten? My parents taught me at an early age if someone tells you no, you're talking to the wrong person and despite failures, to learn from them while making yourself better.
What do you love most about working in healthcare? While I may see death and lay witness to the body being pushed beyond its limits, I am reminded of the miracle of life in death and in healing. None of us are in control of it, but a few of us get to be a part of the journey.