When former professional soccer player Rodrigo Garduño launched 54D in Mexico City eight years ago, his ambitions went beyond creating another fitness brand. He set out to build what he calls a "human transformation program," a lofty goal that required more than a gym full of exercise equipment or a studio full of trainers. He wanted to sell what serious clients are looking for more than anything: results. And the difference, in his view, was commitment.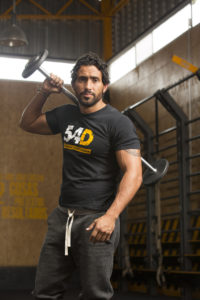 As Garduño saw it, success as a company depended on the success of each client. So when he developed his nine-week program of six workouts a week—that's 54 days, hence the company name—he added a requirement: Every student must commit in advance to giving 100 percent effort. Age, experience and ability didn't matter. If students were committed, 54D would provide everything else they needed—from expertise to motivation—to meet their fitness goals.
"We wanted to revolutionize the already saturated health and wellness market with a concept focused on training both the body and mind," Garduño says. "People appreciate our no-excuses, full-commitment approach to fitness."
Appropriately, one feature in the 54D studios comes from the soccer world—a ramp. In a lot of team sports, athletes run uphill during drills.
Business grew steadily, with a Coral Gables outpost joining existing locations in Mexico and Colombia in 2019. Then, a year later, the COVID-19 pandemic arrived, forcing all three gyms to close. (The Coral Gables site has since reopened.) The idea was just to ride it out, but once it became clear the shutdowns wouldn't be short-term, Garduño dipped a toe into the online waters by streaming classes on Instagram Live.
"Since I started playing soccer as a professional athlete, I've always enjoyed being part of a team and having that personal connection with others," he says. "Admittedly, switching to online classes was initially challenging because I'm used to interacting with people and feeding off their energy to fuel my own, but we've been able to feel very connected to our virtual audience through social media and our new platform."
Team spirit clearly attracted someone: Omar Yunez was a member and was inspired enough to jump in as CEO in 2017. "Our business model is built on delivering results, and we know we can do that onsite," he says. "But how do you do that with somebody from around the world who buys your program and they're alone with their screen?" The answer, once again, is commitment. Participants in each nine-week program, known as a "generation" just like the in-person groups, are divided into smaller subgroups.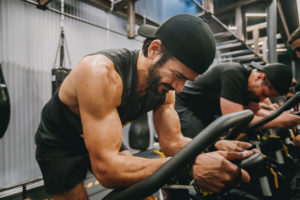 Each subgroup has a dedicated 54D coach who checks in to keep students motivated, offer guidance, and track their activity and progress. And just as with in-person programs, students who don't show the commitment they pledged upon enrollment are shown the virtual door. "One of the things that makes us unique is that we actually kick people out," Yunez says. "There are around 30 members per group, and everybody is struggling, so the group suffers if some people aren't committed."
As with the in-person programs, online classes have been filled to capacity since they launched. There are classes in English and Spanish, drawing local athletes, and participants from Latin America and from as far away as New Zealand. On the other side of the pandemic, 54D is looking forward to a future where in-person and online programs coexist. "We're probably one of the few fitness companies in the world that was able to bridge both worlds with the same quality of content," Yunez says. "We created a live program and we created something online that's similar. Digital is not something that competes with onsite—it's something that supports onsite. We have members of the online generation that now want to do the Miami onsite."
A new brick-and-mortar studio is slated to open in the Miami Design District in March 2021 and there's talk of a New York expansion. Yet growth will be a gradual process. "If things get back to normal, our projections are to build anywhere from three to five locations a year," Yunez says. "We're not high-growth. You can't focus on the customer experience at the level we'd like if you have a thousand locations."