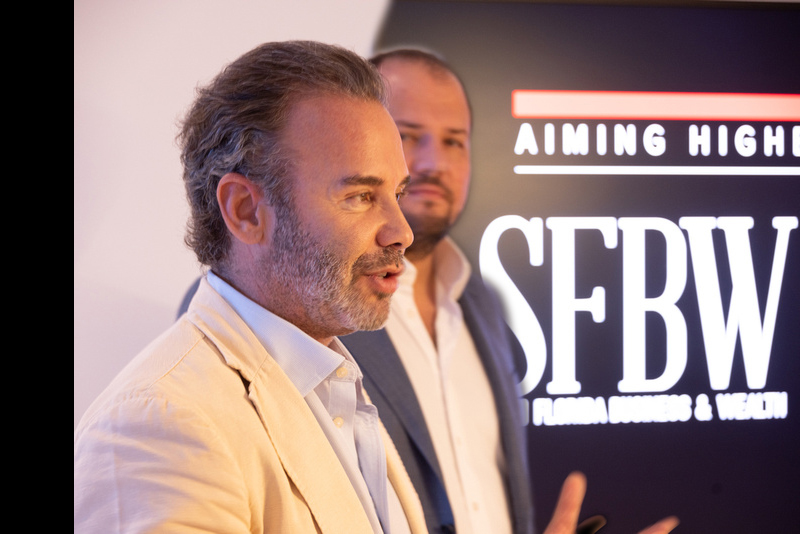 A Stylish Crowd Came Out to Get a Peek at the Sales Center at the Alba Palm Beach Residential Tower
Jay Parker and Kenneth Baboun were the stars of SFBW's CEO Connect
The setting—the sales center at Alba Palm Beach—was a vision of refined tropical modernism, courtesy of the design and architectural firm Spina O'Rourke & Partners, based in West Palm Beach. The occasion: SFBW joined Jay Parker, CEO of the Florida division of Douglas Elliman and president of Elliman's development marketing division in Florida; and developer Kenneth Baboun, the founder of BGI Cos., to host a roomful of their fans and colleagues (including a luminous Tammy O'Rourke, Spina O'Rourke's director of design) to celebrate the upcoming West Palm Beach residential tower.
The evening showcased the luxury of the boutique waterfront project: the latticed wooden canopy that hung above the dining room table; the dual-screen visualization of the Intracoastal Waterway views that the homeowners will enjoy; the bronze curbside Tesla—emblazoned with the Alba logo—that will ferry prospective buyers to the site, should they wish.
All this fanfare was intended to inspire excitement about a light and airy 22-story tower—represented that evening by a detailed architectural model that greeted guests as they arrived—that doesn't feel stacked or dense. And it worked. Even the exterior suggests the limited number of residences on each floor (from one to four, with private elevators and vestibules for discretion), while the multistory base evokes the setbacks of a ship. Residents of the 55 homes will enjoy an elevated amenities deck boasting unobstructed sunrise, sunset and water views.
Alba was 30% sold even before the sales center formally opened. Final buildout is expected in spring 2025. "Kenny did it right," Parker told SFBW for his and Baboun's October cover story. "He has a passion for excellence. There's nothing ordinary about him, nothing, and I mean this both as a compliment and a quality." Sales start at just under $3 million.
The event, catered by Nosh in Lake Worth, was everything that Parker and Baboun could have hoped for: elegant, effervescent and full of justified anticipation.
Photo by Brett Hufziger