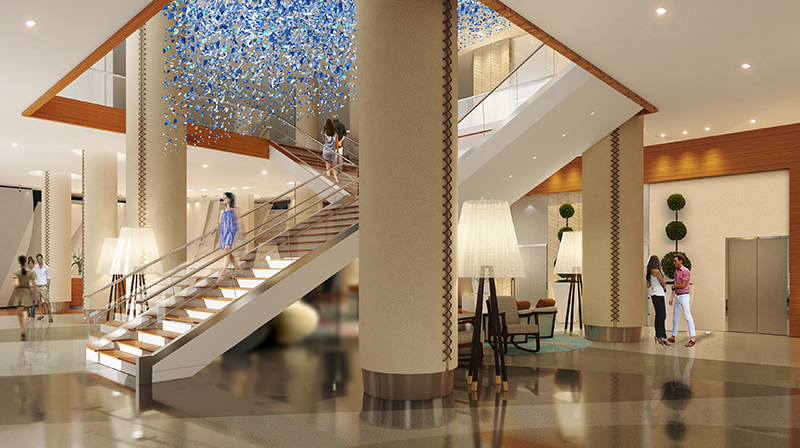 Bahia Mar Redevelopment
By Martin Lenkowsky
Bahia Mar developer Jimmy Tate says the $7.5 million renovation project at the marina and resort property will be ready in time for this year's Fort Lauderdale International Boat Show.
Tate says the work is slated for completion by the middle of October. "We've been working around the clock," he says.
The timing couldn't be better, because the Marine Industries Association of South Florida recently signed a 30-year contract, with two 10-year options, to keep the world-renowned show at Bahia Mar.
The renovation project is just the start of long-range plans for a major overhaul of the property's hotel restrooms, common areas and meeting spaces, Tate says. Plans to replace the hotel towers are also on the drawing board. They will ultimately need city approval.
In addition, Informa Exhibitions, a British-based company, just purchased Show Management, which had been producing the show. Tate is optimistic about the change. "They've been incredibly helpful," he says, adding they've designated money toward future improvements. "They'll be taking the show to a new level."
The short-term renovation will upgrade 181 guest rooms using a nautical white-and-blue color scheme with new headboards and furniture. A new, custom-designed chandelier will top the hotel's atrium. Tate says the facility's food and beverage service will also be upgraded. "We bought all new furniture," Tate says. Plus, the facility is adding a music sound system in the pool area.
"We have excursions," he says. "We have snorkeling, a pirate ship, a glass-bottomed boat and water taxis, and an overpass from the hotel to the beach," he says.
Phil Purcell, the CEO and executive director of the Marine Industries Association, is excited about Bahia Mar's future makeover, too. "They've engaged the expertise of EDSA, a Fort Lauderdale landscape and architecture firm that works with global facilities in design and engaging and moving people intelligently through developments," he says. "The process ensured the show will have a permanent home for future generations of marine businesses and boaters."
Tate says EDSA will consult for long-term planning.
Along with this renovation, other improvements are on the drawing board for Fort Lauderdale Beach. While they have been approved by the city commission, they will not be ready in time for the 2017 boat show. They are:
Oceanside Park, at the corner of State Road A1A and Las Olas Boulevard, will replace parking space.
A 670-parking space garage will be built on the north side of the Las Olas Bridge, replacing a parking lot.
Intracoastal Park, situated on the south side of Las Olas Bridge, will replace a city parking lot.
The Las Olas Marina off the Birch Road parking lot on the Intracoastal will be expanded. Two restaurants, one of them a tiki bar, will be added.
The Fort Lauderdale Aquatic Center, open to the public at 501 Seabreeze Boulevard, will be renovated.
Public parking will be added near Sunrise Boulevard on a vacant property directly south of the Bonnet House Museum & Gardens. ↵