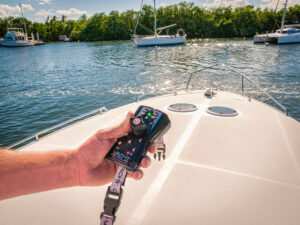 The Yacht Group plans to make a splash at the 2023 Discover Boating™ Miami International Boat Show in February with the debut of its Yacht Controller Maximo™ and Yacht Controller Supremo™ (for superyachts) systems. The Coral Gables-based company with a showroom in Fort Lauderdale, produces innovative yachting products and will celebrate its 20th anniversary by showcasing its latest invention during the annual show from Feb. 15 to Feb. 19.
"We are excited to participate in the Miami International Boat Show again and connect with partners and customers and are confident that Maximo and Supremo will set a new bar for remote yacht control," Anthony Valiente says, chief operating officer of The Yacht Group. "We're also thrilled to showcase our additional product offerings, including custom lettering, high-powered searchlights, thermal and low-light cameras and additional items. There are a full suite of products available at all price points."
The Yacht Group's Yacht Controller Maximo and Supremo systems can be managed remotely from anywhere in the world via Wi-Fi on any smart device. This process includes remote scanning for spectrum analyzation, bandwidth antenna tuning and optimization for clean transmission, setting of multiple parameters for incremental and proportional speed of engines and thrusters, including five pre-set and easy-to-select or change profiles for engine speed settings, equipment software updates and more. All other wireless controllers depend on an onboard technician to evaluate and attempt to improve reception interference, make control adjustments via mechanical settings, or fix other problems through physical equipment repair.
Owners and operators on board or off can connect directly via Yacht Controller Wi-Fi to smart devices or multi-function devices (MFDs), such as Garmin, to make on-the-fly adjustments without mechanically disassembling any part of the hardware. The product allows for additional multi-function and remotely managed equipment such as gangways, watersports platforms, cable master control and crane operation. 
Other unique features include:
64-bit quad processor for high performance with 100-channel scrolling for extreme security

Two-way communication between receiver and remote and 650-feet reliable communication

IP 68 waterproof transmitter and receiver with ISO 8846 rating

Approved and recognized by OEM electronic manufacturers and boatbuilders  
The Maximo system is a nominee for the 2023 Miami Innovation Awards, presented at the Discover Boating Miami International Boat Show. The Yacht Group won the overall Miami Innovation Award for the most innovative product for its original Yacht Controller at the Miami Boat Show in 2003.
"The Yacht Group leads the industry with cutting-edge technology that is state-of-the-art, total solutions for yachts, seen across all of its products," said Gerald Berton, president of The Yacht Group. "Maximo and Supremo harness never-before-seen technology to provide the ultimate yacht controller experience with operational ease."
The Maximo and Supremo systems will be on board various new yachts on display at the show. The Yacht Group display will be located at Booth HP400 at the Miami International Boat Show, where Maximo and Supremo, as well as The Yacht Group's additional product offerings, will be showcased.