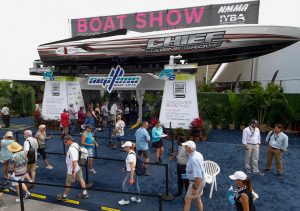 Informa Markets' commitment to producing some of South Florida's top boating and yachting events also extends to conservation efforts to help strengthen and protect Florida's natural resources and marine life. Informa Markets and its U.S. Boat Show division recently made a $300,000 contribution to the Fish and Wildlife Foundation of Florida to support the nonprofit organization's effort to preserve the marine environment. Its initiatives include: 
Manatee restoration projects support the conservation of Florida's manatee habitats.

The Outdoor Classroom project at the Loggerhead Marinelife Center supports the education and conservation to protect marine turtles and the ocean ecosystems.

The Manatee Lagoon Eco-Discovery Center's mission is to educate the public about manatees and inspire communities to preserve and protect Florida's environment for future generations.
Informa Markets also recently created its FasterForward program, intending to become carbon neutral as a business by 2025 and halve waste generated by Informa's products and events by 2025. Currently, the company utilizes renewable energy sources in 95% of its office spaces worldwide, offsetting 100% of the carbon produced by business-related travel and reducing food waste at trade show events.