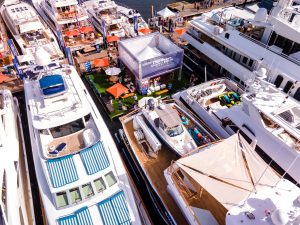 One of South Florida's premier yacht broker companies was recently acquired by OneWater Marine Inc. (NASDAQ: ONEW) with the purchase of Denison Yachting. The acquisition of Denison Yachting will help increase the OneWater portfolio featuring superyacht sales, yacht charters and ancillary yacht services, including yacht management and crew placement.
In 2021, the Denison Yachting managed over 1,000 closings and saw an increase of 177% in yacht charters. The company operates 21 offices, including eight throughout Florida and one in Monaco. It has been ranked No. 1 in the world in superyacht sales for three consecutive years based on data provided by Boat International.
OneWater Marine Inc. is one of the largest and fastest-growing premium marine retailers in the U.S. OneWater operates 75 retail locations, 10 distribution centers/warehouses and multiple online marketplaces in 20 different states. The acquisition follows record-setting numbers by both companies at the Miami and Palm Beach Boat Shows and further advances OneWater's growth and diversification strategy by enhancing its product portfolio and customer reach. 
"Strong consumer demand continues to fuel our growth and strengthens our position as industry leaders throughout the United States, Europe, and the Mediterranean," Bob Denison says, president of Denison Yachting. "Denison's team of experienced yacht brokers is unparalleled in the world of yachting. Their commitment to taking incredible care of clients will be accelerated thanks to OneWater's tools, resources, and support. We are excited to be joining the OneWater family, and we look forward to what our shared future holds."
Denison Yachting is an authorized dealer for several prestigious yachting brands, including Bertram, Beneteau Sailing Yachts, Beneteau Express GTs, Swift Trawlers, Numarine, Alpha Marine and Excess Catamarans. The acquisition is expected to help improve top-line growth, operating margin and earnings per share.
"We are thrilled to welcome Bob Denison and his team into the OneWater family, which expands and strengthens our presence in the superyacht and yacht categories," Austin Singleton says, Chief Executive Officer for OneWater. "As we move through the second fiscal quarter, we continue to capitalize on record demand and a growing backlog. Orders at the Miami Boat show were off the charts for both OneWater and Denison, which underscore our combined position as the premier marine retailer of choice, from superyachts and yachts to traditional boat sales, parts, and service. We look forward to enhancing our leadership position in the market in the coming years."