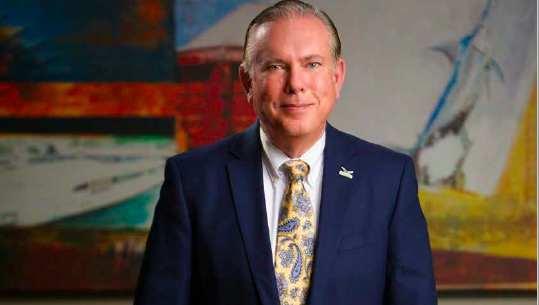 Ear to the Ground
What Bob Swindell, the CEO of the Greater Fort Lauderdale Alliance, is hearing from business leaders
University of Florida graduate Bob Swindell has overseen the Greater Fort Lauderdale Alliance for more than 11 years, and he's seen a lot. But the challenges wrought by 2020 have been unique. As vaccination numbers increase and optimism is beginning to take hold, a picture of South Florida's post-pandemic future is emerging. Swindell shares the signals with SFBW.
First, let's take the temperature of where business is now, and the birds-eye view of where we're headed for the rest of 2021.
We're more than 12 months into this shift, and we're all in the process of figuring out what parts of this will impact how we do business moving forward. I'm hearing from local business people—I was just in a Zoom meeting with a bunch of our technology companies, like UKG, Citrix, American Express. They have a huge facility out in Sunrise that supports 4,000 employees, everything from customer service to website design for their high-end card members. For a while people were telling me that July 1—quarter 3—people would start returning to their offices, but now I'm hearing the confidence is now more around Sept. 1, because of the vaccination process that allows us to reach herd immunity.
How is South Florida defining itself as the technology hub we're all hearing about?
It's been a regional effort. We work closely with the Beacon Council in Miami-Dade and Kelly Smallridge's team at Palm Beach County's Business Development Board, and the three of us are positioning and building the brand for tech in South Florida. I went to visit one of the top execs at Citrix, probably in 2007 or 2008, and we were having a meeting, and there was a really cool calendar on the wall behind him that showed the map of Silicon Valley, with the different technology companies along the freeway corridor. Finally, he looked over his shoulder to see what I was looking at. At the end of the meeting, I asked if I could have a copy of that map. He said it's three years out of date. But it didn't need to be up to date—I wanted to use something like that to show people at a glance the concentration of tech companies in South Florida.
It would certainly be a different way of looking at South Florida.
We do a great job of marketing our fun brand. We always have. South Florida is highly desirable as a place to visit, known for our tourism numbers. We're really good at that. We haven't been so good at telling the story of technology and innovation. But we can sit down with a technologist from outside the area and tell them that South Florida was home to the very first IBM personal computer, home to the first smart phone—it was a collaboration between IBM, BellSouth and Motorola. If you look at the history of innovation in South Florida, we stand strong.
What about the structure of upcoming office buildings, in light of the pandemic?
We worked with AutoNation when they moved their headquarters. Then, it was all about how to reduce the square foot per employee to make it a more efficient space and reduce costs. Now that whole concept is being reconsidered. You want to have media rooms when you need to facilitate a large group of people working on a project together, but also smaller spaces and individual offices to have the option of avoiding a big bullpen. Right next to my office is a big building going up called the Main—two towers: one residential and one commercial office. It's the first new inventory we've gotten in downtown Fort Lauderdale in 10 years. I've watched it come out of the ground. They did a lot of research into what their floorplate would look like, and they went with 25,000 square feet. That seems to be the magic number—multiples of 25,000 square feet give you the right balance.
And what are you hearing from tech leaders about remote work?
I thought the technology companies had this all figured out with remote working and everything else, but they're having the same conversations in their executive suites that we're having. What does work style look like? Do people have to come into the office every day? I'm hearing that a lot of innovation occurs when people run into each other in the hallways and talk about a challenge they're both dealing with, that there will always be some face-to-face because that's part of the secret sauce of a successful tech company. A company leader told me that if you live within a two-mile radius of one of our technology centers, remote work is OK, but we need people to get to a meeting quickly if they need to. We're social beings and human interaction is part of how you develop corporate culture.