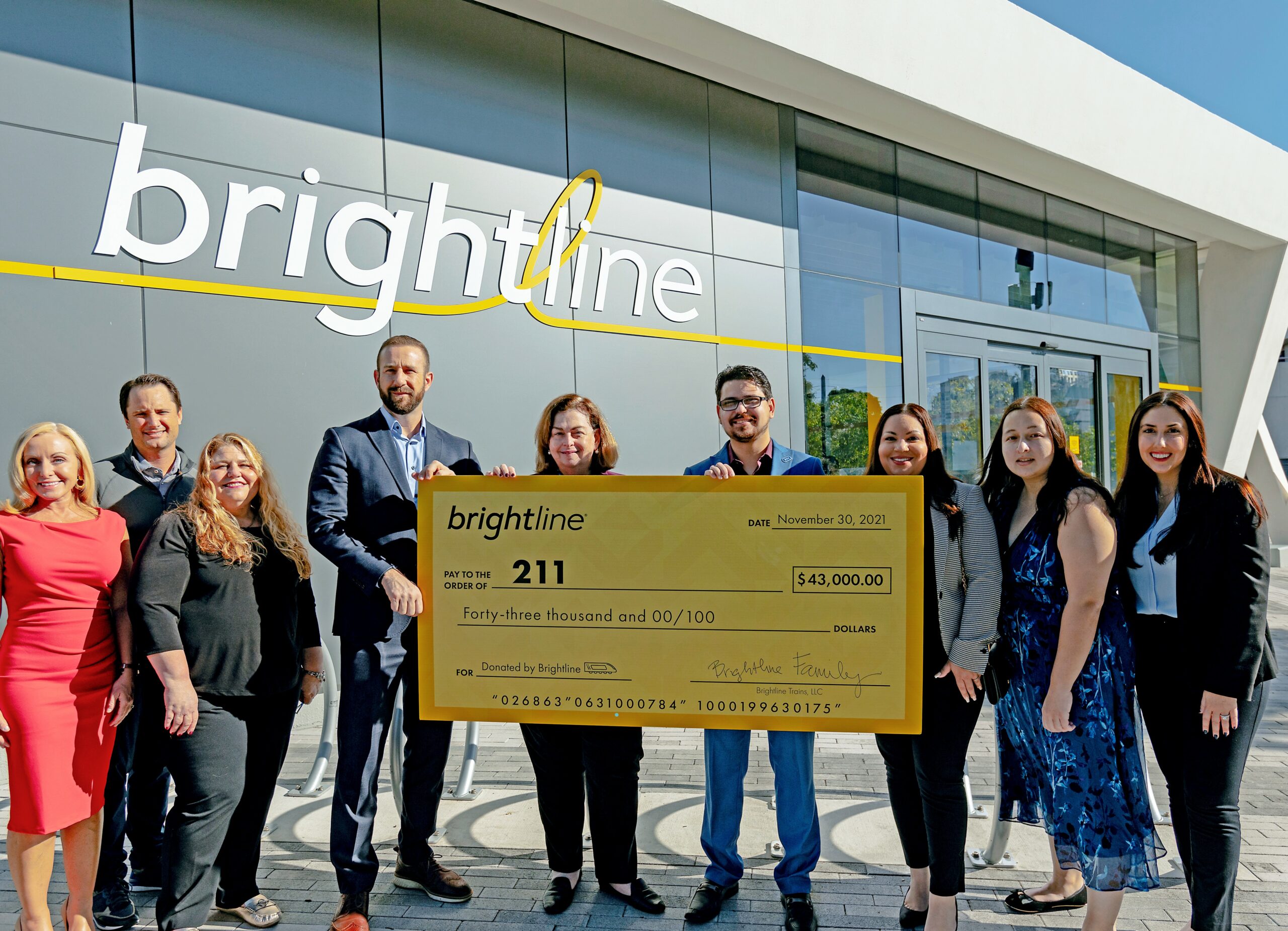 Brightline Donates $43,000 to 211 in Support of Mental Health Awareness
The donation is part of the company's initiative to improve railroad safety at its stations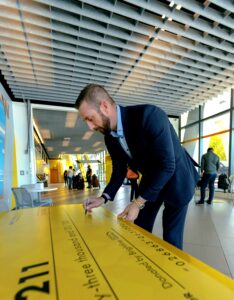 As part of National GivingTuesday on Nov. 30, Brightline donated $43,000 to 211 to be distributed across the organization's Miami-Dade, Broward and Palm Beach chapters. The gift was given to 211 by Brightline's president Patrick Goddard at the Fort Lauderdale Brightline station. Through their collaborative partnership, Brightline and 211 are working to provide resources for mental health awareness.
211 is a free, anonymous and confidential service that offers listening support, suicide prevention and connections to mental health services across the country. The donation will directly support 211's 24/7 information, referral and crisis helpline.
"We want to work together to bring awareness in South Florida to the importance of mental health and the resources that exist in our community," says Patrick Goddard, president of Brightline. "Brightline and 211 have created a strong bond and our team recognizes 211 as a leading voice on mental health and a resolute advocate for anyone who may be facing a challenging time."
As part of Brightline's mental awareness outreach, the company established Buzz Boxx activations to engage residents in communities along its train corridor to promote rail safety and mental health awareness through a mobile barbershop experience. Brightline's has created over 70 Buzz Boxx activation sites throughout Miami-Dade, Broward and Palm Beach Counties.
"There is value in partnering with Brightline as they understand the importance of mental health in our community," says Richard Shutes, Director of 211 Miami. "Brightline is dedicated to the suicide prevention response in South Florida and JCS' 211 Miami is eager to continue to work with strong collaborators like them. These funds that have been graciously provided to our 211 will make a direct impact in offering 24/7 support to anyone that is in need of free over-the-phone crisis counseling and connection to valuable free/low-cost resources throughout Miami-Dade and Monroe Counties."
Along with its relationship with 211, Brightline has also partnered with Broward County Sheriff's Office and other organizations to promote safety around railroad crossings through education, enforcement, engineering and technology. This initiative includes implementing a $5.6 million CRISI grant to add safety infrastructure at 48 crossings between Miami and West Palm Beach. In 2021, the company was awarded the Operation Lifesaver (OLI) Rail Transit Safety Education Grant for $20,000 to continue its efforts to educate the public about rail safety through its Buzz Boxx campaign.
Other steps Brightline is implementing to increase awareness around railroad safety include:
Law enforcement outreach

A red light camera pilot in North Miami

Drone technology for trespassing prevention

Deploying safety ambassadors to high-trafficked crossings

Installing VMS signs at rotating intersections