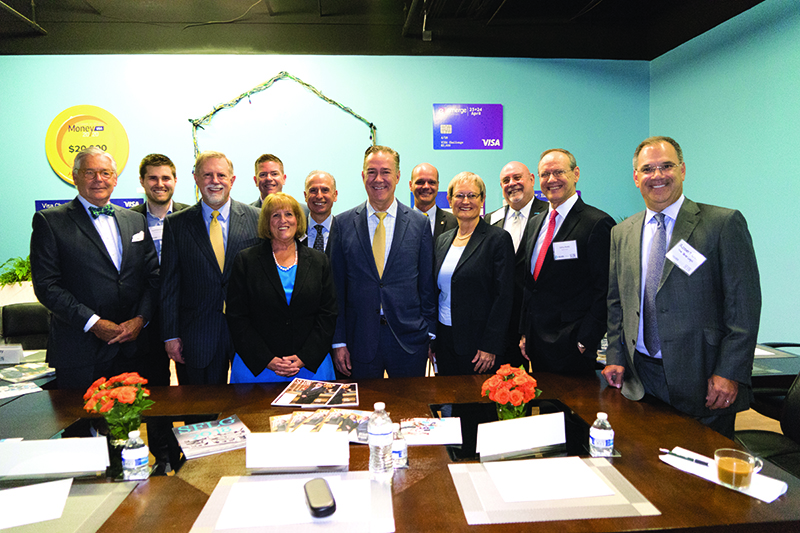 Community bankers put emphasis on technology, relationships
Powered by:

SFBW hosted a breakfast roundtable to augment this month's community banks list, featuring thought leaders from across the region.
Editor-in-Chief Kevin Gale moderated the discussion, which was hosted by and held at technology company The SilverLogic's headquarters in Boca Raton. SilverLogic sponsor and CEO David Hartmann joined the discussion, providing a consumer perspective.
The panelists:
• Rick Kuci, chairman and CEO of Grove Bank & Trust.
• Fred Reinhardt, chairman and CEO of Brickell Bank.
• Dennis Bedley, chairman and CEO of Legacy Bank.
• Carlos Fernandez-Guzman, president and CEO of Pacific National Bank.
• Carlos Modia, chief financial officer of Apollo Bank.
• Laura Trosclair, executive vice president of Mercantil Bank.
• Abel Iglesias, president and CEO of Professional Bank.
• Jesse Flowers, community president for CenterState Bank.
• Ginger Martin, president and CEO for American National Bank.
The following transcript has been edited for clarity.
After the Great Recession and a wave of mergers, how would you describe the state of community banks now?
Trosclair: I think community banks have a good footing today from where we were, but we have a very difficult challenge we are dealing with, and that's advancement of technology. We are trying to figure out how we are going to implement it for our banks and clients.
Fernandez-Guzman: Well, follow–ing the same line, our ways are higher. I think technology is an issue, but I think technology is a lot more affordable these days. I think that is one thing that we have to be aware of. For the most part, I think community banks are well-capitalized these days and are really strong.
Bedley: I would say on top of that, with the tax law changes, people are going to flock to Florida, especially from the Northeast. We are very blessed.
Reinhardt: I think that one of the biggest things that has occurred since the Great Recession is the fact that nonbank entities are capturing the greatest percentage of deposits. And many of these entities are not regulated. In the community bank industry, we have the issue of raising core deposits.
Let's delve into technology a little bit. What are some of the things you're implementing?
Trosclair: We are taking a look at all the ways our customers are interacting with us. We are in the process of transforming our banking centers for our customers, which will allow them to bank in the way that they want to. They can meet face-to-face with a specialist, if they want, for a complex problem. And we will have digital opportunities for self-service. We are focused on improving our online and mobile channels because we know consumers want to do their banking on their mobile devices.
Hartmann: I prefer for the simple day-to-day things, not having to go to a bank. The nonbanking pieces and fintech [financial technology] can have a quick turnaround, which, as a consumer, I appreciate and value, but I also value having a person that I can talk to.
Bedley: Let's not forget, there's a certain segment of the population who wants to deal with community banks. They like the personalized service. At our branches, they can come in and get white-glove treatment, and our customers love it. They refer their friends and family to us.
Fernandez-Guzman: The interesting part is understanding the channels to better serve the consumer, and then migrating very quickly to using that technology, which provided seamless interaction with banks. On the commercial side, we still have high-touch, personal-connectivity requirements that the commercial markets demand. The interesting thing is that on the consumer side, it has been commoditized.
I'm competing with the little bank in Arkansas that is advertising a rate on the internet. Consumers can open an account with them as easily as they can with me. Our horizon for consumer deposits has expanded to a much broader, competitive market. That's going to be a challenge because the concept of core deposits is rapidly disappearing. Core deposits are to be worshipped.
On the commercial side, the challenges are mixed with technology. The fintech market is not a deposit market; it is an asset-generating market. Many fintech applications are for payday lenders on steroids. You have to be very cautious.
Kuci: Going back 10 years ago, there was a perception that community banks didn't keep up with technology. We offer the same technology that the big boys do. When a customer opens an account, or applies for a business loan, they want to talk face-to-face with a banker, especially for their initial transaction.
Have you been approached to sell your bank, or are you interested in a merger?
Bedley: I work for the largest independent bank. Everything is on the table at this point. We are trying to scale up.
Flowers: We are a serial buyer. We acquire about two banks a year.
Martin: I just reread a book by Harvard business professor John Kotter, called "Our Iceberg is Melting." The premise is that there's opportunity when there is stress. So there are a bunch of penguins on an iceberg, and they think everything is OK, but there is a crack and so the leader has to really look externally. I see the threat of consolidation, and I see a great opportunity
Hartmann: I just recently did a car loan. And I have to say, I very much enjoyed the white-glove treatment and having a person—not just calling an 800 number. Having that the human touch, I very much appreciated it. It will cause me to possibly move my banking to that community bank because it was just a very good experience.
Martin: Relationships are our competitive edge.
Are you having to change the layout of your branches?
Kuci: I think we are all looking at new design for branches, because we don't need large branches like we used to. The Capital One bank with a café environment is an example of giving customers a place to spend the day with their laptops. It's a great branding and marketing tool. As we go forward, we are looking at what's the most efficient space opportunity. We are seeing more open space environments. What we are designing today will be outdated in 10 years, and we'll have to rethink the design again.
Fernandez-Guzman: You also are seeing less amenities with the new branch design. Branching is going to be a challenge for community banks because real estate is so expensive. You have to be very judicious on how you expand your franchise.
Iglesias: We have reduced ours in size by half and have gone with a different type of layout. Gone is the teller. Now, we have cash dispensers.
What are some of the highlights of your current business plan, including geographic expansion or new business lines?
Modia: We are looking at expanding our commercial lending in Miami.
Bedley: Ours is to continue building value for our shareholders in Broward and Palm Beach counties. And we can do that by expanding our footprint. We continue to grow and I'm blessed to be in a terrific market. I've got five offices across the two counties. I think you need to have some presence, but not a big presence. Put your name atop the building so people can find you.
Trosclair: This year, we will be opening two centers in Coral Springs and in Edgewater, and next year we have four centers planned in South Florida and one in Houston, Texas. We see the South Florida and Houston markets as a great opportunity. We don't believe we have overbuilt and don't think we need to have hundreds of banking centers to thrive. And we are looking at how we are going to play in the changing retail environment because one of our core businesses is commercial real estate.
Kuci: We had the strategic plan of changing our name from Coconut Grove Bank to Grove Bank & Trust. We didn't want to geographically limit ourselves. We started a premier banking division, which is private banking for the high-wealth individuals who have more-sophisticated financial needs.
Reinhardt: I'd say that most of our business is international. We are in wealth management, personal and corporate banking services, residential and commercial real estate lending, and insurance. We service domestic individuals, too. Our view is that we don't need branches because there's enough technology out there to allow to do this.♦