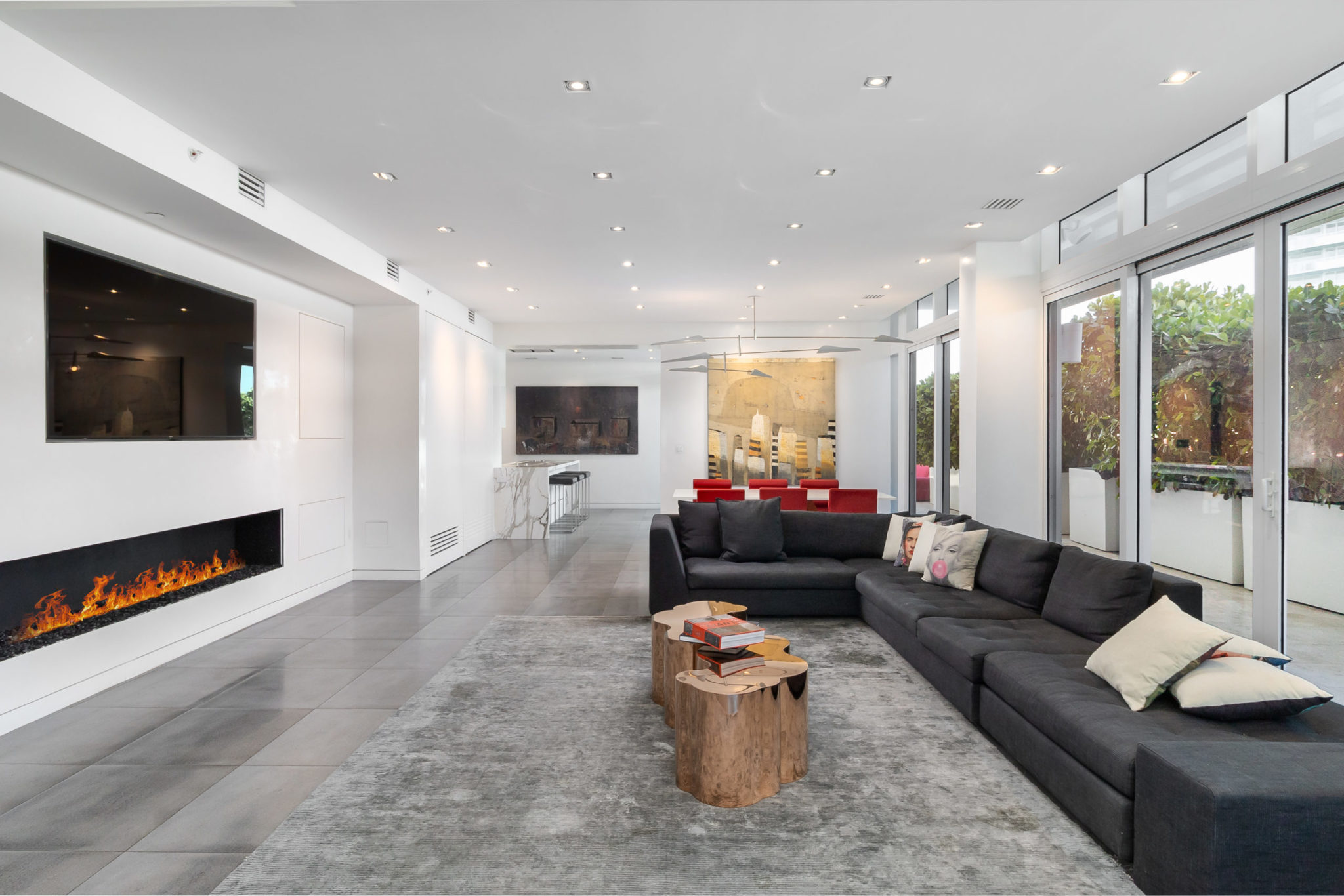 Double Take
Developer Aurelio Tiné and his twin brother, Marco, a Realtor, form an effective one-two punch when they collaborate on luxe properties like Loft 6 in the Continuum in South Beach. Aurelio, who lives here with his family, oversaw the construction; Marco is listing the property. Here, the duo discusses working together in Miami's competitive real estate market, and the elements that aligned to create a home that doubles as the ultimate showplace.
"We're brothers, so it's impossible not to argue," says Marco Tiné with a laugh, answering the obvious question about working with his twin Aurelio.
"We look similar, but we have very different views," adds Aurelio. "We're family, so we'll argue, screaming and everything, and then three minutes later it's like, 'Are you hungry? Want to get lunch?' Let's go.' "
They don't even agree on what kind of twins they are. Aurelio says they're fraternal. Marco insists they're identical. Their mother says they're identical too, which does nothing to end the argument. In the end, it doesn't matter. Since starting to collaborate three years ago on a "super-high-end house" at Miami's La Gorce Country Club, their tension has always taken a productive path.
Evidence of this can be seen in Loft 6 at Continuum in South Beach, a luxury resort-style waterfront development in the South of Fifth neighborhood. Aurelio purchased it in 2013 and renovated it with his construction company, Tiné Services. Marco, as a residential real estate agent with Coldwell Banker, is responsible for selling it. It's currently on the market for $6,999,999.
The eventual buyer will enjoy an elegant and functional Miami Beach property with almost no structural peer. Its 3,360 square feet of interior and 4,511 square feet of exterior space were achieved by combining Lofts 6 and 7, which were connected to the southwest corner of Continuum's 37-floor north tower. Today the residence boasts the spaciousness of a single-family home, the services of a luxury tower, and the amenities of a resort, all a stone's throw from the beach.
"Nobody wanted these two properties because they had usual layouts, so I bought them at an amazing price and combined them," Aurelio says. "We changed everything and made it functional, spacious and fun."
The fun takes many forms with this modern, minimalist masterpiece. Outdoors, there's a rare private pool with its own waterfall, a custom barbecue, and a rooftop Jacuzzi. Inside, the eye is drawn to striking elements like massive windows, a gallery's worth of art by artists such as Miami-based Rubem Robierb, and lighting fixtures by David Weeks. In all, there are four bedrooms, an office, two laundry rooms, four full bathrooms, and two half bathrooms. It can be sold empty or furnished, whichever the client prefers.
Marco lives nearby in South Beach. Aurelio moved into Loft 6 five years ago with his husband and daughter from a three-bedroom unit in Continuum's north tower. His family, which will soon welcome another baby, enjoys living in the space but is ready to move on once the right buyer comes along. "The idea is to not fall in love with the property," he says, sagely. "Because money talks."
Money, and a lot of effort, has already said quite a bit. The loft's rich aesthetic comes into focus in the ground-floor kitchen, where clean lines seem to invite culinary creativity. "I raised the cabinets to get more storage, used marble for the countertops, porcelain floor tile that looks better the more you walk on it, and neutral colors," Aurelio says. "The cooktop is flush with the counter, and the hood is flush with the ceiling."
In fact, almost everything in the house is flush, from its working fireplace to its baseboards, doors, cabinets, technology, and even the lights for the staircase, which is itself a triumph of seamless form and function. "The staircase was a box with walls all around, so I opened it up and made the steps wood and the handrails glass,' he adds. "We used Venetian plaster around it, which is easy to clean."
According to Marco, selling a home that has such a layered story to tell requires a nimble touch and a tech-savvy approach, especially with open houses off the table for now. "You have to use different platforms for digital marketing, like video tours and Facetime," Marco says. "The people who will buy this loft are the people who live in this community and are looking for a bigger space inside, and more outdoor area."
In the case of Loft 6, a 3D tour lets tire-kickers explore at their own pace. A slickly produced video, meanwhile, shows off all its best angles, even offering dramatic aerial views that leave no doubt about the grandeur of the place and its proximity to the ocean.
It's a long way from the twins' childhood home in Venezuela, where they raised cattle and grew watermelons on the family farm. "We're farm boys at heart," Marco says. "We used to get up at 6 and work on the farm until 3 o'clock in the afternoon."
It was all prelude for what was to come. "It was hard," he adds with a hint of pride. "But it created in us the discipline to work."
Featured image: Aurelio lives with his family in Loft 6 at the Continuum in South Beach, a resort-style waterfront development.
The Inside View
Five things to know about investing in a condo now
Luxury property specialist
Marco Tiné
surveys the condo landscape.
1. This is the best time to buy, especially for cash buyers: "Cash is king, though interest rates are low and will likely stay low in 2021."
2. The global unload: "Our international clients who own properties are selling now because they still can't come to the U.S.—or because conditions are not great in their counties so they need the cash."
3. You can wait, but not too long: "Prices will be going down a bit more, especially in the Art Deco District of South Beach. We will have yet more inventory with good prices."
4. The vaccine should usher in a new world by summer: "The condo market will bounce back as soon as people feel it is safe to fly and borders are once again open."
5. Do your homework about the building and the area. In South Florida, a location at 1 in the afternoon can feel quite different at 1 in the morning: "I would say to drive by at different times of the day and night around the building and neighborhood. And check to see if there's any litigation in the building. If you come across any residents in the building, ask them about their experiences."