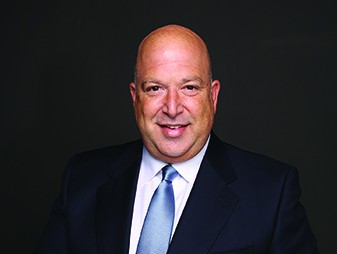 Die Rich and Make Your Heirs and Charities Happy
Howard Kaye's mantra is all about creating and preserving wealth. He's a nationally known expert walking in the footsteps of his father, Barry, who was a pioneer in the wealth creation and preservation field. Barry wrote the best-sellers, "Die Rich and Tax Free," "Die Rich 2," "Live Rich" and You Buy, You Die, It Pays!"
Howard was president of Barry Kaye Associates and grew up under his father's tutelage long before launching Howard Kaye Insurance Agency. SFBW interviewed Howard at his company's headquarters in Boca Raton.
I understand you are pretty upfront about what you are all about?
We sell life insurance. We don't hide behind another name. My father started with the attitude that we create wealth for people and there is no need to apologize for that! My father realized early on that to have the most impact on people and to be successful, he would have to reach as many people as possible. His attitude was, "I'm a business man. I'm going to create a business – a marketing business." He started in 1963 and never did cold calls. He had 100 agents at one time and had agents coast to coast.
When I was 20, I was taught about a program called single-premium life insurance, which was an alternative to CDs and money markets. We had an ad in the Los Angeles Times and I stayed at home to get the calls while my family went to Houston where my sister was giving birth. I got 200 phone calls, and by the end of the week, I had sold over $2 million of the product. My father was blown away.
We ran ads in Fortune and Forbes that showed people how to minimize their estate tax costs. Before CNBC existed, we were on the Financial News Network.
Why does somebody who is wealthy need life insurance?
To expand and preserve wealth for future generations. Take a person who is worth $20 million. The government can take income and estate taxes and the kids may end up with only $10 million. That can easily be avoided.
Some people simply see life insurance as an investment alternative. As an example, let's say your net worth is $10 million and you invest $250,000 a year. Give me that $250,000 a year and I might be able to create an additional $15 million free of income and estate taxes. Properly structured, it is often placed in an irrevocable life insurance trust outside the estate.
Some of our readers are complaining that they are hitting 70 and a half and being forced to withdraw money from their IRA even though they don't need the income. What do you do recommend?
Take the required minimum distribution, or perhaps the annual income generated by the IRA, and buy a life insurance policy. When the insured person dies, their loved ones get the death benefit tax-free. The balance of the IRA can even be donated to the charity. This IRA maximization strategy can increase the ultimate value of your IRA many times over. There are scenarios where a $1 million IRA can yield $2 million to the heirs and $1 million to the charity. That's much better than the heirs being taxed at a federal estate tax rate that can hit 40 percent – not to mention the heirs would have to pay an income tax on that, too.
I've heard there is something you can do involving annuities and charities?
Yes. Let's say you have $1 million in appreciated stock and don't want to sell it and pay the capital gains. You can gift that $1 million in stock to your favorite charity and receive an annuity that gives you income for the rest of your life. You don't pay taxes and you get an income tax deduction for the donation. The charity immediately receives a significant donation and has no financial burden since the income is provided by a highly rated insurance carrier. Using this approach, you have turned an idle asset into a vehicle that benefits charity while providing lifetime income and tax advantages.
Howard Kaye Insurance Agency LLC
President: Howard Kaye
Website: howardkayeinsurance.com
Phone: 561.417.5883
Email: hkaye@howardkayeinsurance.com