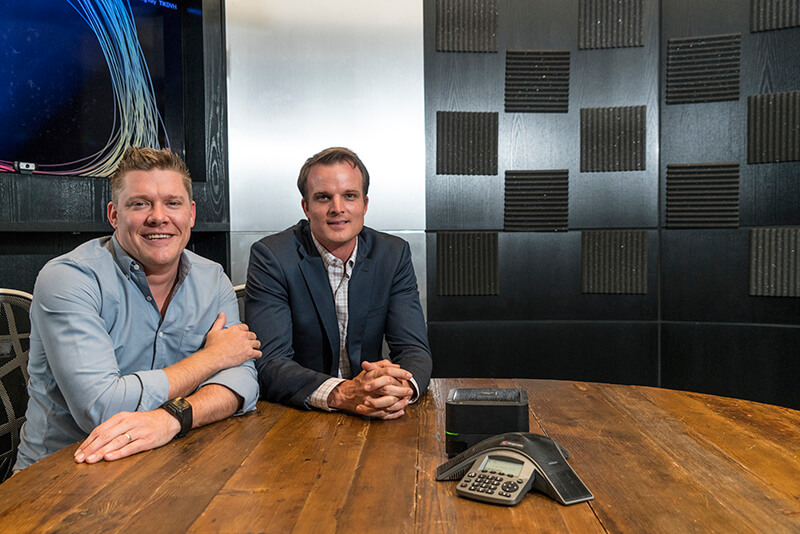 Levatas uses AI to help companies take the next leap
By Kevin Gale | Photography by Patrick Clinton
Sometimes the cliché about entrepreneurial businesses being born in a garage actually are true.
Take Levatas, for example. Chris Nielsen founded the AI solutions firm in his garage in 2006. Now, it has more than 100 professionals, many of them in a sleek office within The Gardens Mall.
Levatas has an impressive list of large clients, including HSBC, Nasdaq, Dell, Discover the Palm Beaches, IBM, The Breakers, BurgerFi and Royal Caribbean.
Levatas also has turned into a business accelerator with Levatas Labs. The startups, which have more than 40 associates, include 2Ton (marketing and creative services), VXIT (professional IT services), Palm Beach Music Therapy Institute (a therapy practice), Fish Rules (the fishing regulations mobile app) and PonTiki (leisure cruises).
Like many successful visionaries who want to focus on the creative aspects of their businesses, Nielsen found a savvy person to lead the business side — a longtime friend and now CEO, Ryan Gay.
The Early Years
Nielsen's father was an entrepreneur and several startups took his family across the globe, including a stint in Uganda. Nielsen says he struggled in high school and spent his senior year at a military academy. He dropped out of George Mason University after his first year.
Nevertheless, Nielsen says he had the attitude and aptitude to succeed as an entrepreneur because he learns quickly and has confidence in what he does. He followed his family to Florida after it moved from northern Virginia, joining a software firm. He started Levatas in 2006 after the firm underwent a reorganization and his job was eliminated.
Nielsen says it was the "classic 'I think I can.' " He hadn't even been married a year and decided if he was ever going to venture forth on his own, now was the time.
Levatas started out doing websites and digital marketing. There was plenty of creative work and branding, but Levatas at its core these days is a technology company, Nielsen says.
Gay was born in Santa Barbara, California, enjoying a beach lifestyle until his family moved to Colorado when he was 8. He became friends with Nielsen when his family moved to South Florida and they attended the same high school. He got into entrepreneurship early.
"I used to go to school and sell my lunches for a profit," he says. His first job was at an internet service provider at age 15, when he wasn't even old enough to drive himself there.
After high school, he caught up with Nielsen, who told him about Levatas. For $10 an hour, Gay signed up.
Can-do attitude
Nielsen says Levatas focused on small companies initially and was fortunate to land Duffy's, Discover the Palm Beaches and The Breakers.
"We built a reputation of quality and strong relationships and all of our business, almost every account is a referral. We don't have a sales team," he says.
Levatas gained international banker HSBC because one of the senior directors involved in digital had a home in South Florida.
Levatas had a can-do attitude, which resulted in some challenging businesses, Nielsen says. Cisco asked it to build a central repository for videos with a robotic arm to swap out the videos.
"We had never programmed in that language before, but we said yes. We have really sharp people here who have the ability to learn fast," Nielsen says.
Eventually, Nielsen and Gay realized Levatas was getting spread too thinly because of a lack of focus. That's when they decided to spin off units that weren't core to a digital transformation.
Doing so helped provide growth opportunity for team members, Nielsen says. That has been one frustration expressed on Glassdoor.com, which allows current and former employees to review companies. Overall, Levatas has a strong rating of 4.4 out of 5, with many of the reviews enthusiastic about the corporate culture. Out of the 15 reviews, 92 percent would recommend the company to a friend.
Levatas is now focused on data science, artificial intelligence and machine learning. "When we narrowed our focus to that, we found there was a world of Fortune 500 companies looking for us," Nielsen says.
Like many businesses, Levatas' biggest challenge is recruiting talent.
"We have collected the best and brightest team that you can find in South Florida," Nielsen says. While Levatas makes its own beer and has a pingpong table and a bar, Nielsen says those artifacts are meaningless unless you have an authentic culture: mutual respect, a sense of mission and purpose, and an element of fun.
Competitive perks
Nielsen says Levatas offers competitive perks, amenities and compensation. Among those are unlimited vacation, but everyone respects it and doesn't abuse it because they don't want to let team members or clients down.
Gay adds that the company pays for gym memberships, and brings in catered meals on Mondays, Wednesdays and Fridays. It's also transparent on financials and has two major retreats, Summitas in January and Summertas in mid-year.
The goal is to hire people who are smart and have good judgment, Gay says, which prompts Nielsen to add, "We do as little dictating as possible. When you empower and trust high-quality people, it unlocks so much."
Gay says Levatas seeks to hire thinkers, problem solvers and technology experts who are smarter than himself and Nielsen. "When you need people who can do things that have never been done before, you can't accomplish that by hiring people who want to be told what to do," he says.
The workforce is about three-quarters millennials, but that's balanced by experienced professionals who often have master's and doctorate degrees.
Levatas has found it's not that difficult to get people to move from New York, Chicago, San Francisco and Los Angeles when they are tired of a 70- to 80-hour a week grind and appreciate the South Florida lifestyle.
Getting to know clients
Working with clients and getting to know potential clients is a process for Levatas.
First, there's a discovery session, which can sometimes be a full-day workshop for Levatas to understand an organization's challenges, needs and goals, Nielsen says. If there's a fit with Levatas, then it moves into a strategic planning phase with a deep dive into the customer experience, strategy and design.
One strategy is to map out the journey customers go through in an organization's current state. Then, Levatas looks at technologies that will improve each step of those journeys. These interconnected digital initiatives lead to digital transformation.
"Cultural awareness of digital transformation is where it starts," Nielsen says. "If we haven't won over the CIO [chief information officer], the CTO [chief technology officer] and staff for the needs of this … the digital transformation is DOA [dead on arrival]. They will say, 'Digital transformation is good, build the website, and we will talk.' That's where we step in with our principles of partnerships, not projects. We understand the need for one thing at a time, but if clients don't allow it to be connected to core strategies and goals, it is not interesting to us."
Levatas seeks rapid iterations. Clients aren't going to spend six months and a million dollars for a 200-page analysis, Gay says.
The goal is to get to viable products quickly, Nielsen says.Data and AI
So what's in Levatas' magic technology sauce? It starts with data before artificial intelligence. "You can't have the magic of AI without the foundation of data," Nielsen says.
Levatas does a lot of work in the field of automation, such as taking manual business processes and automating them with algorithms. It also does a lot with natural language processing, which have been popularized by Apple's Siri and Amazon's Alexa.
"Voice assistants are on the cusp of being incredibly powerful companions," Nielsen says. "You are going to be able to say, 'Alexa, pay my taxes' because of integration between Amazon and H&R Block. 'Pay my property tax. Pay my traffic ticket.'"
Research company Gartner estimates that 30 percent of all searches in 2020 will be voice searches.
Levatas is also involved in Microsoft's HoloLens, which is used to design 3D, augmented-reality and mixed-reality collaborative solutions and presentation tools for business customers. Augmented reality, which mixes what's around you with virtual reality, will be more important than pure virtual reality for businesses, Nielsen says.
For example, a technician with an augmented reality headset could be stumped trying to repair a complex array of pipes. By hitting a button, a senior technician back in the office could look through the headset and see what's going on and give advice on what to do next.
Given the rapid changes in technology these days and the growth at Levatas, it made sense two years ago for Gay to become CEO, which, in effect, he already was, they say. Nielsen is free to be executive vice president of experience design. He also focuses on culture and innovation. Gay has doubled down on operations and recruitment to support growth as he focuses on operations, team building and management. Their trust, mutual respect and friendship make it all work.
"We often joke that if there were a Levatas with Chris and no Ryan, we would be three times our size, but out of business eight years ago," Nielsen says. "If there were a Levatas with Ryan and no Chris, we would be the most profitable three-man company on the planet." ♦
Levatas' Startups
2Ton: Marketing and creative services. 2ton.com
VXIT: Professional IT services. vxit.com
Palm Beach Music Therapy Institute: Provides therapy using professional creative arts. pbmti.com
Fish Rules: An easy way to decipher saltwater fishing rules via a mobile app, available on the Android and iOS stores. fishrulesapp.com
PonTiki: Leisure cruises on tiki-themed pontoon boats. pontiki.org