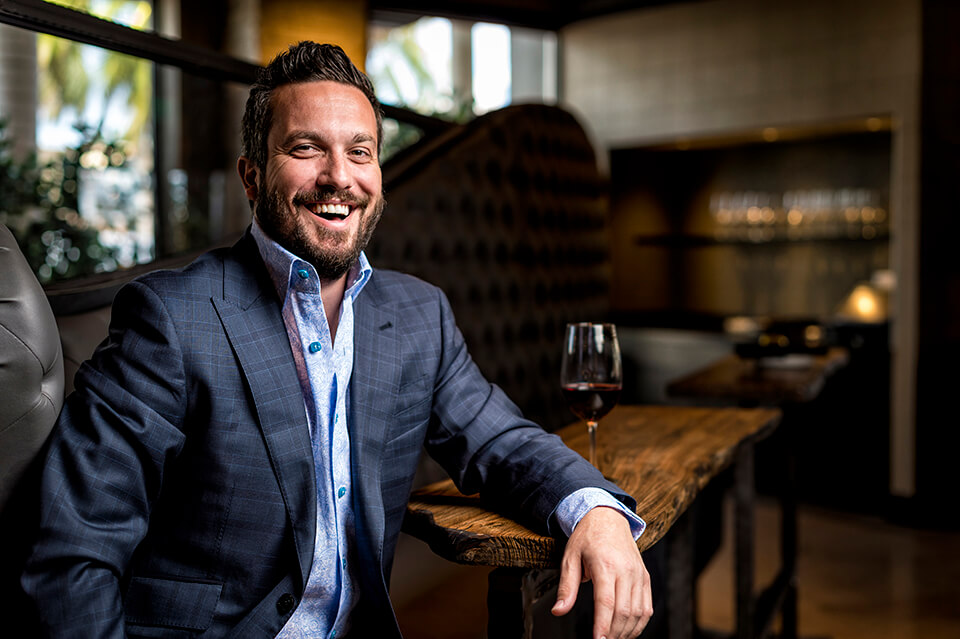 Dining Spotlight: Riviera
Five things you need to know about Fabio Viviani's new restaurant on Fort Lauderdale Beach
Lifestyle turned its dining spotlight on Riviera by Fabio Viviani for the April issue. Here are five things we learned about the new Italian concept at Hotel Maren.
Where: 525 S. Fort Lauderdale Beach Blvd.
Phone: 754.241.2020
Website: rivierabyfabioviviani.com
1) Welcome to town: His initial appearance on Bravo's fifth season of Top Chef in 2008 might have broadened his appeal, but Fabio Viviani already was on his way to becoming a household name in U.S. culinary circles. The native of Italy, who launched five restaurants in Florence by his mid-20s, brought his kitchen prowess and entrepreneurial savvy to California in 2005. What started with a handful of ventures in Los Angeles has grown into an innovative hospitality group with more than 40 restaurants—and, by his count, 27 different concepts—throughout the country. His first Broward-based operation, part of the new Hotel Maren, delivers his Italian Coastal cuisine amid a chic, contemporary setting (with plenty of patio seating) that overlooks Fort Lauderdale Beach.
2) Vision quest: Despite the demands of his multiplatformed business, Viviani notes that he "tested and tasted every item on the menu a hundred times." Eighty percent of the dishes at Riviera are his creations; the rest are modified based on what the South Florida environment dictates. He calls the offerings on the tightly curated dinner menu "rustic refined," generational recipes with a modern touch. "Rustic is Grandma's cooking—classic flavors, [careful] preparation, created with passion. But we modernize that—and make it look pretty. We're putting a sportscoat on old-school food."
3) Shell game: Several dishes exemplify that marriage of aesthetics and flavor, but the Squid Ink Lumache (snail, in Italian) is a showstopper. The dish features a seafood broth reduction; heaping helpings of mussels, clams, shrimp and calamari; and striking, coal-black, shell-shaped pasta (made in-house, like all the pasta at Riviera). "People will tell you that squid ink adds so much flavor. They're full of it. If you dip a spoon in a bottle of squid ink, it will taste like salty charcoal. But a tablespoon of squid ink in 10 pounds of pasta dough? It's just for color. And it looks so good."
4) Meat of the matter: The dinner menu at Riviera (the restaurant also serves lunch and, on Saturdays and Sundays from 10 a.m. to 3 p.m., brunch) presents select offerings under coastal specialties (citrus-cured shrimp, the popular tuna poke) and shared plates (grilled bone marrow, black hummus) as starters. The latter category includes Polpetti di Fabio, melt-in-your-mouth meatballs made with "an incredible amount of ricotta cheese inside" and parmesan to keep the moisture at heavenly levels. "I'd love to take credit for that," Viviani says. "But that's my mom's recipe. She'd also love to take credit, but that's her mom's recipe. And my grandma would love to take credit, but she can't because that's my great-grandma's recipe. And so on. That recipe has been in our family for more than 100 years."
5) Main course: Featured entrees at press time included pan-roasted branzino served over smoky eggplant puree; pork chop Milanese; grilled local fish; a juicy grilled flat iron steak served with roasted bone marrow; a market offering of Mishimi reserve Wagyu in black garlic and herbs; and other pasta dishes (Viviani loves the Calabrian Chili Orecchiette with clams in white wine, olive oil and garlic). Asked about the allure of partnering with a boutique hotel, Viviani says, in part, it's the freedom to do his thing in the kitchen. "When you go with bigger hotels, bigger chains, they often have a lot of guidelines, a lot of dos, a lot of don'ts. We're not in the business of dos and don'ts. I didn't come this far to be told what to do with my business."