Casa Mariano
Address: 8200 NW 27th St., Suite 106, Doral
The Buzz: It's easy to lose yourself in the visuals here—the pastel décor and inviting banquette seating; the artful plating—but executive chef-owner Mariano Araya makes an even stronger impression with the flavors of his dishes. Look no further than the squid ink risotto, which often elicits "oohs" and "ahhs" from diners. Rissotto al Nero di Seppia is an iconic Venetian dish, but if you've never had squid ink (usually infused in pasta), there's nothing to be squeamish about. Adding this to a risotto is magnifica. Araya molds the pitch-black rice as a nest of sorts to cradle an abundant array of seafood, including clams, mussels and shrimp. The flavor of the ink and rice, earthy and savory, blends with the sweetness of the seafood. A showpiece in every way.
Contact: 305.392.0507; casamariano.com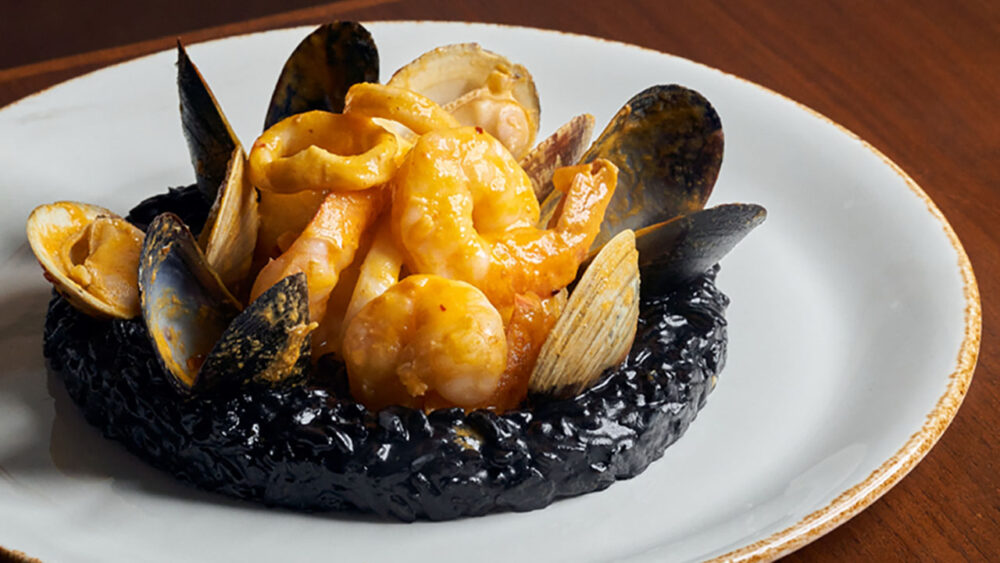 La Fuga at the Shorebreak Resort
Address: 2900 Riomar St., Fort Lauderdale
The Buzz: The Prosciutto e Fichi isn't one of those "takeout in a brown box" kind of pizzas, yet in Rome you'll find this traditional fall classic everywhere in September, especially as a street food. That's because fig season is in full bloom. La Fuga stays close to the authentic preparation, a zesty pesto and Parma ham paired with the sweetness of fig, pine nuts and goat cheese. It's then topped with an arugula-style green called "rocket" that adds a spicy, peppery freshness to the pie. There's no red sauce—but that's on purpose. It would interrupt the flavor explosion. To really tickle your taste buds, finish the course with La Fuga's house-made limoncello liqueur.
Contact: 954.908.7308; lafugarestaurant.com
Runway 84
Address: 330 W. State Road 84, Fort Lauderdale
The Buzz: This is a place where you want to be an insider. Always has been. And now with its revamp, a cross between Rat Pack slick and Godfather swag, those who are a part of the supper club are in the know about a specialty dish you won't find on the menu. Want to feel like Vito Corleone? Ask for the Veal Chop Danielle. Named after the wife of restaurateur and Runway 84 business partner Marc Falsetto, the 16-ounce veal chop is served Parmesan style in a spicy vodka sauce. It's topped with mozzarella, peas and crispy prosciutto. It's an offer not to be refused.
Contact: 954.467.8484; runway84.com
Il Mulino
Address: 1800 E. Sunrise Blvd., Fort Lauderdale
The Buzz: Mention Il Mulino to a regular and they are sure to ask, "Have you tried the Anelli?" The favorite of the house has been on the menu for almost as long as the restaurant has been in business (35 years). You won't find the dish in Italy or anywhere else for that matter. It's an Il Mulino signature. Thin, brick-oven baked pizza dough is filled with ingredients then folded and cut into four pieces—think of it as an open-faced calzone. The most requested is the Anelli stuffed with chicken, cranberries and spinach. There's also a chicken and mushroom Anelli with a spinach cream sauce, a beef tenderloin-stuffed Anelli, and two others brimming with seafood, one of which has a lobster sauce. As if that wasn't enough, you get a taste of Il Mulino's primo pasta; every Anelli is served with a side of house-made cheese tortellini. Plan on leftovers or sharing. Servings are generous.
Contact: 954.524.1800; ilmulinofl.com
Zona Blu Weston
Address: 189 Weston Road, Weston
The Buzz: Sheila Marras David and Debbie Marras Bautista remember spending childhood summers in Sardinia where they swam in blue Mediterranean waters and cherished family feasts. At Zona Blu, the most classic of the island's desserts is served just like mama used to make. Well, actually, their mother. Lilliana Ledda Marras never stopped making Seadas con Miele Sardo; she creates them from scratch for the restaurant. She enlists the help of their father, Giovanni, who has the official title of "Seada dough maker." Lilliana fills the pastry with imported cheeses and "a few other secrets," then the dessert is cut into circles using a tool that belonged to the girls' grandmother. When it's ready to be served, Zona Blu chefs lightly fry the Seada and drizzle it with Sardinian bitter honey. Sheila says don't bother trying to discover the secret ingredients. "Mom keeps the family recipe close to her chest."
Contact: 954.617.7999; zonabluweston.com