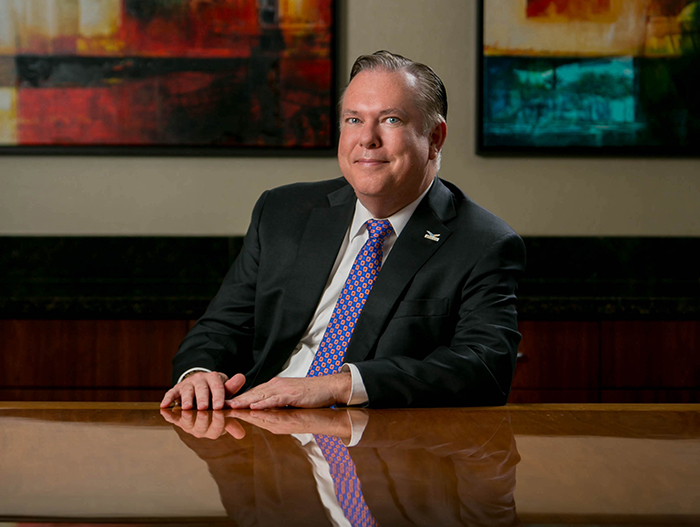 Embracing LGBT Diversity
Businesses find lucrative markets and create supportive workplaces
By Kevin Gale
Figuring out where South Florida is in supporting lesbian, gay, bisexual and transgender inclusion can still be a challenge –
even four decades after Anita Bryant pressed for repeal of an anti-discrimination ordinance in Miami-Dade County.
On one side, Greater Fort Lauderdale Alliance CEO Bob Swindell says, "Anytime I travel, people know South Florida is a tolerant location with diversity…They know it's a welcoming destination." In addition, mainstream businesses, such as a practice group at Merrill Lynch and a Cuba travel agency, are embracing the LGBT community.
On the other side, during a Miami-Dade Gay & Lesbian Chamber of Commerce diversity luncheon, attendees discussed how some gay business leaders are still afraid to divulge their sexual orientation at work, living in a "corporate closet." Some companies haven't developed a comprehensive LGBT approach, whether it's with employees internally or consumers externally.
One example of a company that's evolving is Royal Caribbean Cruises Ltd. (NYSE: RCL), whose story was outlined at the luncheon by Grant Van Ulbrich, the cruise line's director of diversity and inclusion.
Van Ulbrich said that during his 12 years working at sea, gay pride would be celebrated along "I-95," the main corridor that runs through the crew area of ships. On shore, however, he attended a South Florida gay pride event and found Royal Caribbean wasn't a participant, even though its ship, Majesty of the Seas, was being used by the event's organizers. "We were so inclusive at sea, but we forgot about what we do on land and the places we go," he said.
Van Ulbrich approached the chamber for advice and outlined to Royal Caribbean how it might be missing a business opportunity. The company started an LGBT advisory board.
Van Ulbrich also suggested the cruise line hold weddings for same-sex couples on board. "Let LGBT clients know they are safe on our ships," Van Ulbrich said. He also suggested that Royal Caribbean promote diversity throughout all of its cruise line brands. His boss, the chief revenue officer, took him to the head of HR, who said, "Grant, you had a dream…and at Royal Caribbean, we like to make dreams come true."
Van Ulbrich said there is a lot of business opportunity in the LGBT market, which is estimated at $750 billion in the U.S.
Chamber President Steve Adkins estimated there are 1.2 million to 1.5 million businesses that are LGBT-owned in the United States. The National Gay & Lesbian Chamber of Commerce offers training on how businesses can connect with them.
Diversity is also important when it comes to the workforce, said panelist Josue Santiago, who is change management leader at NextEra Energy's (NYSE: NEE) Florida Power & Light. He said companies should create a comfortable, inclusive atmosphere. For example, does someone in a same-sex relationship feel comfortable enough to put a picture of their significant other on their desk? He said it's the job of the company's leaders to have a commitment to make that happen.
There are still industries in Miami-Dade County that are not affiliating with LGBT organizations because none of their employees are willing to be out in their industry, Adkins said. And there are still presidents of organizations in the county who still aren't comfortable being out at work. "We still have work to do," he said.
Carlos A. Valderrama of Cuba Travel Group (cubatravelgroupllc.com) is being inclusive of the LGBT market as part of his overall business plan, which offers tours for a variety of interests, such as culture, history, architecture and Judaism. While Cuba long had a reputation of being oppressive toward the LGBT community, the Cuban government travel agency now supports tours that embrace LGBT travelers. The tours can include meetings with members of Cuba's Lesbianas, Gays, Bisexuales y Transgénero organization.
When asked if he had any hesitation about having LGBT tours on his website, Valderrama said, "Not at all. The gay market has just as many rights as the others markets." Valderrama also said he didn't see other travel agencies specializing in Cuba trying to reach the LGBT market.
Michael Covey Davis, a financial advisor and portfolio manager with Merrill Lynch's Davis/Thompson Group, said he had a client at a previous brokerage who was distraught when his husband died. He and business partner, Julie Lynn Thompson, were inspired to develop a thriving practice that includes the LGBT community.
They take a holistic approach that typically involves accountants and attorneys. There can be sensitive issues, such as when the husband in a heterosexual relationship comes out.
"It doesn't matter if they are straight or gay," Davis said. "What matters is that we are sensitive to the issue."
Merrill Lynch has been very supportive, Davis added. The Human Rights Campaign has given its parent company, Bank of America (NYSE: BAC), a top score of 100 on its Corporate Equality Index. The Charlotte, North Carolina, bank opposes a new state law prohibiting people from using bathrooms that do not correspond to their biological sex. The federal government in May warned the state that this violates the U.S. Civil Rights Act.
National media coverage and boycotts of the state may be painting an unfair portrait, Swindell said. He recently stayed at a North Carolina bed and breakfast and the gay owners said the town had been very supportive of their business, down to the chamber of commerce coming to a ribbon-cutting.
As for the boycott, "They looked mortified, saying, 'We are small gay business owners. We could be penalized [by losing business] as part of the backlash,'" Swindell said.
The alliance leader knows about backlash; he had to cope with being outed as the owner of a business in the macho field of industrial supply. One of his former sales representatives went to work for a competitor and started trash-talking him because of his sexual orientation. One of his remaining salespeople said two customers no longer wanted to do business with them. Swindell handled the issue head on by scheduling an appointment with them.
Swindell is a Republican with a conservative view on many issues. He became more publicly out in 2014 when he spoke in front of the Broward County Commission in favor of gay marriage. He was urged to do so by a Republican member of the commission who was being pressured by members of his party who weren't supporting gay marriage.
"This is not a Democrat or Republican issue," Swindell said. "This is about people. And we have a small-minded vocal minority that wants to demonize LGBT issues." ↵
Visit SFBWmag.com to see how the CIA has embraced LGBT diversity (https://goo.gl/vlvFro).
Diversity Series
This is the first of a four-part series on diversity, starting with June, which is Lesbian, Gay, Bisexual and Transgender Pride Month. The upcoming sections
will be:
August: Black Business Month
September: Hispanic Heritage Month
November: Women's Business Month