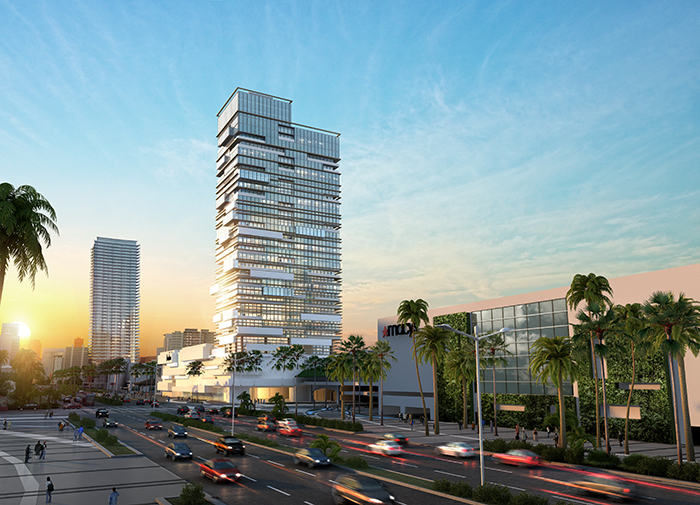 Fort Lauderdale: Residential Growth Is All Part of the Plan
With at least 35 new projects in some stage of development, Fort Lauderdale is experiencing a wave of growth. But because the phenomenon has been years in the making, city officials and developers say the city will likely avoid the density and intensity of places like Miami.
"Before the recession, we saw a renaissance in the downtown area for luxury high-rises," says Jenni Morejon, director of Fort Lauderdale's Department of Sustainable Development. "Post-recession, and especially over the last two-and-a-half years, we have seen huge demand from young professionals, millennials and others who want to live in an urban destination with great restaurants and entertainment that is close to the beach."
Growth has accelerated in the Flagler Village area just north of downtown, and there's a major plan to develop residential towers at the Galleria mall near the Intracoastal Waterway. There's also a surge of development on the beach, ranging from ocean-view condo/hotels to the redevelopment of the low-rise North Beach area. The upcoming Wave Streetcar and a station for the All Aboard Florida high-speed rail service will provide a boost to mass transit in the city.
In 2003, Fort Lauderdale launched its downtown master plan, which specified design and density standards that would encourage the development of a pedestrian-friendly place to live, work and play. "The plan specifies building heights and the square footage allowed at each level in a building, so that the end result would still provide light and air to the street," Morejon says. "Because the plan provided predictability for developers in that they knew what the city required, approvals were streamlined. For the past 12 years, we have approved every project that has come to us. This is largely due to the specificity of the plan."
Most of the density planned for Fort Lauderdale was allowed in what the city considers to be its urban core: Southeast Sixth Street by the courthouse to Broward Boulevard. New buildings were allowed unlimited height and had no parking requirements. To the north and south of that boundary, density allowances scaled back considerably.
"We'll know if the plan was successful in a few years if we see a mix of generations walking, biking, taking the Wave Streetcar and mixing together as neighbors – all close to where they live," Morejon says. "There's always a balance of trade-offs in development, so we look for the opportunities that provide co-benefits to the community."
The city has reduced some of the risk inherent in real estate development with its master plan and has done a good job of addressing the issues that accompany greater density, such as mass transit, traffic and parking, says Dev Motwani of Merrimac Ventures. A longtime Fort Lauderdale resident, Motwani is developing the Gale Boutique Hotel & Residences in the city's North Beach Village area and the Four Seasons, Fort Lauderdale on State A1A. Construction is expected to start on both projects by early 2016. The Gale will have 96 hotel rooms and 128 residences, while the Four Seasons will have 150 hotel rooms and 95 residences.
Motwani also says he has financing in place to redevelop the Las Olas Riverfront property, which he purchased several years ago after it went vacant in the recession. He's looking for partners in the venture to create a mixed-use project with residences, hotel and retail.
"Fort Lauderdale is now a real city with all the benefits of South Florida without the intensity of Miami," Motwani says. "It has its own laid-back vibe, but it's so much more well-rounded than when I lived here 30 years ago. There are great restaurants and cultural activities, along with an airport that is easy to navigate, multinational corporations and lots of opportunities for professionals. And with the All Aboard transit program, soon there will be an easy way to get to and from Miami without getting in a car."
Plans to create the Live.Galleria residential towers on the Galleria property are still in the approval process, says Peter Flotz of the Lansing Melbourne Group. The company is partnering with the owner, Keystone-Florida Property Holdings, to create seven towers with a mix of 1,250 residential units, from senior living to ultra-luxury.
"Our business model entails looking for property to develop where there doesn't seem to be any," says Flotz, who also notes the trend of more international residence owners in the Fort Lauderdale area. "There are 12 acres of vacant land around the Galleria; it has a proven brand and location, plus a million feet of amenities in a city that has international recognition."
Flotz says he relocated his company to Melbourne from Fort Lauderdale several years ago, but returned because he and his family missed the area and saw the impressive planning efforts that are being made by the city. "There is good planning for the future," he says. "It's important to know that when we invest, the city is our partner."
Longtime Fort Lauderdale real estate developer and investor Terry Stiles is currently building a downtown luxury rental apartment project comprising 280 units on the former French Quarter restaurant site. A native of Fort Lauderdale, Stiles has developed such landmarks as the Bank of America Plaza at Las Olas City Centre and 350 and 450 Las Olas Center.
"Fort Lauderdale is now a 24-hour city. It has evolved into a live/play/work environment," says Stiles, who expects to complete the rental project within the next eight months. "The many upscale hotels on the beach are now bringing in international visitors who also are more frequently choosing Fort Lauderdale as a place to live. It's an alternative to Miami."
Another game changer, according to Stiles, is the Auberge Beach Residences & Spa, which promises to bring beachfront luxury to Fort Lauderdale. The project, which is a joint venture of The Related Group and Fortune International Group, is being developed on the former 4.6-acre site of Ireland's Inn Beach Resort. Auberge will comprise 171 units priced from $1.5 million to $9 million and will be managed by luxury hotel operator Auberge Resorts Collection. It will feature a world-class spa, restaurant, indoor-outdoor lounge, swimming pools and gardens.
The new Bahia Cabana project, which is being developed by Randolph Equity Partners and designed by architects Jorge H. Garcia and Peter Stromberg, has the distinction of being the only South Florida development selected to showcase a top iconic property at the Urban Land Institute's national conference in San Francisco this month (October 2015). Additionally, Bahia Cabana is the only design ULI selected for a project that has yet to be built. The new mixed-use hotel, residential and commercial redevelopment was singled out for several reasons: its architectural design solution, which is adapted for a unique space, its integration of a public/private partnership, its public accessibility and its preservation of oceanfront and waterfront usage.
Further investment in Fort Lauderdale beyond the beach and downtown has made the area even more attractive to Bradley Deckelbaum of Premier Developers, another native of Fort Lauderdale. The company's new project is Riva, a 100-unit condominium building along the Middle River overlooking Fort Lauderdale's George English Park. Units there range from $600,000 to $5 million and are slated for completion by the end of 2016.
"We have found places that nobody before us saw as places for luxury living," says Deckelbaum, whose company also developed Renaissance on Hollywood Beach and Venezia in downtown Fort Lauderdale. "The area of U.S. 1 north of Sunrise has seen a tremendous amount of investment and upgrading of retail properties, with new names such Trader Joe's coming in. Many of us who are developing properties in Fort Lauderdale are from here, and we are here for the long haul." ?