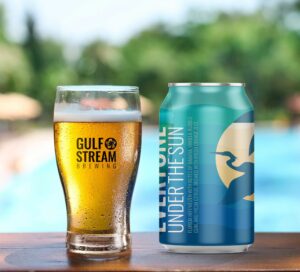 As the hospitality industry transitions from perhaps the most turbulent time in the history of tourism, the Greater Fort Lauderdale Convention and Visitors Bureau stands ready to welcome visitors back with a new brand.
After more than a decade of "Hello Sunny," the Broward County tourism agency recently launched "Visit Lauderdale" as its new slogan, with "Everyone Under the Sun" as the destination tagline.
"[COVID-19] was very challenging, no question," says Stacy Ritter, president and CEO of the Visitors Bureau. "It hit everyone hard."
While the dawn of summer isn't peak tourist season for South Florida, the rebranding coincides with National Travel and Tourism Week. As COVID-19 restrictions begin dissipating after Gov. Ron DeSantis recently rescinded mask mandates, prohibited a vaccine passport and lessened capacity measures, tourism officials expect more visitors than normal to the area as the country starts traveling again.
"We're looking forward to a busy summer season, which everyone needs," Ritter says. "It could be the best summer Florida's ever had."
As the official marketing agency for Broward County, the Greater Fort Lauderdale Convention and Visitors Bureau promotes all 31 cities in the county. However, after a study focus group revealed Fort Lauderdale as having name recognition that can set Broward apart from its southern and northern neighbors, "Visit Lauderdale" was chosen to let visitors know the county is ready for tourists and locals. The new brand also serves as a way to reflect the diversity and inclusion of the Fort Lauderdale area.
"With more destinations opening, it will bring more competition for tourism," Ritter says. "We want to get it out there and help people understand what we are."
The Convention and Visitors Bureau partnered with local businesses to help launch the rebrand. The W Hotel in Fort Lauderdale had a mural painted by airbrush artist Avi Ram at its entrance to welcome visitors.
Gulf Stream Brewing Company, a brewery in Fort Lauderdale, launched its own "Everyone Under the Sun" beer as part of the rebranding effort. The craft beer combines a traditional hefeweizen beer with a Florida-style hefeweizen with a citrus blend to ensure a South Florida taste.
"We wanted something that could appeal to everyone and for us, it was a natural fit," says McKay Ferrell, owner of Gulf Stream Brewing Company.
For more information, visit sunny.org.