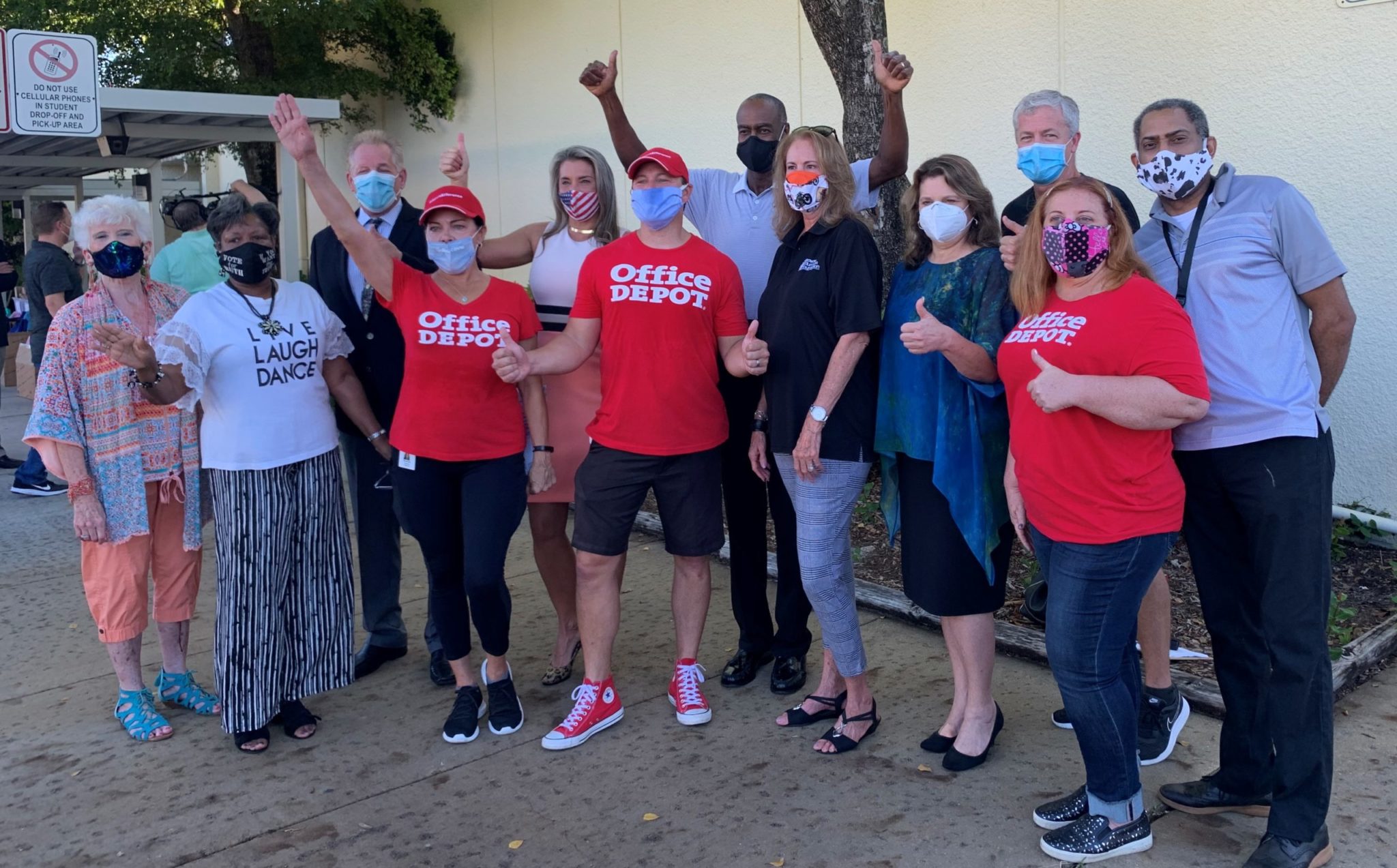 Upper Class
Free supplies from Office Depot take the sting out of a COVID-era school year
During a time when the start of the school year is fraught with anxiety and uncertainty, the Broward Education Foundation and Office Depot have stepped up for students with Start Proud. For this philanthropic event, nearly 1,000 brand-new backpacks filled with supplies were distributed to Davie Elementary School students on August 17.
Each backpack was outfitted with notebooks, composition books, notecards, highlighters, pens, pencils and one Office Depot® OfficeMax® merchandise card for future purchases. Educational leaders on hand for the event included Broward County Public Schools Superintendent Robert Runcie, Chief School Performance & Account Officer Dr. Valerie Smith Wanza, School Board Members Donna Korn and Laurie Rich Levinson, and Broward Education Foundation Board Chair Tim Curtin. Also attending were foundation Board Members Sue Colton and Ruth Carter-Lynch, Davie Elementary School Principal Erik Anderson, plus teachers and staff from Davie Elementary and a contingent of Office Depot employees.
"We are incredibly thankful for the generous support and the amazing partnership we've forged with Office Depot," said Shea Ciriago, executive director of Broward Education Foundation. "Although the start of the school is virtual, students throughout Broward County now have the educational supplies and learning tools necessary to learn and thrive." Though students may not enjoy the personal classroom interactions of years past, at least they know that their school and teachers are still invested in their growth and learning.
Davie Elementary School teacher Kelly De Varona was recognized as an All-Star Teacher and presented with new furniture, teaching supplies, technology and tech services from Office Depot, valued at more than $1,500.