It's a big moment when you're a fledgling swimsuit design company and singer Ricky Martin pops up on Instagram wearing one of your vivid creations. And it's not one that Jarrod Wilkins and his husband Ilde Gonçalves are likely to forget.
Wilkins was awoken by Gonçalves yelling, Oh my god! Oh my god! "I thought something horrible had happened," Wilkins says. "Then he showed me his phone—Ricky Martin in one of the bathing suits we'd hand made. The power of social media is incredible—our website crashed and the bathing suit sold out in no time." The photos, shot in Puerto Rico, were reposted on The Ellen DeGeneres Show, The Wendy Williams Show and E! News.
Swimwear was what had brought the two together years before.
"From my first glimpse of an Ilde swimsuit I was in love," Wilkins, who is from Australia, says. "I asked Ilde where it was from and he simply stated, 'I made it.' I was like, Okay."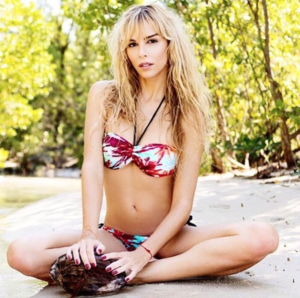 Gonçalves is an expat from Venezuela who studied fashion in Caracas and emigrated to Miami two decades ago. His sensibility had been forged by an eclectic, aesthetic past: His mother was a seamstress, and he assisted her in her work for a menswear company; his father was a florist, and one can see his influence in Ilde's colorful prints. Gonçalves' knowledge of how fabric adapts to bodies in motion comes from his former career as a modern dancer.
If he has an animating principle, it's individuality. Gonçalves began making swimsuits by hand for himself because he was tired of always seeing the same swimsuits on the beach. "I didn't love arriving at a pool or beach party to find three or five other guys with the same bathing suit," he concedes.
But it was Wilkins who helped take the swimwear from a niche effort to market. "I was designing the line in a more artisanal way," Gonçalves explains. "Thanks to him we took the brand to the next level. Jarrod brings to the brand all his knowledge from working as a model for so many years and also working and managing clothing retail stores." The Ilde men's line encompasses everything from square-cut Brazilian styles to boxers, while the women's line—inspired by their friend, top model Agueda Lopez—ranges from skimpy bikinis to modest one-pieces that cover shoulders and arms.
The brand's commitment to individualization remains stronger than ever. "We're about to launch a collection in collaboration with Franklin Avendano, a fashion stylish who has been working on shows with Oscar de la Renta and Carolina Herrera," Wilkins says. "We wanted to explore another side of swimwear with personal details. We now offer options to customize the piece you like—from the fit to the drawstrings to the decorative details and embellishments."
Gonçalves adds: "You will not feel like you'll see lots of them at the beach."
The excitement that surrounded their Ricky Martin moment has never let the two forget that Instagram, Pinterest and Tumblr are still key to any success. "Social media been a staple in advertising and selling worldwide," Wilkins notes. Though he says the pandemic was "scary" when the beaches were closed and people were hypnotized by Netflix rather than cavorting on South Beach, Wilkins saw that people were always on their phones.
"Our social media didn't stop," he says. "If anything, it got stronger." Just in the last few months, the presence of Ilde swimwear has shot up 3,000 on Instagram and 4,000 on Facebook. Their next leap: conquering beaches the world over via Amazon.