[vc_row css_animation="" row_type="row" use_row_as_full_screen_section="no" type="full_width" angled_section="no" text_align="left" background_image_as_pattern="without_pattern"][vc_column][vc_column_text]
Judging by Walsh's sensuous interior design work over the decades, highlights from which can be found in the pages of her monograph Gil Walsh Interiors: A Case for Color, it is obvious she has a tony client roster. But name dropping is not Walsh's modus operandi. "Our work is based on referral. We have worked for many significant families in America," she explains, "whether generational wealth, or CEOs and up-and-coming young people. But we don't talk about our clients. Their lives are highly personal. Our job is to deliver what we promise."
And what Walsh promises and delivers is impressively varied, from a formal estate in Boca Raton to luxurious earthiness in North Palm Beach's Lost Tree Village, and from a graceful country home in Jupiter to indoor/outdoor living in Key Largo. Fluency in myriad styles is what has sustained Walsh's 20-year-old practice, which she runs from offices in Palm Beach and Martha's Vineyard. 
Her career start was rarified: Pro golfer and family friend Arnold Palmer introduced Walsh to his interior designer, which led to her first job offer. After gaining some experience in Ohio- and Pittsburgh-based firms, Walsh opened her eponymous firm in Riviera Beach in early 2000. Gil Walsh Interiors has expanded and relocated over the years, now composing nearly two dozen talented designers, but her latest location is by far her favorite: "Now are now sitting in 5,000 square feet of space. We're in the antique district in West Palm Beach. It's a fun area."
Though the economy has been bumpy of late, her clientele's desires to pad their nests remain consistent. "Interior design, if it's done the right way, is expensive,"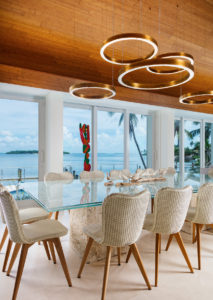 she acknowledges. "It's a luxury. But you get your own look, fit to you, and nobody else has it. And it's a very exciting process." As was the case with a commission for Frank Lloyd Wright's iconic Fallingwater, Walsh is sometimes approached to ensure that refurbished interiors reflect the majesty of nature. Occasionally, she and the team are called on to manage facade "facelifts," working with architects, construction teams and stone masons to make a home's exterior as glamorous as its interiors.
More often than not, Walsh is granted the good fortune of creating a perfect marriage between outdoor and indoor habitats, as was the case with a dining room facing the water for clients at Ocean Reef Club in Key Largo. There she commissioned a custom-made table with a coral base and shattered glass top, which she circled with low-profile outdoor seating from Janus et Cie, and then suspended sculptural LED lights high above from a bamboo ceiling. Walsh knows the classics inside and out, yet here she achieved something loose and light. "We needed to light the dining room without obscuring the view," she explains. "You want the outside to come in."
"Many designers work only in one venue," Walsh says. "They have a look. We do not. Because we've been trained in the classics, we know scale and understand symmetry. Every job looks different." Occasionally, she meets with client couples who are drawn to conflicting styles, but Walsh manages to merge their tastes seamlessly. For a grand home in Boca Raton's St Andrews Country Club, for example, she worked with a wife who leaned contemporary and a husband who preferred traditional surroundings. Her solution was to employ furnishings each of them celebrated while, "making every piece an art form."
What evolved were intriguing, yet comfortable spaces, including a family room with a Thomas Hartmann painting as its anchor and a wingback chair upholstered in denim, two burnt sienna velvet sofas, and an antique glazed faux finish on the walls. Visitors' eyes can land on something interesting wherever their gazes fall. "There was a time in design when people used only white," she recalls. "I was never afraid of color. It's so easy to put a scheme together when you see how it works in nature." For reference, see the riotous blue floral wallpaper she chose for a particular powder room in one Jupiter home ("It has a very French feel," she says. "Open and airy—not fussy.") and the various shades of green that make an appearance throughout a Lost Tree manse.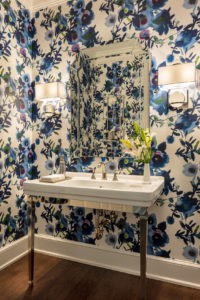 As for trends she has noticed here in South Florida, Walsh sees diverging impulses: "Many people don't want to be as fussy as they were. Because of all the sunlight in Florida, people tend to use lighter colors. There's a very light feeling, of blending bamboo, rattan, sisal, wicker—a lot of organic materials. And then a lot of lacquered furniture for accents. There's a lot of coastal feel. Yet on the other side, a lot of the homeowners of Mizner houses want in-depth, layered colors and classic furniture with an interesting design to it. And now the modern look is coming on strong, especially for condominiums and new homes."
And for anyone wondering about the pandemic's impact on the interior design industry, Walsh says demand hasn't slowed at all. "We had to learn a lot of new techniques, yet we have young designers who are savvy at putting presentation boards online so it has been going well," she says. "I'd much rather have in-person meetings. But we have clients from the Northeast or Midwest who don't want to get on a plane, so we've been sharing schemes and plans with them virtually." Besides, Walsh maintains, if there was ever a moment to invest in padding our homes with comforting colors, fabrics and shapes, that time is now.
Featured image: Traditional touches at St. Andrews Country Club[/vc_column_text][vc_empty_space][vc_empty_space][vc_empty_space][vc_gallery type="flexslider_slide" interval="3″ images="67723,67724,67727,67728″ img_size="full" direction_nav="yes" control_nav="yes" show_image_description="yes" pause_on_hover="yes"][/vc_column][/vc_row]