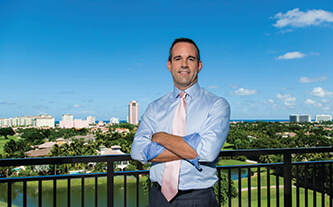 Heeding Its Own Advice
Why Biltmore Capital Advisors moved to South Florida
BY ARNIE ROSENBERG | Photography by Larry Wood
Moving his company to South Florida from New Jersey just made sense to Tyler Vernon.
As CEO of Biltmore Capital Advisors, he had been advising clients to move to Florida, "but we weren't taking our own advice," he says. "We had a lot of clients moving for a lot of different reasons. It's an area riddled with Bernie Madoff and a lot of other smaller scandals over the past 10 years, and we really saw a need for what we can bring to the table."
The firm uprooted from Princeton in May, and now calls Boca Raton home. There's still an office in Princeton and a smaller one in Atlanta.
Biltmore is an example of an ongoing trend of financial services firms moving to South Florida. The Palm Beach County Business Development Board has been promoting relocations and estimates 60 to 70 asset management firms have opened in the county in the past four years.
Vernon, 40, built on eight years of corporate experience at Merrill Lynch's Wall Street headquarters when he founded Biltmore in 2007. Early on, the firm consisted of four employees taking care of clients. Today, that's grown to 15 employees working with about 300 families.
Altogether, Biltmore manages about $750 million in assets, Vernon says.
"We want to grow at a rate that's sustainable, where we get to know them, their wills and trusts and their tax returns, who their kids are and everything about them," he says. "A lot of real mom and pop firms will do that and create a real homey feeling, but maybe the sophistication and the quality of advice and the range of services isn't there."
That's where Vernon has positioned Biltmore for success. He never was comfortable with the large, corporate model, which locked employees into selling what was best for the company but not necessarily for the client. Biltmore's "all-inclusive, holistic" model, he stresses, comprises estate planning, tax planning, risk management, insurance and making sure properties are structured properly.
"The idea is one organization being the quarterback with all these facets of somebody's life, and working together with their outside professionals. Clients don't have to worry about it," he says.
Biltmore partners with such firms as the Bank of New York Mellon, Cantor Fitzgerald, Charles Schwab Institutional, Morningstar and Pershing to provide custody, trading, banking and performance reporting. Its partners allow it to provide margin loans, recently priced at 1.81 percent for $1 million plus balances.
Biltmore helps corporate executives with financial planning as a concierge service. The service recognizes that many executives have a lot of their net worth tied up in company stock. While they may have an emotional attachment to the stock, that runs counter to the diversification that's widely recommended by financial planners. Biltmore has strategies that let executives gain protection by using hedging or a covered-call option.
The company has a background of working with executives at Fortune 500 companies. Its website has subsections for employees and retirees of United Parcel Services, Exxon Mobil and Microsoft, where Biltmore says it has gained deeper insight into company culture and deferred compensation plans.
Biltmore has a six-step process for working with family offices. It includes a discovery phase analysis, solutions analysis, private banking, an online vault to aggregate account information, a weekly strategy review and personal risk analysis, including a review of insurance policies.
The trajectory of Vernon's stardom began to rise in late 2008, when he was interviewed on the Fox Business channel. It was after the collapse of Lehman Brothers and the market decline it triggered; Vernon predicted another 20 percent drop. Within months, the market was down another 19½ points, and the name Tyler Vernon was on its way up.
CNBC, Bloomberg, The Wall Street Journal, Barron's and The New York Times all interviewed him, seeking his insight and foresight.
Biltmore began fielding calls from multimillionaires, seeking advice on its strategies. And as the firm grew, it stretched into security-based lines of credit. Marketing those products on Google brought clients from across the country and around the world. Biltmore's client list now stretches from the United Kingdom to Costa Rica.
Still, Vernon's life is filled with more than taking flights to meet with clients across the globe. Since moving to Florida, he's gotten his pilot's license and bought his own plane. Along with flying his two daughters, ages 9 and 11, he uses it to fly supplies to Rum Cay, an island in the Bahamas that was hard-hit by Hurricane Joaquin in 2015. Vernon created the nonprofit Rum Cay Foundation "for the general well-being of the people there."
It's not lost on Vernon that Biltmore's success is what allows him the time for family and philanthropy. The firm's philosophy, he says, will plot the course for continued success.
"You can't control markets, but you can mitigate risk and you can set up a plan," he says. "Markets are going to do what they're going to do, but, in our world, service is something you can control, and there's no reason why you shouldn't have Ritz-Carlton-like service, especially in a business that's getting more and more competitive over time." ↵