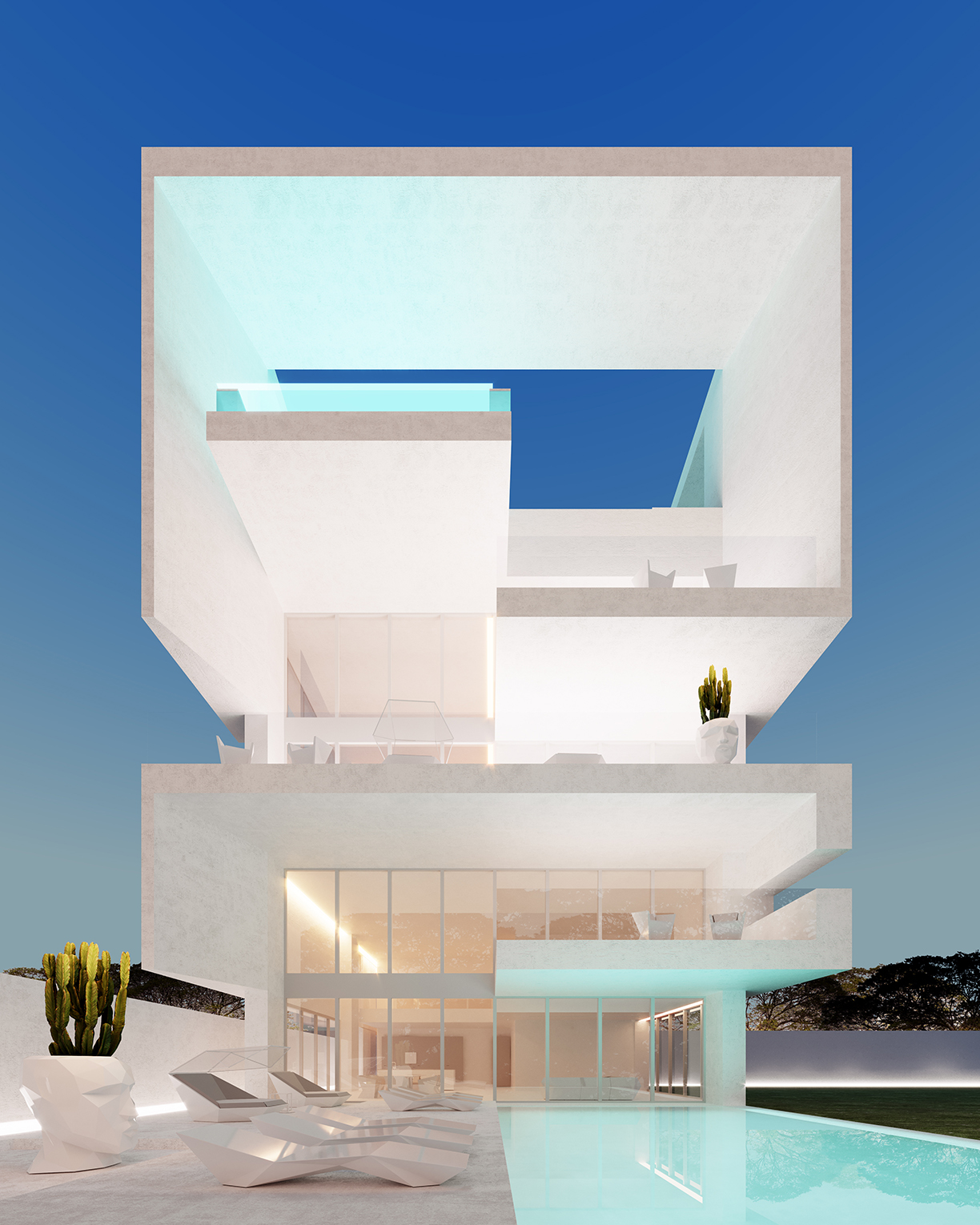 Living in Geometry
Hugo Mijares reimagines boutique living on South Beach
Though Miami architect Hugo Mijares long has ranked as one of South Florida's most rigorous modernists, the plans for his upcoming project, Pool South Beach, are nevertheless startling.
The seemingly weightless, gleaming white formation of ledges, frames, cubes and glass walls will be adorned only with a series of cyan pools. Because the project's West Street locale sits just outside South Beach's regulated historic district, there's more freedom to play with form—and that's what Mijares does. With a mere three units spread across six stories on the bay side of Miami Beach, the geometric, sculptural Pool South Beach will give new meaning to the phrase "boutique condo."
"The idea is to experience maximum luxury in a lofty 6,000-square-foot unit with its own splash pool, and each unit has a different and unique layout and configuration," the architect explains. "It affords maximum privacy in the middle of the bustle of Miami Beach." When the few residents feel a bit social, they can jump into the common saltwater pool on ground floor, or lounge beside the sky pool on the roof.
The residences' finishes and furnishings will be drawn from elite global brands, with select pieces by B&B Italia, lighting by Apure (the seven-year-old company renowned for its collaboration with Porsche Design Studio) and custom kitchens and closets by Ornare. "It's a pleasure to be working alongside Hugo in bringing this vision to life," says Claudio Faria, director of Ornare USA. "Our tailor-made systems and installations introduce a new level of craftsmanship that elevates the sophistication and aesthetic of innovative spaces like Pool South Beach."
With groundbreaking expected in June, Pool South Beach surely will be stopping traffic on West Street upon its completion in early January 2022. And once again Mijares will be offering an object lesson on how to create a space that's not only functional and practical but also offers a pop of pure delight on the cityscape.
By Rebecca Antioco & Drew Limsky