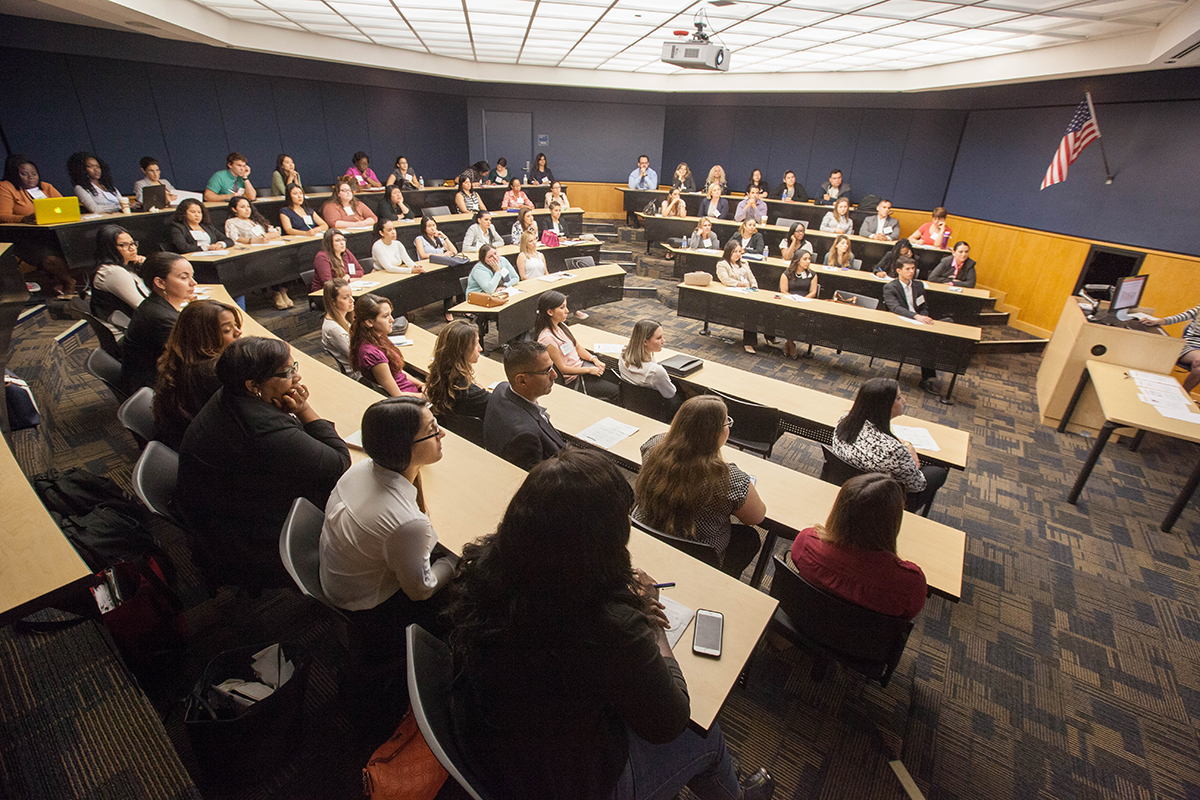 Hybrid Approach
Part-time MBA programs meld online, night and weekend classes
By Martin Lenkowsky
For busy senior executives with hardly a free moment to spare, part-time MBA programs can be a great option. Many South Florida universities offer degrees through a combination – or choice – of evening, weekend and online classes. Below, we break down the programs available at each school, along with tuition costs and program highlights.
Nova Southeastern University H. Wayne Huizenga college of Business and Entrepreneurship
Nova Southeastern University's Assistant Dean of Graduate Affairs Steven Harvey does not refer to the school's part-time MBA program as an executive MBA, although in many respects, it does have many of the same concepts. "We consider ours a part-time program with either weeknight, weekend or online options," he says. "It clearly allows a person to work during the day." Online courses are the most popular, he says, adding, "They are convenient and the state of the technology is always improving."
Several factors set NSU's MBA program apart. For example, students are required to take courses in seven out of 10 concentrations before they choose which to focus on for their degree.
Additionally, NSU has partnered with Korn Ferry, an executive search firm. Each of NSU's MBA candidates can take the Korn Ferry Assessment of Leadership Potential to determine their strengths and weaknesses in various aspects of leadership potential. "They can understand what their skills and gaps are," Harvey says. "About 30 percent of our faculty are trained to understand the assessment. They will work one-on-one with each student to close those gaps." Harvey believes NSU is the only school in Florida working with that particular assessment tool.
Another area in which Harvey feels NSU is unique is its "process improvement" concentration. "You can use process improvement in any organization," he says. "You find ways to squeeze more efficiency out of a process. We are one of few schools that offer this."
Average Tuition: $33,000
Website: business.nova.edu
Lynn University College of Business and Management
Unlike most part-time MBA programs that are completed between 18 months and two years, Lynn University offers a one-year program. "We are on an accelerated eight-week term schedule," says Steven Pruitt, director of graduate and iLynn admission. (iLynn is the university's online degree program.)
Also unlike other MBA programs, Lynn does not require its applicants to take the GMAT or GRE for entrance. "We don't find that's a successful measure of how students will do," Pruitt says. "We look at a student's background and resume, and ask them to write something about themselves."
According to Pruitt, the average age of part-time MBA students ranges from the early 30s to the early 50s. "They are here for a reason," he says. "Many need an MBA for promotion or career advancement. They're using the MBA to springboard their career in one way or another."
Pruitt says there are approximately 100 to 150 part-time MBA students at Lynn. "It's our flagship program," he says. "We don't really consider it to be an executive program, although it functions that way."
The program recently added two more specializations to the nine already available. One is in "social innovation" and partners with the Amani Institute in Nairobi, Kenya, and Sao Paolo, Brazil. "It's for individuals who want to be a leaders in directing change either here or globally," Pruitt says.
The other new specialty is the total opposite, he says, adding that it's more "capitalist" oriented. "It's a partnership with Wyncode from Miami to launch a career in coding design."
Average Tuition: $25,000
Website: lynn.edu
University of Miami
School of Business administration
There are a number of unique executive MBA programs at the University of Miami's business school. The Global Executive MBA in Spanish, for example, is designed for highly experienced Spanish-speaking business executives. "We are the only institution offering a program completely in Spanish," says Anuj Mehrotra, vice dean for graduate business programs. The 18-month program not only attracts local students, but those from all over Latin America. It is designed to enable business executives to increase their business knowledge and sharpen their managerial skills. Students attend classes every three months, two weeks at a time, in addition to networking and interacting with business and corporate leaders throughout Latin America.
Another MBA program is called the Miami Executive MBA for the Americas, which is similar to the Global program, but classes are taught in English. It's a 17-month degree program with
50 percent of the instruction done online, with weekend sessions on campus every two months. The first session is a week long. This program is specifically designed for those with significant business experience and leadership potential. It has a good partnership with the corporate world, both here and abroad, Mehrotra says. The fact that it's a "hybrid" program, part online and part classroom, makes it attractive to many students.
UM also offers an Executive MBA in Health Sector Management and Policy, which is designed to prepare graduates for leadership positions in all phases of health care and health-related organizations. "We have participants representing a microcosm of the health care industry," Mehrotra says. "We have physicians, nurses and those involved in finance in this program." The 23-month program focuses on professionals who are already fully employed in a health-related industry. Courses are held Friday through Sunday once a month.
A completely online MBA program lasts about 23 months, and is intended for those interested in changing careers or advancing in their current position.
Average Tuition: Professional MBA, $94,598; Executive MBA in Health Sector Management and Policy, $95,000; Global Executive MBA in Spanish, $96,746; Miami Executive MBA for the Americas, $111,800; Online Professional MBA, $77,000
Website: bus.miami.edu/grad
Florida International University College of Business
Florida International University offers a variety of part-time MBA programs to accommodate the busy executive, says Angel Burgos, executive director of executive programs at the FIU College of Business. "We have a variety of different programs designed to meet the various market needs – MBAs designed for busy working professionals," he says. Programs run from 18 to 24 months.
Options include the Downtown MBA program at FIU's Brickell Avenue campus, where classes meet two nights a week from 6:30 to 10 p.m.; the "flexible" MBA program, where half of the courses are taught in-person, the other half are online; and the Professional MBA, where classes are held every Saturday at the university's I-75 campus in Miramar.
The 18-month Executive MBA is FIU's flagship program. This hybrid program meets two Saturdays a month along with online courses. Applicants need a minimum of eight to 10 years of senior management experience. "The average student in this program has 17 years of executive experience and is 41-years old," Burgos says.
Most MBA courses have a 12-course route. FIU's executive MBA curriculum consists of five interdisciplinary courses designed to improve leadership skills, strategic skills and creative innovation. The program also offers students an international trip to a number of global destinations. "We are part of an MBA international consortium," Burgos says. "We partner with several schools around the globe."
FIU also offers a fully online MBA program. "That's one of our largest programs," Burgos says. It provides the same courses and instructors as the other programs.
U.S. News & World Report ranks FIU's part-time MBA program 136th nationally; its online MBA program ranks 60th.
Average Tuition: $42,000-$65,000, with the Executive MBA being the most expensive.
Website: business.fiu.edu
Florida Atlantic University College of Business
Florida Atlantic University offers several options for those seeking an MBA degree, says Megan Hall, assistant director of admissions. All are 23 months in duration.
The Executive MBA program holds classes every third weekend. To make it easier for weekend students, all student services, including coordinators and financial advisors, are there as well during classes. "We make it so they don't have to come to the campus unless they're taking classes," Hall says. The average profile of an Executive MBA student at FAU is 40 years old, with 10 to 12 years of senior managerial work experience; the program requires a minimum of five years of senior managerial experience.
Another option is the Professional MBA, which has an average student age of 30 with seven years working experience. "This tends to be a younger group, whereas the Executive MBA program has more seasoned professionals," Hall says. Classes meet Tuesday and Thursday evenings from 6:15 to 10 p.m. As with the Executive MBA program, support staff is always available should students need them.
FAU also offers a completely online program. "There is no residency requirement," Hall says, adding that coincidentally, most of the students are in the Boca Raton area. The curriculum for the online program is the same as the other programs. It attracts a mix of both younger and older students.
All of FAU's MBA programs can waive the GMAT if all work experience and GPA requirements are met. A 3.0 GPA is required.
U.S. News & World Report ranks FAU's part-time MBA program 170th; its online MBA ranks 100th.
Average Tuition: Executive MBA, $41,000-$46,000; Professional MBA, $38,00-$41,000; Online MBA: $32,000-$36,000
Website: business.fau.edu
University of Florida Warrington College
of Business
South Florida residents seeking an MBA from the University of Florida can avoid making the tedious four-hour drive to Gainesville by enrolling in the college's Professional MBA program in Sunrise.
The local experience is identical to the Gainesville experience, says Alex Sevilla, assistant dean and director of MBA programs. "All of our faculty are the same. They are coming down from Gainesville. We don't use local faculty. The courses are the same. The rigorous requirements to get into the program are identical. The student quality is the same."
Classes meet once every three weeks on Saturday and Sunday. The program lasts 24 months with 50 executives and professionals being admitted every year. "It's the same MBA diploma students in any of the MBA programs in Gainesville receive," Sevilla says.
The 7,000-square-foot facility in Sunrise was designed as a high-tech environment consisting of classrooms and a common area for students to network and mingle.
U.S. News & World Report ranks UF's part-time MBA programs 28th; its online program ranks fourth.
Average Tuition: $65,000
Website: floridamba.ufl.edu