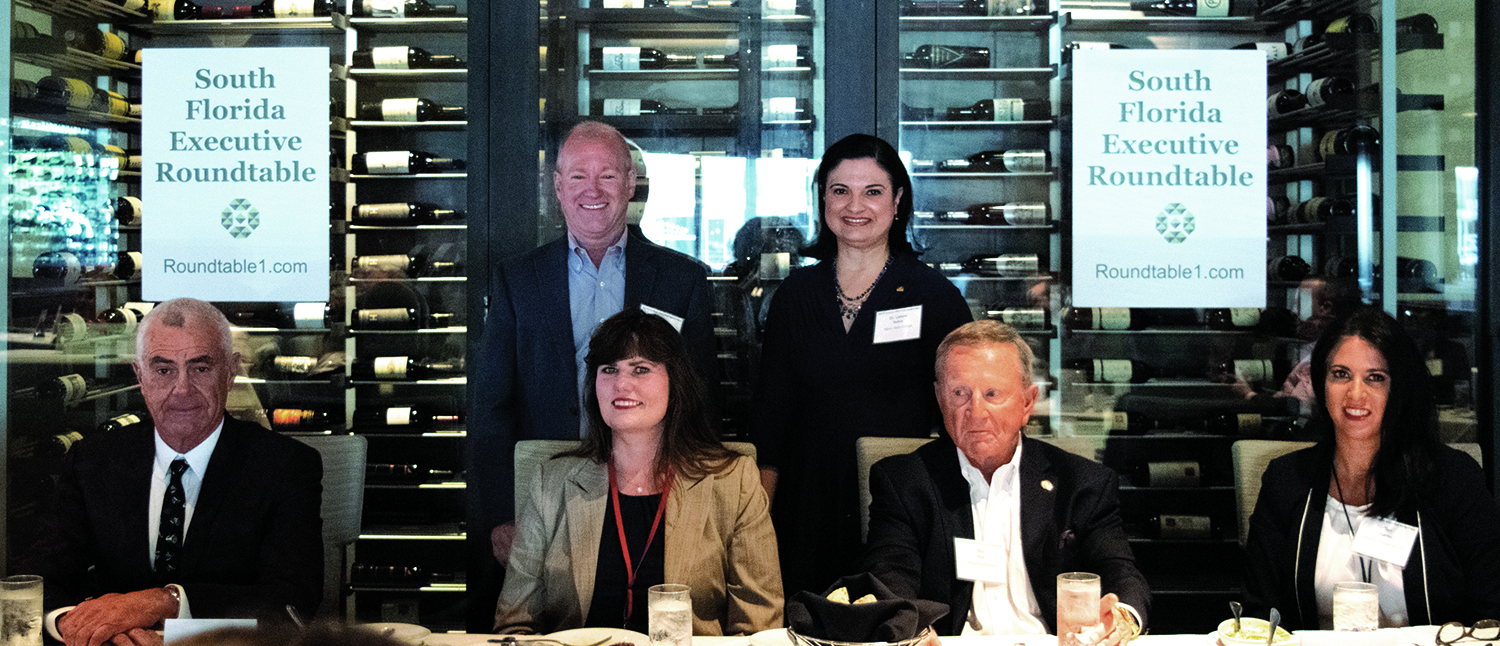 Insights on managing change, culture and innovation
The South Florida Executive Roundtable had key leaders from the higher education, automotive and fresh-produce industries. The event was held at Fleming's Prime Steakhouse in Coral Gables.
Here are some of the highlights of their insights.
Embracing student needs at MDC
Lenore Rodicio,
Executive Vice President and Provost
at Miami Dade College
Rocidio talked about change from the viewpoint of the largest college in the United States with 165,000 students and eight campus locations. Students face challenges outside of the classroom: Many are primary caregivers for their families, 70 percent work at least part time, 80 percent are low-income and 44 percent are below the poverty line.
MDC identified seven to 10 basic needs across its student population and created teams that looked at overarching policies. More than 900 students participated in focus groups and said they needed better technology, better collaboration between what they were learning in the classroom and the support services MDC was offering, such as tutoring.
"This means that you have to change the culture of the faculty. It means you have to change the culture of the advisers. It means you have to change the culture of the tutors at an institution," Rodicio said.
MDC's effort was supported by $10 million from the Bill and Melinda Gates Foundation. Since the grant money ultimately would run out, MDC put an emphasis on structural change, reallocating resources, looking at job descriptions and putting new processes in place.
In the middle of this, MDC was adopting a new enterprise resource planning system.
"We made one thing certain, and that was that the technology wouldn't drive our processes and our policies," Rodicio said. Instead, the desired outcomes were used to shape processes and technology helped drive them. "Now we're applying new technology tools to help support a lot of the heavy lift, very intentional touchpoints that we have with our students."
Managing change in a highly disrupted industry
Craig Zinn,
President and CEO of
Zinn Automotive Group
Zinn's company has five automotive locations in Miami-Dade and Broward counties that sell Acura, Lexus, Toyota and Subaru vehicles and employ about 1,100 people
Zinn said the automotive industry is probably the one most affected by innovation these days.
He told how he had a chance to test out a Subaru that was going 60 mph and it stopped without him having to put a foot on the brake.
"The Subaru people were like, 'Were you scared?' And I'm like, 'Yeah. I'm getting ready to build a body shop. What am I going to do with the body shop when you are going to bring cars that aren't going to hit any other products?' "
Zinn anticipates three types of technology when it comes to self-driving or assisted driving cars. One is a fully autonomous vehicle that relies on sensors and doesn't need drivers. The second is semi-autonomous, where drivers are assisted but can't take their hands off the steering wheel too long. The third already is in use, with lane assistance and automatic braking to avoid collisions.
Another major change is what will power cars. German carmakers basically have stopped making diesel engines and are emphasizing electric powered vehicles. Japanese manufacturers are looking at hydrogen fuel technology.
Zinn expects to be putting more emphasis on technology training since electric cars require highly specific training.
Innovation in construction
Bob Moss,
Chairman and CEO of Moss Construction
Moss has been in the construction field for more than 50 years. About 15 years ago, he started Moss Construction with his sons. The company has spread from South Florida to have offices in Honolulu, San Diego, El Paso and Dallas in Texas, Tampa and Orlando.
The construction industry has a lot of technological innovations, he says. "We actually have a technology company that's doing nothing but inventing clever ways to go about executing work. In our business, we have one patented technique where we're attach a monitor to everybody's hard hat on the job. I could pull up a phone, pick any one of the hundred projects that we have and tell you how many people were working on that job, who they work for."
Construction has many intricacies when it comes to project management, where there are many materials. Moreover, Moss may have up to 100 projects scattered across the country. "We've manage a tremendous amount of data," he says.
For human capital, on one end, Moss has a lot of highly skilled senior executives that have been with Moss for 25 years. At the other end, the company hires a lot of interns and actively engages with students at Miami Dade College, which has a great building construction program, Moss says. "We sort of adopt these people, give them a chance to work part time and work their way through school and get a building construction degree."
The Moss culture emphasizes inclusiveness, engagement and professional growth. "We want people to say that they work for a family company and feel like they work for a family company, which means they feel like they could speak to me or speak to the leaders of our company, and we will listen to them and we will accept their ideas," he says.
Tons of produce and big data
Patricia Pinter,
Vice President of Finance and IT for North America, Del Monte Fresh Produce
Fresh Del Monte, which is based in Coral Gables, is a giant in the produce world with revenue of $4.49 billion in 2018.
The company traditionally had a lot of business-to-business customers, such as food distributors, but the distance to consumers is narrowing with technologies such as Instacart. While truckloads of deliveries has been the historical norm, smaller quantities now are being delivered.
"That begs an ability to see high volumes of information and people that deal with big data to look for trends," she says. "You just have to have an ability to see small amounts of data very quickly in an aggregate way."
Fresh Del Monte has transparency as one of its pillars, which is especially important when working across generations.
"We are finding ways to develop a modern multidisciplinary team approach to a lot of what we do, and I think that exposes people to a wide variety of other things, and it also allows them to see other areas of the business and to feel connected to the company."
Members of Generation Y, or millennials, tend to ask more questions. "That's an opportunity for us to move people around into special projects to allow them to crosstrain," she said. Generation Z, the demographic after Generation Y, is starting to come into the workplace and she finds they tend to be participative and like a team approach. Her advice is to understand the different personalities, ways of thinking and life stages of the generations. "How they can work, the best way together, is really the best opportunity to have a future," she said. ♦