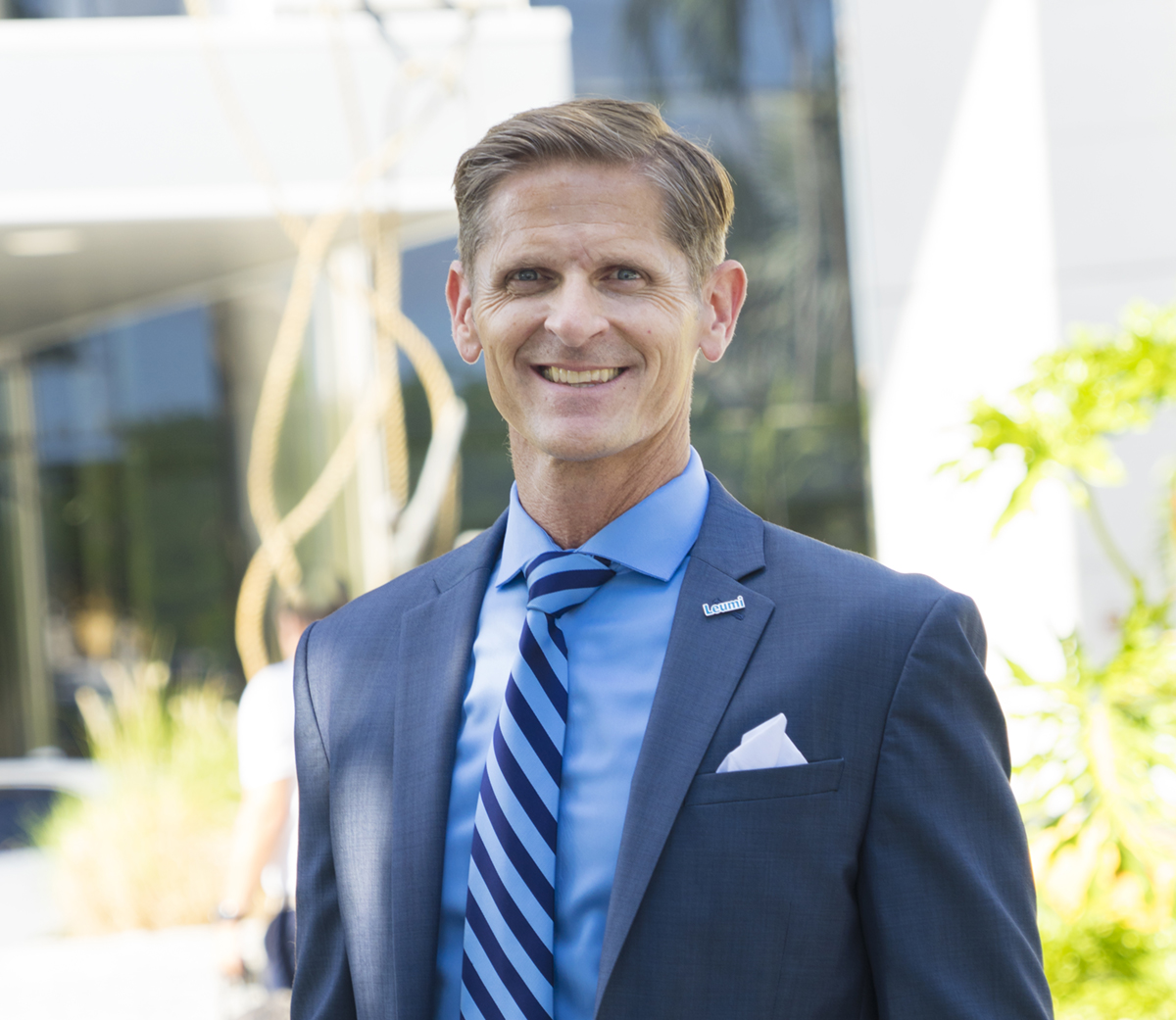 Just Right
Bank Leumi has allure for middle-market customers
Photography by Patrick Clinton
Middle-market banking customers can feel like Goldilocks these days. Some big banks offer a lot of resources, but corporate bureaucracy can put a chill on decision-making. Community banks can offer warm personal ties and relationships but might not have all the resources a customer needs. Bank Leumi USA, however, is trying to be just right.
It has the resources of a big banking company as part of Israel's Leumi Group, which is that nation's second-largest bank. It has the touch of a community bank with just one Southeastern U.S. office, in Aventura.
Heading up operations is Jeff Watts, president of the Southeast market for middle-market banking. He's putting a heavy emphasis on commercial and industrial banking, saying it accounts for the majority of new business. A new asset-based lending capability is helping fuel growth.
Watts has megabank experience as a commercial banker at Wells Fargo and smaller bank experience at City National Bank, where he was Broward County regional executive and director of private banking before joining Bank Leumi in November 2017.
Watts comes from a blue-collar background in California, and his determination to succeed personally and at Bank Leumi is symbolized by some of his running accomplishments. He finished 49th out of 14,488 competitors in the 2016 Miami Half Marathon, including seventh in his age group, with a time of 1:20. He finished second overall in a 50K (31-mile) Trail Run in Hobe Sound the same year with a time of just under 4:17.
When it comes to competing against large institutions, Watts says, "We are much nimbler in terms of our execution relative to credit decision-making and offer exceptional service, without sacrificing product capabilities or the amount of capital middle market companies need."
When it comes to competing against community banks, he says, "We offer a great deal more in the way of product capabilities (tremendous cash management, trade finance, foreign exchange, hedging, full asset-based lending, access to the Israeli bond market), together with strong local market knowledge and access to management."
The top priority for Watts and his bank these days is growing the commercial and industrial customer base, targeting companies with $50 million to $1 billion in sales revenue. Other ongoing sectors are commercial real estate developers and the health care market, especially the senior housing market, including assisted living, skilled nursing, and independent living facilities across Florida. The bank also has expertise in technology, media and entertainment and water.
The bank's Florida operations had a strong performance in year-over-year metrics at the end of the third quarter of 2018, with average total deposits up 64 percent, revenue up 10 percent and loan balances up 11 percent.
The bank nationally is getting help from some strategic partners. In 2018, Endicott Capital Management, which is known for investing in banks, and MSD Capital, the investment manager for Michael Dell, announced they would invest $141 million for a 15 percent stake in the U.S. bank, which also has offices in New York City, Chicago, San Francisco and Los Angeles.
Blue-collar background
Watts comes from a blue-collar family of firefighters and police officers and learned the value of work at a young age, delivering newspapers, working at KFC and then a family restaurant, washing dishes and bussing tables.
One of the strongest impacts on him came from an older sister who used crack cocaine and heroin and died a few years ago. "She would say, 'You never judge me—the only person in my life.' So, you know, that stuck with me. And I tried to remember that nobody wants a hard life, whether it was her situation or something else. So, who am I to judge? I try to live that way with my wife or kids. You know, it's kept me grounded."
His biological father left when Watts was 4 or 5, although he never totally lost contact. "I made it a point in my 20s to reconnect because I think at least in my view, it's important to be at peace," Watts says.
Watts says he somewhat stumbled into junior college after high school since his family didn't have a history of going to college. He went to four different community colleges and worked at the family restaurant, Office Depot, Home Depot and UPS. Friends encouraged him to keep studying and he got a degree in anthropology in 1998 from California State University-Hayward.
He was attracted to it because of an interest in science and the sociocultural aspects of the field. His stepfather's family was from Mexico, and Watts worked with a lot of Hispanics in the restaurant.
After graduation, he worked in the call center for Classroom Connect, an educational technology company, and ended up as regional sales manager for the Pacific Northwest.
"I learned that I enjoy selling, and I enjoyed ultimately getting some experience leading teams," Watts says.
He saw some of the young Stanford University MBA graduates working there and received some advice from a member of the management team. "Look, kid, you studied anthropology once. You should go back to school, study finance and accounting. You're always in here, you're asking me questions, now's the time."
He was ready to leave California and try something different, so he went to the Thunderbird School of Global Management at the Arizona State University. He enjoyed learning about finance and accounting and graduated with an MBA in 2003.
Watts' start in banking
He researched jobs in the career center and went to New York during Christmas but didn't like the weather. He got a job offer from First Union bank, which morphed into Wells Fargo, and moved to South Florida.
That was his entry into middle-market banking, and he enjoyed how it was relationship-based. He was part of an associate training program and worked in Jacksonville and Charlotte, North Carolina. In 2009, the big banks were imploding, and Watts was recruited to join City National as team leader for corporate banking in Broward and Palm Beach counties. He had subsequent stints at City National's senior executive in Broward and director of its private client group business in Florida. He has a lot of gratitude for that experience, which he calls invaluable.
In 2017, a friend and former colleague told him the head of Bank Leumi in Florida was retiring, and Watts succeeded him.
Bank Leumi has a small walk-in branch in Aventura, but it's really more of what Watts terms an "upstairs bank" with commercial and private banking services.
Bank Leumi's prominence in Israel helps connect its U.S. operations with Israeli companies that want to do business in the United States. The many Jewish residents of South Florida also have familiarity with the bank, he says. The third bucket of customers Watts is focusing on is the broader business community.
"I actually look forward to the calls when a CEO does not know who we are, or prospective candidates, and we can describe the environment and the culture and see if there's a good fit," Watts says.
Watts likes how Bank Leumi has all the technology customers need while also being able to connect personally with CEOs and tell them how the bank can handle trade finance and letters of credit. An arm of the bank in Aventura that doesn't fall under Watts' purview is international private banking operations, which reaches into South America.
Bank Leumi's sophisticated asset-based lending system allows it to venture beyond what community banks typically will offer because it can carefully monitor receivables and inventory, Watts says. The bank also recently gained state approval to start a deposit program for municipalities.
Watts is active in the community as a director for the Broward Workshop, an influential group of business leaders, and a board member for YMCA of South Florida. He likes how the Workshop can get things done and says the YMCA has a broader scope than most people realize, providing after school care and help for the elderly.
Watts says he is a big believer in diversity, and his wife, with whom he has two children, is originally from Morocco. He says, "You can be driven, but we're tolerant and do our best to care about people no matter who they are."♦