[vc_row css_animation="" row_type="row" use_row_as_full_screen_section="no" type="full_width" angled_section="no" text_align="left" background_image_as_pattern="without_pattern"][vc_column width="2/3″][vc_column_text]By Sally-Ann O'Dowd | Photography by Eduardo Schneider
Even as a youngster growing up poor in the small town of Farnham, Virginia, Tim Beasley had a sense of style. Wearing the lower-end brands that his mother was able to afford, Beasley managed to keep up appearances—he didn't like wrinkles, and he steamed his clothes.
Despite the twists and turns in his journey—at one point, Beasley left college and came to South Florida to pursue a professional cycling career—some things haven't changed. He still takes pride in the way that clothes fit a man, only now he's turned that passion into an entrepreneurial venture.
Beasley founded Gent Row, a luxury men's fashion brand (gentrow.com; 754.223.6535), three years ago this month. In that time, he's developed a clientele ranging from billionaires (he has four on his list) to Miami Heat players.
"The best clients are the rich and nameless," Beasley says. "The meat and potatoes of what we do are powerful men that are very confident. They're not looking for attention. These are people with class and etiquette."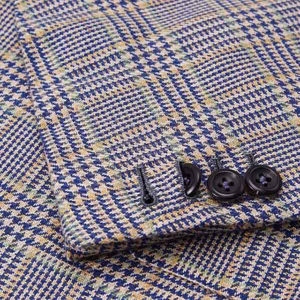 Gent Row offers two services to discerning men: bespoke shirts, suits, shoes and jeans; and an online shop featuring more than 60 designer brands of attire, briefcases, watches and more.
Clients receive personalized service in select markets: South Florida (Jupiter to Palmetto Bay); Sarasota; Tampa; Atlanta; Washington, D.C.; Baltimore; New York; and Beverly Hills and Long Beach in California. After making a client connection, a Gent Row clothier schedules a session at the man's home or office. Over the course of a few hours, the clothier takes measurements, learns about the client's lifestyle and discusses fabric tastes.
John Tolbert, president of Boca Raton Resort & Club, is a Gent Row client. He prefers bespoke jackets in a Neapolitan Italian style, defined by a soft shoulder and wide lapel. Unlined, such jackets are perfect for South Florida's climate. "It's casual elegance," Beasley says. "Not everyone can pull it off."
Several clients serve as mentors to Beasley because they've worked hard to earn their financial freedom, possess integrity, and have the means to give back to their communities.
Those traits, Beasley will tell you, run deep in the family. Take his great-great-great grandfather, who was born in 19th century Dallas. Poor and with little formal education, Robert L. Thornton started off picking cotton. He eventually became a prominent businessman and, much later, the city's mayor in 1953.
It was Thornton who provided seed money to Herman Marcus, who along with his sister, Carrie Marcus Neiman, and her husband, A.L. Neiman, founded the first Neiman Marcus store in 1907.
While a family-run mill in Vicenza, Italy, is the primary source of Gent Row fabrics, an English mill also is a supplier. The actual manufacturing takes place in Italy and China. Custom shoes, based on a foot mold, are made and hand-painted in Spain.
Beasley describes his price points as "honest" and "fair value" because his costs lie in the goods and craftsmanship. Other high-end brands can cost twice as much for a similar product, he says. Suits begin at $850, an entry-level price for millennials whose budgets are likely to increase as they advance in their careers.
A gleaming blue-watch tuxedo jacket, in silk with a satin lapel, costs $2,000, while a cashmere-silk jacket, light enough for summer, goes for $5,500. A luscious alpaca full-length coat, which could be worn in northern climates, or while traveling, is $25,000. ♦
[/vc_column_text][/vc_column][vc_column width="1/3″][/vc_column][/vc_row]