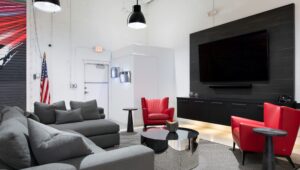 The South Florida chapter of the American Society of Interior Designers (ASID) awarded its "Inclusion by Design" 2022 Design Excellence Award to Collective Construction & Design, Inc. (CCD) in Plantation for its "Man Cave" project in Boca Raton. The awards recognize projects by ASID Florida South Chapter members and the greater South Florida design community who embody excellence in interior design.
The scope of the transformative project entailed converting a vacant warehouse space without utilities into a dream retreat for a classic car and motorcycle collector. Along with her husband, Art Kubli, the general contractor of CCD, Eloise Kubli, president of CCD, designed a layout to display the client's collection with room to grow.  
"We are pleased to have created our client's dream' man cave,' which incorporates his love of classic cars and motorcycles," Elise Kubli says. "Although the project was a challenge to complete during the COVID-19 pandemic, considering that it was difficult to get supplies and harder to get people to work, we created a beautiful space to reflect our client's personality." 
The project started in 2020 and was completed in 2021. It follows hurricane codes and can serve as a safe space if needed. It includes a private bedroom, bathroom and kitchen in the loft/mezzanine area, as well as a sleeping area for the client's young daughter. The dramatic, large, open, colorful space includes LED and cast-perfect lighting. A Crestron lighting control and the sound system highlight the owner's vintage muscle car and motorcycle collection.  
The comfortable lounge area features a large-screen TV and a custom grey performance fabric upholstered sectional that offers ample space to lounge. Red leather chairs and iron side tables complement the orange, red, white, black and grey automotive-industrial look. A stainless steel drum table reflects the ceiling, while the durable nylon area rug on the polished concrete floor anchors the seating area. The bar, adjacent to the lounge area, boasts a back bar with a banana creme three-dimensional plexiglass to contrast with the rare original two-tone Panama paint on a 1958 corvette. Leather bar stools from Italy reinforce the orange theme. LED lighting below the raw concrete Caesarstone bar top rotates through various colors to create entertainment excitement. A private bedroom overlooking the auto collection and entertainment area is up the stairs at the far end of the loft. The leather bed and nightstands in durable finishes, along with the car bumper on the wall, continue the antique car theme. A full kitchen in the loft provides additional entertainment space. Charcoal grey tones on the cabinetry and Caesarstone slabs combined with stainless steel, grey leather, and performance fabric on the sleeper sofa offer durable finishes.
 For more information about the firm and its services, please call (954) 733-8282, email info@collectiveconst-design.com or visit http://collectiveconst-design.com.
Photo Credit: Horton Photography