Possible trouble ahead for our thriving marine economy, a partnership to save our middle schools, a new type of Ph.D. for business leaders, and teaching youngsters to be expert coders. These are the topics in this installment of SFBW's "Education Collaboration" series.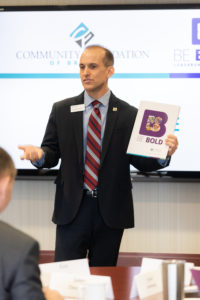 Future success depends on youthful performance
Middle school should be a natural steppingstone toward a successful high school experience and usually followed by college admission. Unfortunately, that is often not the case. Studies have shown those who fall behind in middle school often do not wind up graduating from high school.
That's why the Community Foundation of Broward, a public-private partnership, decided to take action by teaming up with Broward County Public Schools to embark on a project to "reimagine" how middle school education is delivered in Broward.
Kirk Englehardt, the foundation's vice president of marketing and communications, recognizes the ultimate importance of middle school in a child's academic career. "Our whole focus is to increase the high school graduation rate," he says. "And middle schools are the 'fork' in the road."
He says the foundation's major emphasis deals with attendance, behavior and course performance. The foundation awarded the district a $3 million grant over three years. The grant, the largest in the foundation's history, will be matched by the district. Grant money was provided by 25 local philanthropists.
The funds have been used to create pilot programs in 10 middle schools throughout the county.
"It's not just in low-performing schools, but spread out over the county," Englehardt says, adding the school superintendent said he doesn't believe this type of program is being done anywhere else.
Part of the funding will be earmarked for teacher training, Englehardt says. Plus, each school will bring a full-time community liaison on board to work with students and their issues. "Our goal is a 90 percent or higher graduation rate. That's what we should be doing."
Trouble on coastline; NSU to the rescue
Florida's economy is under attack from an unknown enemy, a still-undiagnosed disease process that's decimating our fragile coral reefs.
Richard Dodge, dean of Nova Southeastern University's Halmos College of Natural Science and Oceanography, says the Florida reef track, which runs from the Dry Tortugas to Martin County, generates a $10 billion annual economy and creates 100,000 jobs. "It's a significant economic engine," he says.
Unfortunately, the disease is destroying a lot of this coral. Therefore NSU, in conjunction with researchers from the National Oceanic and Atmospheric Administration and other institutions around the country, has initiated a "coral protection plan" where unaffected coral have been taken to labs at Nova and elsewhere for safekeeping until the threat passes.
Dodge points out while the still-healthy coral and its genetic material are preserved, more research needs to be done to study the etiology of the disease. "We've not been able to find the source of the disease," he says. "Bacteria or virus, or some combination of the two? Right now, we're in a reactive stage. Our idea is to make sure at least we'll be able to save some of the gene pool."
This business idea was a 'perfect' fit for its owners
Eric and Traci Leon were looking for their own business; something they could do together as husband and wife. They searched online and found something they knew would totally mesh with their respective skill sets.
"Our jaws dropped when we saw Code Ninjas," Eric says. "With her teaching experience [25 years in Broward County] and my technology experience [working in IT], it was a perfect fit."
Code Ninjas sounds at first like a martial arts school. Its classrooms are called dojos; instructors are called senseis. However, at these dojos, no one has to block an opponent's kicks or punches. Instead, youngsters 7-14 learn to take their love of gaming to the next level.
They're taught the language of coding and learn to create their own games and apps. "Our language is JavaScript," Eric says. "Just like in karate, they go from white belt to black belt. The kids learn from each other. We realized kids were spending too much time by themselves playing games."
Code Ninjas is a franchise business originally started in Texas. "The founder was at his child's karate class, and he got a spark in his head," Eric says. "He identified the need for coding."
The Leons just opened their fifth Code Ninjas in Coral Springs. The others are in Cooper City and Plantation.
FAU adds a unique touch in Ph.D. program
Ken Johnson, associate dean of graduate programs at Florida Atlantic University's College of Business, believed a change was needed in the way business students graduating with doctorate degrees were trained. "There were too many specialists and not enough GPs," he says.
About three years ago, FAU's graduate business school decided to embark on a unique education project. The results of which will come into fruition this fall with a three-year executive Ph.D. program, geared toward professionals already working at high-level positions in management. Where traditional doctorate programs usually push their graduates toward specialization, "we designed our students to be well-rounded," Johnson says.
Graduates will pursue generalist Ph.D. degrees and will be trained in the following areas: accounting, finance, economics, marketing, management and information science.
Classes will be held every third weekend (both Saturdays and Sundays.) The total cost of the program is $80,000 for the entire 80 credit hours. "We're either the lowest or next to the lowest," Johnson says. ♦