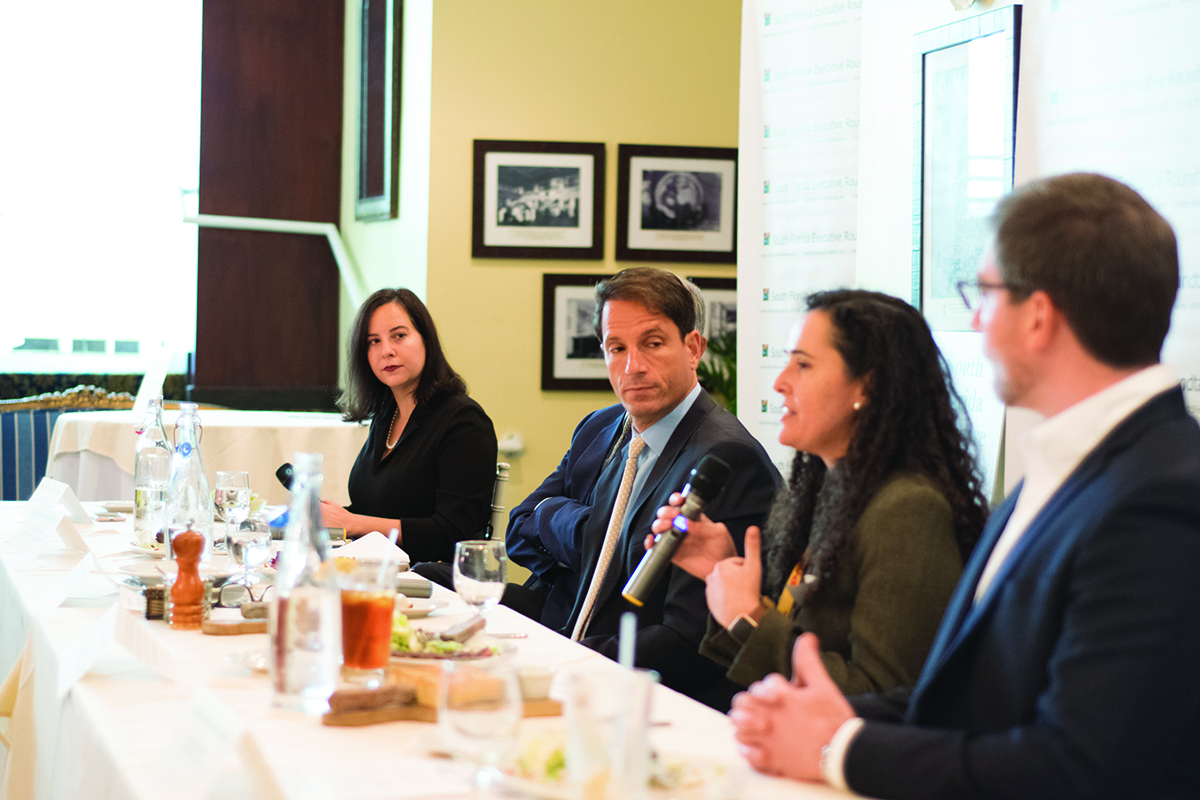 Optimistic for 2019
The December edition of the South Florida Executive Roundtable began with light-hearted talk about New Year's resolutions and how each company celebrated the holidays. Gian Carlo Alonso, president and CEO at AmeriKooler, had the audience laughing when he revealed his company's unique awards programs. "One year, we did this very funny awards thing and we gave out a Human Vulture Award for the person who eats anything in the office. We also gave out the Loch Ness Award for the person who you can't find whenever you need them," Alonso said. He was joined by three other panelists:
• Steven D. Sonenreich, president and CEO for Mount Sinai Medical Center.
• Gary B. Glass, general counsel, chief human resources officer, chief compliance officer and corporate secretary for Health Channels.
• Nathalie Saenz, senior director for the center of excellence for corporate real estate for DP DHL Group's Global Business Services.
SFBW's associate editor, Andrea Richard, moderated the roundtable discussion, which was held at the Peacock Garden Café in Coconut Grove. The following takeaways were edited for brevity and clarity.
What's your business outlook for 2019?
Glass: We are growing very quickly. The health care space is in a bit of a transition period. It has moved more to a value-based care. We have an interesting business model in which we provide low-cost labor with the brainpower of future doctors. We hire people just out of college who are interested in a health care career and want to be on the frontlines working with a doctor. So, the recent graduates come work for us for a few years, and we are seeing a lot of growth with this model.
Alonso: I would say it's very good, but regardless of what happens, I'm a no-excuse kind of guy. Let's say the market and the economy bombs. I always look at how do we get more market share. So even in the down years we've done well, really well, but it's all about perspective. I would say no matter what, we're going to have a great year, it's going to be a very profitable year. All in all, I'm pretty optimistic even with all the tariffs, and we are growing internationally in Central and South America.
Saenz: DHL is growing, and e-commerce is key to driving our growth. It's an exciting time. We are considering what the customers want because it is not just about moving packages from point A to B. My customers, in some cases are B2B, and they really want to be more involved and making sure that their product gets in their customers' hands exactly how they want it.
What corporate social responsibilities exists in your industry?
Sonenreich: I think compliance is something that is top-of-mind with so many businesses in today's world. Health care and hospitals are arguably one of the most regulated because we are regulated by different entities. One time I made a list and there were 50 or so different organizations that actually audited us on a regular basis. From a cultural aspect, one thing I like to talk about is being fair and transparent with everyone. We always want to be compliant and respect all the contracts, all the laws and regulations. Compliance is a top-down phenomenon, so we, as executive management, must walk the walk of compliance then that certainly trickles down within our organization.
Glass: Our employees, for the most part, are working in hospitals and health systems side by side with doctors, so our regulatory compliance mindset is really a function of the health care system. We work really hard at creating a culture of compliance and innovation. We have quarterly academy skills camps, where we focus on one or two themes.
Saenz: We are a global logistics organization, and we've set up three specific groups: Go Green, Go Help and Go Teach. For instance, the organization has invested in electric vehicles with the goal of leading the way into a greener, more-sustainable future. The Go Help programs provides the United Nations with disaster management support. The Go Teach is a great program, where we've collected laptops and plan to distribute them to underserved schools with the idea of improving education for the next generation of working professionals.
Alonso: We try to be as green as possible. One thing I'd like to add is, we always try to promote from within as much as possible. We also promote women to managerial roles.
How do you instill your company values with new hires?
Alonso: We have our core values, which are on wonderful posters throughout the company. We keep it nice and simple. During the interviewing process, we ask certain questions to see if the candidates are aligned with those core values, based on their responses. I'll ask hard questions such as why they really want the job and why they want to leave their last job.
For the onboarding process, we let them know what the values are, and then, throughout the year, we have rewards. We have a culture committee that will honor people whose behaviors exemplify leadership and high performance. ♦
SFBW is the exclusive media partner of the South Florida Executive Roundtable. For more information on SFER, visit SFexecRoundtable.com.