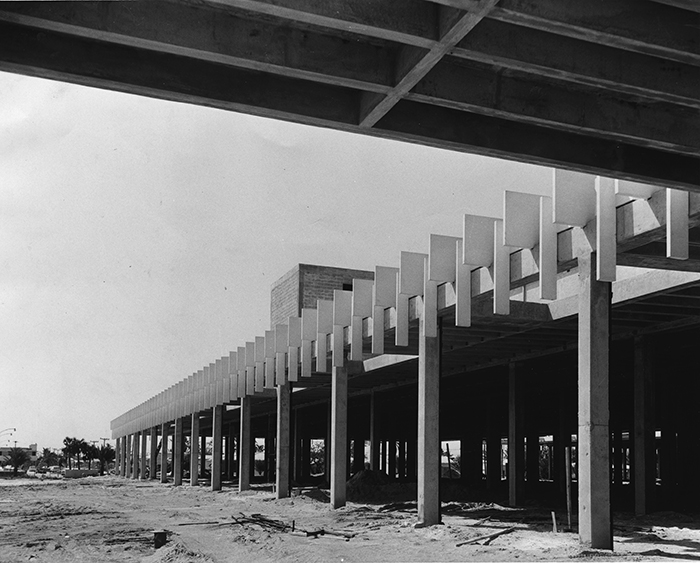 The origins of Bal Harbour chic
South Florida has become a mecca for shopping and high fashion, breaking sales forecasts and records throughout the region's retail spaces. Millions of square feet of retail are either under construction or in the planning stages with new malls being developed while long-standing malls throughout South Florida are expanding.
The mixed use Brickell City Centre, Miami Worldcenter and All Aboard Florida are already underway; and developers are now proposing to build the largest mall in the nation, aptly named American Dream Miami, in northwest Miami-Dade.
Pictured here, Bal Harbour Shops during its construction in 1965. Breaking the retail mold at the time, where a mix of essential service tenants such as grocery and hardware stores were usually planned with retail spaces, owner/developer Stanley Whitman opened Florida's first exclusive, high-fashion shopping center. The site, which had previously been a World War II army barracks, was to become the most lucrative shopping mall in the world based on sales-per-square-foot.
Featuring artifacts that showcase the family's innovation and contribution to South Florida throughout the years, The Whitman Family Gallery will open at HistoryMiami in April 2015. ?
Information for this feature is courtesy of the HistoryMiami Archives & Research Center, which is open to the public and contains more than 1.1 million images of southeast Florida, the entire state, and the Caribbean from 1883 to the present. For more information or to visit HistoryMiami, please visit www.historymiami.org. (This photo ran in the Miami News on Oct. 13, 1965. Miami News Collection, HistoryMiami, catalog number 1989-011-1181.)