The Swank Table Dinner Series offers a captivating lineup of ten outdoor dining experiences set amidst the charm of the 20-acre Swank Specialty Produce Farm in Loxahatchee, 14311 North Rd. Kicking off on Sunday, Nov. 12, with a lively Fall Harvest Hoe Down, this series spotlights the cream of Florida's crop, including farmers, ranchers, artisanal producers, micro-brewers, distillers and winemakers. Renowned chefs collaborate to craft an indulgent multi-course feast that accentuates the exceptional quality of these ingredients. Moreover, each Swank Table event contributes to a local charity, infusing every dining occasion with a more profound sense of purpose.
Each evening starts with a refreshing welcome cocktail provided by UNA Vodka and Miami Club Rum and a delightful amuse-bouche to tantalize the taste buds. Following this, guests will indulge in a curated selection of canapés, showcasing four distinct appetizers skillfully crafted by our featured chefs and thoughtfully paired with sparkling beverages. The night's highlight arrives with a five-course plated dinner set beneath the rustic charm of Swank's pole barn. To enhance the culinary experience, Sommelier Jon Wine meticulously selects a range of wines to perfectly complement each dish, while local craft brewers offer a delightful assortment of specialty beers. Those who wish to explore the farm can take a guided tour of the hydroponic grow houses led by Darrin Swank or take a leisurely stroll through the fields to witness the farm in action.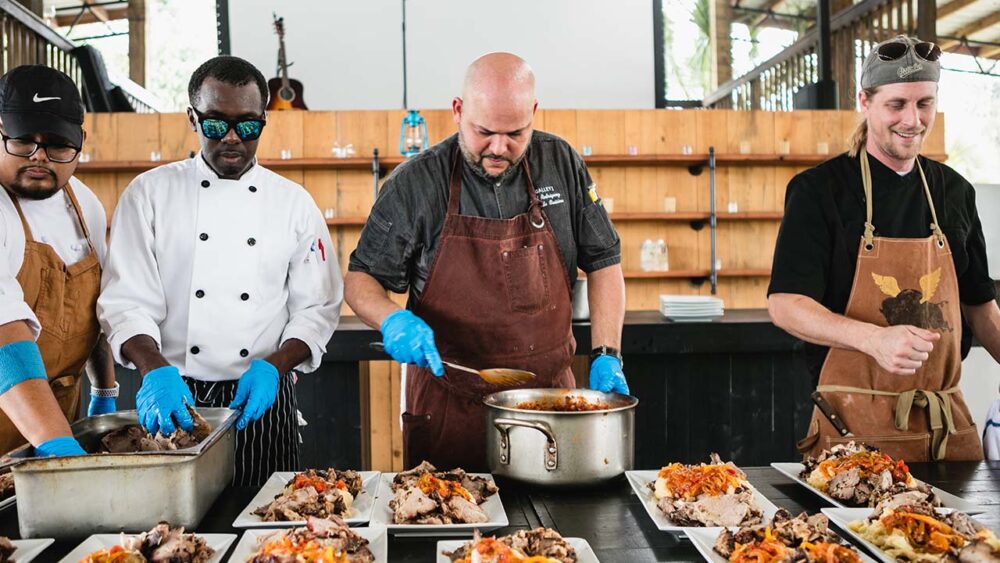 This season's Swank culinary journey will feature Jon Sarmiento as the lead chef liaison. Sarmiento has been an integral part of the Swank chef team for three years, and his extensive experience both on and off the farm, with stints at esteemed establishments like Cholo Soy and Palm Beach Meats, makes him a valuable addition.
Swank Table will also present a dynamic lineup of new participating chefs this season. South Florida's very own Carlos Garcia of Leku, Brian Nasajon from Beaker & Gray, Akino West of Rosie's, Chef Moon of Sushi by Bou, Johnny Demartini representing Ravish, Huy Hoang from Le Colonial, Warren's culinary talent Jen Knox, and the renowned Antonio Bachour will all grace our events with their culinary artistry.
To celebrate Florida's vibrant agricultural heritage amidst the picturesque landscapes of Loxahatchee, Swank Specialty Produce is launching its abundant Farmers Market on Saturday, Oct. 14. This complimentary market will be a weekly event held every Saturday through May, running from 10 a.m. to 1 p.m. It promises an enticing array of farm-fresh produce, including lettuce, vegetables, herbs, and enchanting wildflower bouquets, all sourced from Swank Farm.
Visitors to the market can revel in live music and explore a diverse range of exceptional products offered by 25 local vendors. Shopping is a delightful experience, sheltered within Swank Farm's spacious 8,500 square-foot open-air pole barn, ensuring a comfortable visit regardless of the weather. Plus, free and convenient parking is readily available.
Whether shoppers seek to stock up for the week, relish a delightful breakfast sandwich, or savor a cup of coffee with a pastry, there's something to delight every palate at this vibrant Farmers Market.
Swank Table 2023/24 Season:
Photo Credit PapPhoto