With LGBTQ+ youth accounting for 40% of all young people who are unhoused in the U.S., according to a Covenant House survey, Sunshine Cathedral, SunServe and the FLITE Center came together to establish the Sunshine Pride House to address the critical issue. The safe-haven center will soon open its doors in Fort Lauderdale to provide shelter, counseling, education and life skills to young adults who have been disowned from their families after revealing their sexual orientation. The Sunshine Pride House is a six-bedroom, four-bathroom, 2,854-square-foot duplex accommodating up to 12 LGBTQ+ young adults.
"I was profoundly moved and greatly saddened after witnessing numerous young people getting kicked out of their homes," Michael Kalb says, who championed the project from its conception after contacting the Our Fund Foundation for ways to help. "Inspired by the compassionate nature of my two daughters, I committed myself to taking action and am incredibly heartened with how we've been able to work together to provide safe housing, as well as the critical wrap-around services."
Upon hearing the stories and statistics about the difficulties faced by unhoused LGBTQ+ young adults, Terry Merlin, a resident of Fort Lauderdale, was moved to take action. With shared goals, objectives, and expectations, the FLITE Center introduced him to Kalb and The Our Fund Foundation. Terry matched Kalb's generous donation, which helped secure the necessary funds to fully purchase an existing property and retrofit it into The Sunshine Pride House.
"I knew the numbers already were staggering, and when the pandemic hit, the situation became even worse," Merlin says. "I made inquiries about opening a shelter for LGBTQ+ youth and am so grateful to have been introduced to Michael and these incredible non-profit partners."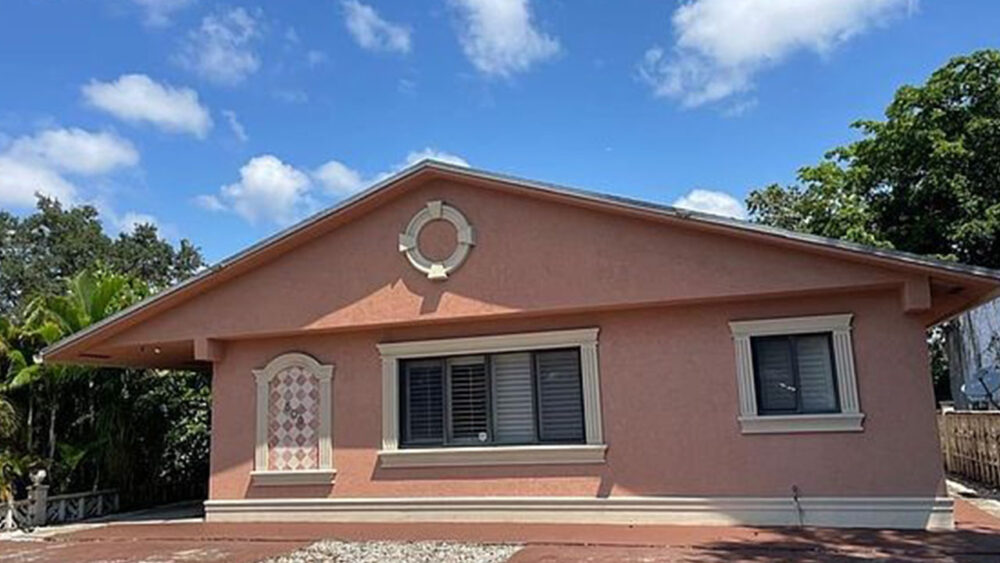 The innovative project offers stable housing and comprehensive support, mentorship, and a nurturing environment that empowers LGBTQ+ young adults to thrive. The Sunshine Pride House offers wrap-around services such as daily monitoring, life skills coaching, mental health counseling, educational training, and job placement. The residents will have access to the support and opportunities they need to succeed.
"It's been our privilege to make meaningful introductions and serve as the facilitator for this multifaceted project," said David Jobin says, president and CEO of The Our Fund Foundation.
The Sunshine Pride House is owned and managed by the Sunshine Cathedral, a renowned organization with over 50 years of experience in the ownership and management of properties.
"Our congregation immediately expressed interest in supporting LGBTQ unhoused youth, a crisis that has grown over time," Dr. Robert Griffin says, executive minister of the Sunshine Cathedral. "When we learned that The Our Fund Foundation was working on this issue, we quickly signed on as the lead agency to make this vision a reality."
The project's success during its beta testing can be attributed to the collaboration between SunServe and FLITE Center. FLITE Center is recognized as a statewide expert in providing comprehensive services to unhoused young people, with a particular emphasis on helping them transition into successful adults. Drawing on its extensive experience in housing oversight and supporting young adults in transition, FLITE Center effectively integrates housing services into its broader support framework.
"The program serves as a model for current straight and mixed housing facilities, with a strong emphasis on compassion and cultural competency," Christine Frederick says, CEO of FLITE Center. "The safety and wellbeing of the LGBTQ+ young people we serve is our number one priority, and we help to ensure their welfare is secured through the Sunshine Pride House initiative."
Ongoing operating costs are necessary to support the programs and services required for reintegrating young people into the greater community. The lead in raising the annual operating funds, estimated to be $300,000, is being taken by the Our Fund Foundation.
For more information or to make a donation of any size, please contact The Our Fund Foundation at Theourfund.org or call 954-565-1090.