Consumers seeking luxury cruises don't have to wait until Black Friday or Cyber Monday to score terrific discounts on ocean and river sailings from Scenic Group, the parent company of Emerald Cruises and Scenic Luxury Cruises & Tours. The luxury cruise company recently launched its Black Friday and Cyber Monday deals to help create lasting memories by giving the gift of adventure. The offers are combined with two-for-one fares and Pay-in-Full promotion and are applicable for new bookings between Nov. 15 and Nov. 30, 2023.
Emerald Cruises specializes in luxury river cruises across Europe and Southeast Asia. Its fleet of nine Star-Ships offers a unique experience that focuses on local foods, cultures, and histories, along with exciting activities and expeditions. In honor of Black Friday/Cyber Monday, Emerald Cruises provides up to $4,500 savings per suite on several of its most popular eight-day and longer river sailings. Customers can take advantage of this offer by booking one of its 2024 departures, such as The Enchantment of Eastern Europe cruise, which sails between Bucharest and Hungary's Budapest, Danube Delights, which highlights the best of the historic Danube River, or Rhine Castles & Moselle Vineyards, which sails through some of Europe's most well-known wine regions.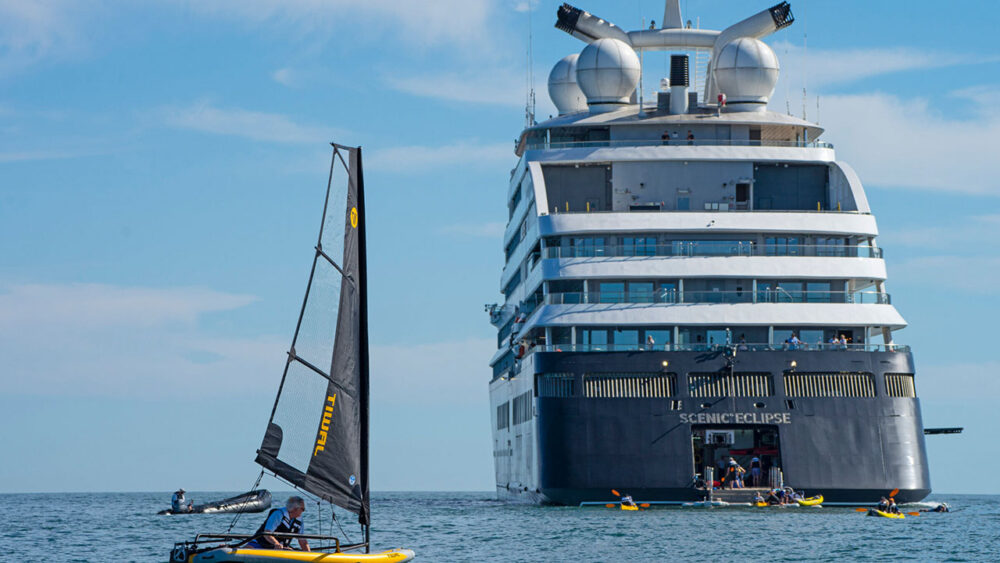 Emerald Cruises also offers an excellent opportunity for guests who want to experience the luxury and ambiance of a personal yacht without the typical costs. Guests can save up to $6,000 per suite on dozens of 2023 and 2024 sailings on either of the company's 100-guest yachts, Emerald Azzurra and Emerald Sakara. The sailings take place in the warm waters of the Mediterranean, Adriatic, and Caribbean Seas and include an eight-day Grenadines & Grenada Adventure, the 11-day Amalfi Coast, Sicily & Gulf of Naples, or the Croatian Coast and Best of the Adriatic.
Scenic operates 13 ultra-luxury river ships, called Space-Ships, which feature larger suites and significant public space. These ships sail the most popular European rivers and the Mekong River in Southeast Asia. As part of their Black Friday/Cyber Monday offerings, Scenic provides up to $5,000 in savings per suite on 25 fascinating itineraries scheduled for departure in 2024. These deals include the 11-day Normandy & Gems of the Seine itinerary, where guests can enjoy French cuisine, wines, and history as they travel from Paris to Honfleur and back. The eight-day Delightful Douro itinerary also allows guests to explore Portugal's beautiful countryside and towns. Scenic also offers two Mekong itineraries, which combine visits to the sites and cultures of Vietnam and Cambodia with an amazing trip to Angkor Wat, the world's largest religious structure.
The ultra-luxury 228-guest yachts, Scenic Eclipse and Scenic Eclipse II, offered by Scenic, combine the technology and capabilities of an expedition ship with the ultra-luxury and amenities of a top hotel. With 10 dining experiences, butlers, truly all-inclusive fares, and a nearly 6,000-square-foot spa, these yachts provide an unparalleled experience. Guests who book any of the dozens of sailings from late 2023 through 2025 can save up to $15,000 per suite. Whether it is the 15-day Beyond the Antarctica Circle, where guests sail into areas rarely visited, or Australia's 11-day Discover the Kimberley Coastline, with its amazing wildlife and scenery, or an exploration of the South Pacific on the 13-day Passage through Melanesia: Solomon Islands & Vanuatu, guests will enjoy a mix of diverse cultures, vivid landscapes, idyllic waters, and welcoming people.
On select 2024 sailings, both Emerald Cruises and Scenic products – ocean and river – offer a Free Single Supplement. Full payment is required upon booking. Savings amounts vary by itinerary and suite selection on both Emerald Cruises and Scenic, and some savings require payment in full upwards of 10 months before departure.
The Scenic Group, which comprises Emerald Cruises, Scenic Luxury Cruises & Tours, Mayflower Cruises & Tours, and Evergreen Tours, has expanded its offerings throughout its 37-year history. The company provides award-winning river and ocean cruises and handcrafted land journeys that take travelers to some of the most captivating destinations across all seven continents. Since 2008, Scenic has been the forerunner in all-inclusive, five-star river cruises in Europe and Southeast Asia. It also offers luxury cruises on Egypt's Nile on board a private luxury charter. In 2022, Emerald Azzurra became the first yacht to launch under the Emerald Cruises brand, a 100-guest luxury yacht sailing across the warm waters of the Mediterranean, Adriatic, Caribbean, and Central America. Its sister, Emerald Sakara, followed in August 2023.