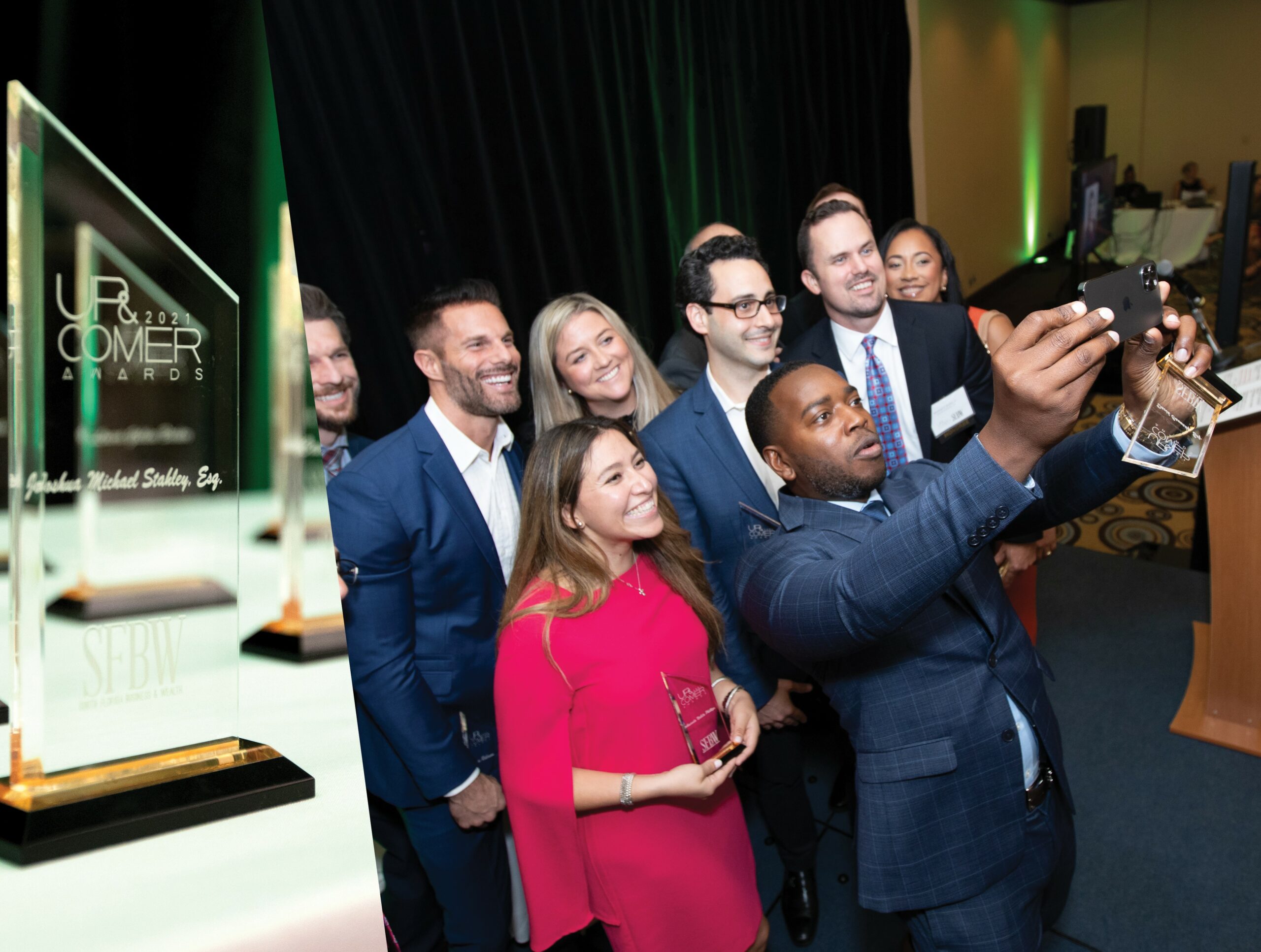 SFBW's Annual Up & Comer Awards Celebrated the Tricounty Area's Top Young Professionals
Austin Hollo, senior vice president of Florida East Coast Realty, delivered the keynote address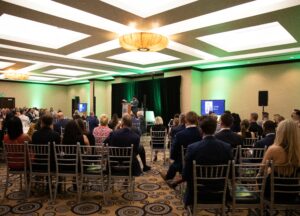 Business leaders of today and tomorrow gathered for SFBW's seventh annual Up & Comer awards at the Hilton Fort Lauderdale Beach Resort last month. "Celebrating the top achievers under the age of 40, this event is a tribute to the drive and ambition of rising executives throughout South Florida," says Gary Press, chairman of Lifestyle Media Group, which owns SFBW. "The awards honor their achievements in the workplace and for their charitable and civic contributions. Many of our honorees have already made their mark in senior-level positions or are on the fast track to do so."
With gold sponsor Transworld Business Advisors and silver sponsor Florida East Coast Realty lending support, the event honored executives from accounting, architecture, banking, bioscience, communications, construction, health care, insurance, law, nonprofit, professional services, real estate and technology. Emerald sponsors included Univision, LSN Partners, Saul Ewing Arnstein & Lehr, Stantec and Fuoco Group.
Austin Hollo, senior vice president of Florida East Coast Realty, delivered a keynote address that highlighted his unique role in the venerated company launched by his grandfather and family patriarch Tibor Hollo. FECR is known for developing some of the tallest towers in the state, and the event represented Austin's rise within the family company and his growing responsibility authority. "I am very proud to be recognized as an Up & Comer honoree," he tells SFBW, "as well as to be joined by the next generation of young professionals shaping our community's key industries and giving back in meaningful ways. It is extremely rewarding to be in the company of like-minded individuals and leaders who have a similar passion for their careers and are contributing to the growth and transformation of South Florida."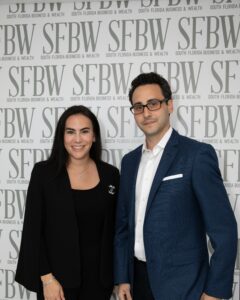 Honoree Tyler Smillie, a vice president and private client adviser at Bank of America's Private Bank in South Florida, acknowledges that no one succeeds on their own, stressing the importance of sending the elevator back down: "I have to give credit to the many mentors, coaches and leaders who comprise the support network in my life," he tells SFBW. "I would not be here if it weren't for them. Being an Up & Comer honoree underscores the cumulative work I've done so far, but I am not one to rest on my laurels—there is so much more to accomplish in both my personal and professional lives."
"I'm very thankful to be recognized for my work in elder law, fiduciary litigation and special needs law, as it is a passion of mine," says Cozen O'Connor attorney Cassandra Jelincic. "I am honored by all my clients who entrust me and my firm to help them navigate through life changes." The legal profession, always drawing a slew of nominations each year, was especially well represented, with honorees distributed across Miami-Dade, Broward and Palm Beach counties. The emphasis on this sector served as something of a precursor to SFBW's legal awards presentation held in November at the Museum of Discovery and Science.
And in an implicit acknowledgment of the state's broadening horizons and business sectors, attorney Dustin Robinson, founding partner of Mr. Cannabis Law, says "This award is a recognition of the innovative and novel approach I have taken in the delivery of legal services to an emerging industry. I hope it inspires other lawyers and entrepreneurs to break their standard line of thinking and come up with new ways to provide value to society."
Photography by Eduardo Schneider