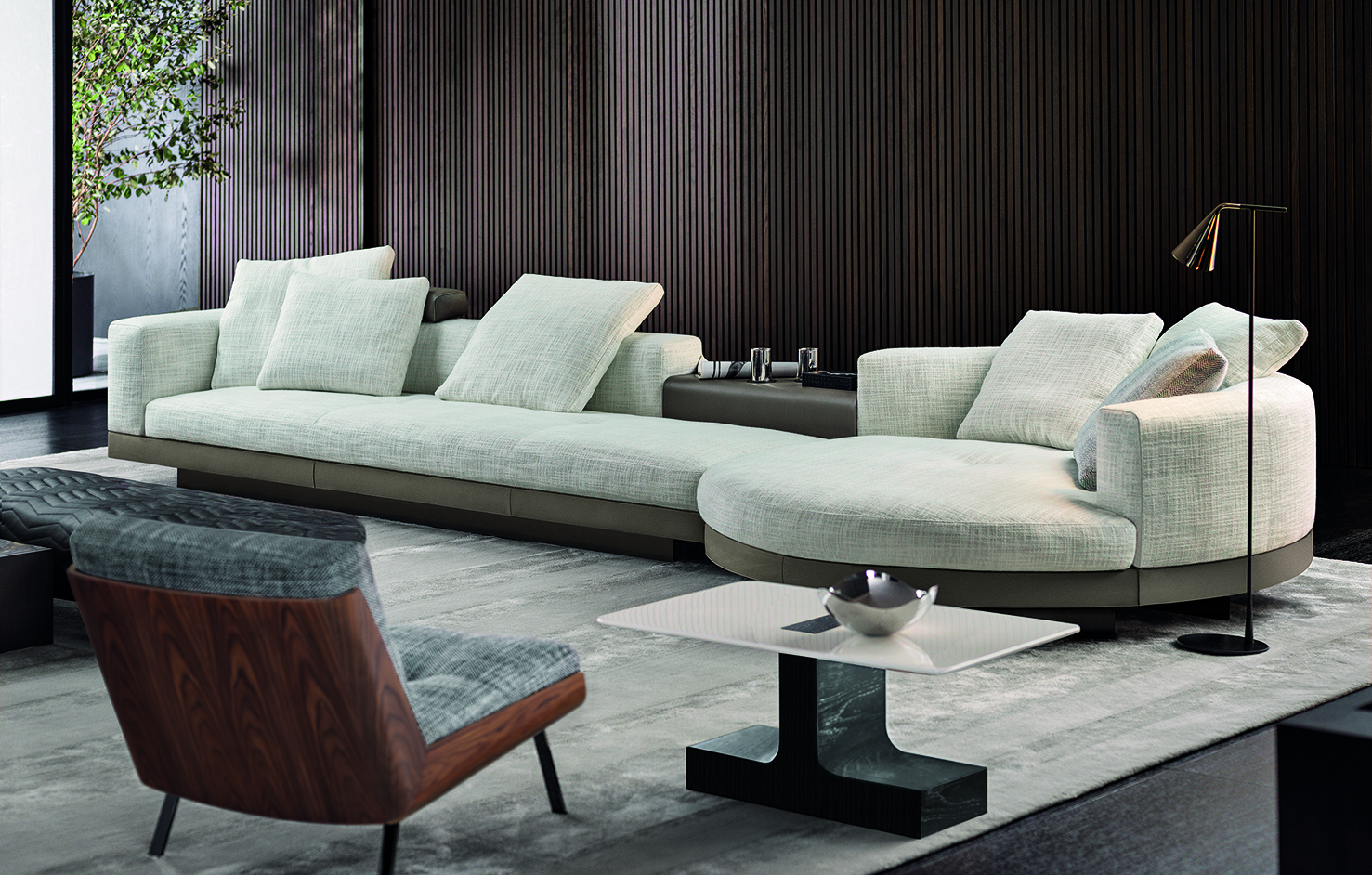 It's time to get real about pandemic-era furniture. It's not a sofa if it can't double as a daybed, and it's not a proper master bed if it strains to accommodate the whole family. Call it sheltering, call it nesting—we've gotten used to spending more time at home, and experts don't see things going back even after COVID-19 has been vanquished. For many homeowners, extra large pieces are making the situation more endurable and will make it tough for them to ever return to spindly sofas, beds and benches again.
"Many of our customers and even team members have big families with children and pets that all sleep in the same bed," says Andrew Koenig, president of City Furniture, which has showrooms throughout Miami-Dade, Broward and Palm Beach counties. "It's usually a pretty crowded and an uncomfortable arrangement, and no one really gets a good night's sleep. After hearing about this challenge, we thought that our customers would appreciate a bed they could actually sleep in together comfortably."
So the company introduced the Florida King: Measuring in at a dominant 9 feet wide and more than 6 feet in length, the new bed size is almost 3 feet wider than the standard king size mattress, also known as the Eastern King. "There's definitely a sense of pride in having created a bed that is larger than a California King," Koenig says, "and we wanted to spark some friendly competition with the West Coast." (Note that contrary to popular belief, the 6,048-square-inch California King is not "bigger" than the 6,080-square-inch Eastern King; the California King is longer but narrower, ostensibly to accommodate the taller, leaner gods of the Pacific coast. But the Florida King—at 7,776 square inches—bests them both.)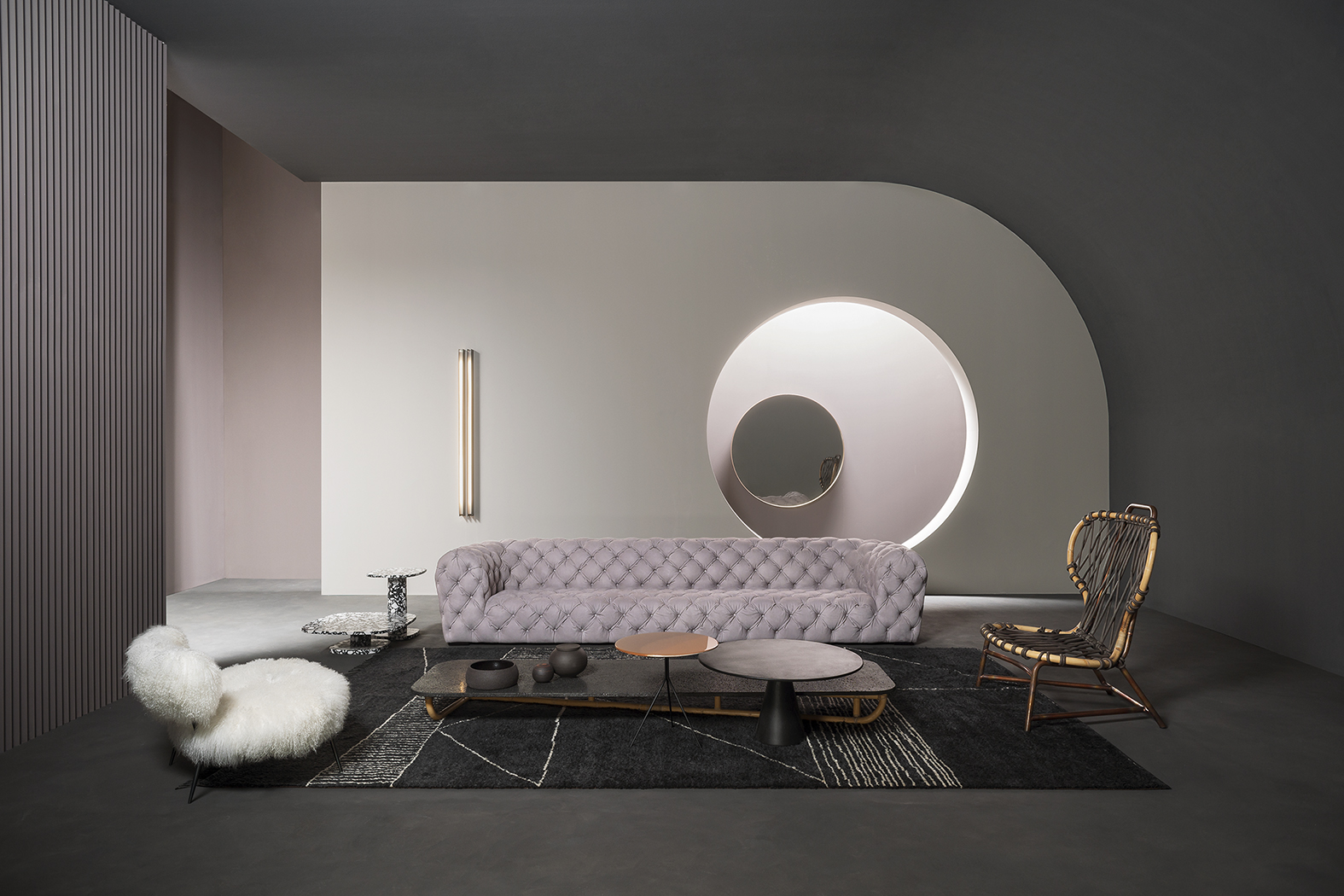 The problem with off-sized mattresses is where to find sheets, but the Florida King (available in four different customizable mattresses and two color options), lets you choose among a la carte sheets, duvets, duvet covers and mattress covers.
As for sofas big enough to fall asleep in, the Italian Baxter brand—the showroom is located in the Miami Design District—is as known for its long lines and deep seating as it is for its supple, high-quality leather. "During the spring, we met a new client, an international actress," says Baxter's director Elizabeth Potter. "She's designing her first home in Miami, and with the pandemic here to stay, she knows her entire family will be hunkering down together for many months to come. Her vision was to create two separate living spaces that could hold everyone together in a comfy lounge feeling."
Baxter worked with her client so that each sitting area would feature custom depth seating to fill the entire space—a cinema room for screenings and a living room for large family gatherings adjacent to the dining room. Baxter's Alfred sofa (designed by Marco Milisich) and the Budapest (Paola Navone) are perfect for cuddling, while the commanding Chester Moon sofa, also designed by the renowned Navone, is boldly horizontal. Easily identifiable by its quilted button back and hand-made capitonné work, at 355 centimeters this is one long sofa. (Baxter prefers to stick with the "Italian metric" system.)
Meanwhile, for Fernan Hernandez and Holger Odenstein of Miami's Morada-Haute Furniture Boutique, bigger is almost always better. The life partners and company principles develop pieces with couples in mind. Perhaps the best example of this personal emphasis is their signature daybed, the Nube Royal (Royal Cloud), distinctive for its upholstered seating and metal sides (featured image above). (For nearly endless customization, select from 10 metal colors and numerous fabrics, velvets, leathers, including nubuck). 
"The extra-wide seating area makes it comfortable for a couple to relax or cuddle in," Hernandez says. "The low, open and confluent design make it a harmonic piece that can be used in a living room setting or in a master bedroom, and the ergonomically curved sides allow for what we call 'Tu y Yo' seating for loving conversations."
Featured article image: The Nube Royal (Royal Cloud) daybed from Morada-Haute Furniture Boutique in Miami