A true Miami creature—at once local and global—Marcel Katz started out creating graffiti art in Paris before moving on to promoting nightclubs in the Magic City. He came from a French family of aesthetes (his mother was an oil painter and his brother was a street art curator), and visions of Rothko and Keith Haring danced in his head as a youth. He seemed fated to become an art dealer.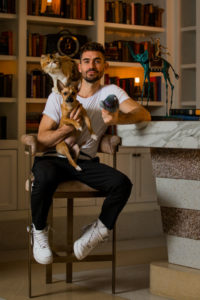 Through his agency, the Art Plug, Katz represents more than 50 artists. But none of them appeals to Katz's performative eccentricities like Salvador Dalí, so much so that Katz emerged, by age 30, as a noted collector of the Catalan surrealist (1904-1989) and the world's youngest authorized Dalí dealer. Katz is given to channeling his idol: "I am an exhibitionist," he has said. "Dali's influence on surrealism and culture has shown me that the creative spirit is what influences a generation of young people. Nothing is out of reach. Let your imagination show you the realities of life. If you can think it, you can do it." 
Until Jan. 17, to visit the gallery at the Confidante Miami Beach hotel is to gain entry into the world of both Katz's obsession and his entrepreneurial elan, for he has partnered with French New York-based art consultant and expert Bertrand Epaud to debut Miami's first-ever Dalí exhibition. "The Real Surreal" features a museum-quality collection of rare and treasured modern paper works and a selection of bronze sculptures, anchored by the 10-foot 1,000-pound Saint George and The Dragon. The price tag: $1.3 million. 
Other notable pieces on display include an engraving of a pair of nudes, Des Rois Pendus aux Arbres (Kings Hanging in the Trees; $9,000) and the fanciful lithograph Puzzle of Life ($4,500). Even those with a casual familiarity with the master's work will be drawn to the green and gold sculpture Dance of Time ($23,500), which evokes the melting pocket watches from one of Dalí's most celebrated paintings, The Persistence of Memory.
For those who may be a little wary of checking out Saint George, the melting watch and the other visual delights on display, The Confidante has everything in hand with respect to COVID-19 precautions. CDC guidelines are enforced, and the fact that tickets must be purchased in advance—to reserve a viewing time slot—means you can move around easily without getting too close to anyone. Of course, masks are required and the gallery is dutifully sanitized between showings. Sanitation stations are also available throughout the hotel property, which is as inviting as ever—notable for an unfussy modernism defined by curved spaces, and a pleasingly rambling garden that leads to twin, cabana-lined pools that run parallel to the coastline. 
Art Basel might have been scaled back in 2020, but the hotels of Miami Beach continue to identify themselves with visual art through events, takeovers and semi-permanent installations. With the Dalí exhibitions, The Confidante joins the Sagamore, the National and other South Beach hotels that have invested significant resources in an effort to heighten their art world profiles. "This collaboration brings to light exactly what the Confidante Miami Beach represents—an audacious and carefree, yet playful spirit and energy," enthuses Amy Johnson, general manager at the Confidante Miami Beach. "We're excited to partner with Marcel Katz to continue transforming our hotel spaces into a platform of creative expression for our Miami art community and beyond." 
What the partnership represents is that special Miami alchemy of creativity, showmanship, resourcefulness—and a can-do attitude. Salvador Dali once memorably said, "The only difference between me and a madman is that I'm not mad." Katz is partial to the quote. "I can relate," he says. "Crazy doesn't execute."
Featured image: Salvador Dalí's Dance of Time is on display at the Confidante Hotel on Miami Beach, in a show curated by Marcel Katz.