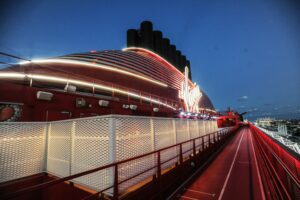 Virgin Voyages, the recently launched lifestyle travel brand offering year-round cruises out of Miami, recently partnered with Patricof Co. (P/Co) to secure more funding for future expansion. Patricof Co. is a private investment platform consisting of professional athletes, including Venus Williams of Palm Beach Gardens and Miami Dolphins players Xavien Howard and Byron Jones and Udonis Haslem of the Miami Heat. P/Co will work with Virgin Voyages to establish an Athlete Advisory Council, which will play an integral role in shaping the future of the product and the experience on Virgin Voyages. The athletes will also collaborate with the brand on sustainability initiatives.
"It's a win-win situation because it's a great way for these athletes to diversify their portfolio," says Tom McAlpin, president and CEO of Virgin Voyages. "And it's good for us to get a little more access to a different channel of capital."
Virgin Voyages launched its first ship, Scarlet Lady, out of PortMiami in October. The company plans to have one ship sail out of Miami permanently through a newly constructed $165 million terminal to accommodate the vessel. With 1,330 cabins and 78 RockStar Quarters, 86% of the Scarlet Lady cabins feature a balcony, with 93% having an ocean view. Virgin Voyages provides an adult-only experience for the 18+ traveler with over 20 unique dining options, vast entertainment and wellness-forward programming.
"Miami is the cruise capital of the world and it's great to have a ship that can operate year-round here," McAlpin says. "You might see ships flip flop, but we'll always have one ship out of Miami."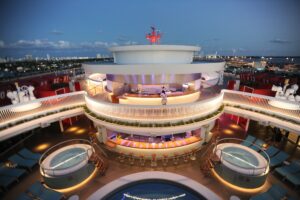 The brand currently has four ships on order with master shipbuilder Fincantieri with plans to operate a fleet of four ships by 2023.
"We are we're getting up to scale pretty quickly With a diversity of investors in the portfolio," McAlpin says. "Our whole business premise was about creating an epic sea change for all. The business is all about creating a differentiated experience. We don't want people to come away feeling like they're nickel and dimed. We have more five-star ratings on TripAdvisor for our ship than any other ship that's out there. So that says a lot about the overall experience that people are having."