In a blizzard of activity, President Joe Biden has executed a slew of executive actions since taking office, touching on business, the pandemic, the environment, immigration and other areas. The popular statistical website 538 rounded up public opinion (based on polling by Ipsos and Morning Consult) on 14 representative executive actions, and found the following: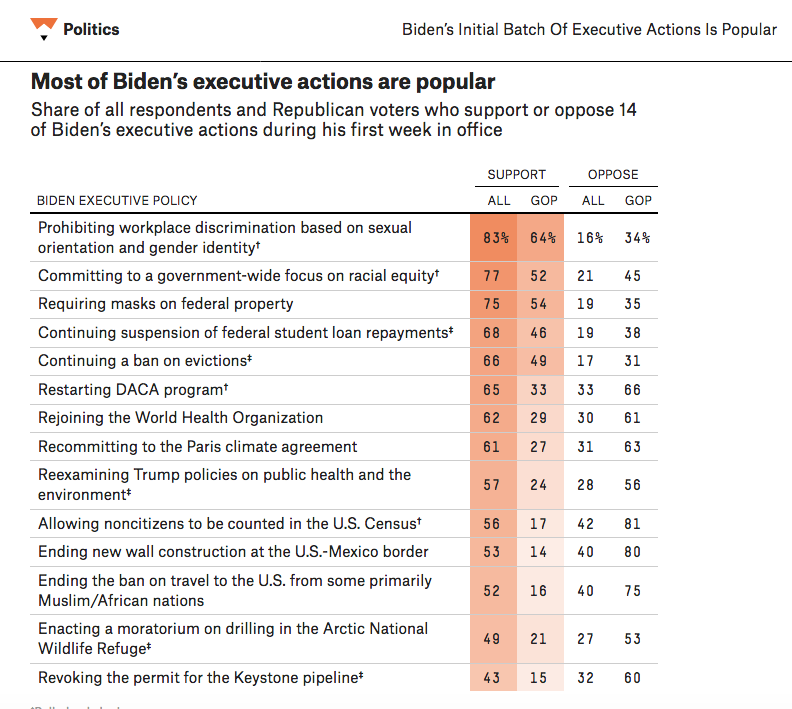 Here's our interpretation. Americans, in large numbers, support setting a limit on what businesses can do—in one narrow area, as 83% of respondents (including 64% of Republicans) approve of Biden's order prohibiting workplace discrimination based on sexual orientation and gender identity, reflecting overwhelming support for the LGBQ community. In a July 2020 decision, the Supreme Court barred such discrimination based on the 1964 Civil Rights Act, but Biden's action "builds on the high court's decision, directing any federal agency with protections against discrimination based on sex to interpret those statutes to also protect against discrimination based on sexual orientation, gender identity and gender expression," according to NBC News.
Biden's action concerning race—committing to a government-wide focus on racial equity—polled nearly as high, with 77% percent of respondents and 52% of Republicans signaling their approval, suggesting that support for racial equity in response to the death of George Floyd last May has staying power. Support for people of color could be found elsewhere: Smaller majorities of respondents also expressed support for restarting the DACA program and allowing non-citizens to be counted in the U.S. Census.
The only other executive action to enjoy majority support generally (75%), as well as among Republicans (54%), is the President's mandate to wear masks on federal property—though continuing suspension of federal student loan repayments and continuing a ban on evictions came close to hitting those numbers. In sum, majorities of respondents approved of 12 of the 14 executive actions reviewed by 538, reflecting that Biden's spending of political capital in the first days of his Administration is reaping dividends.