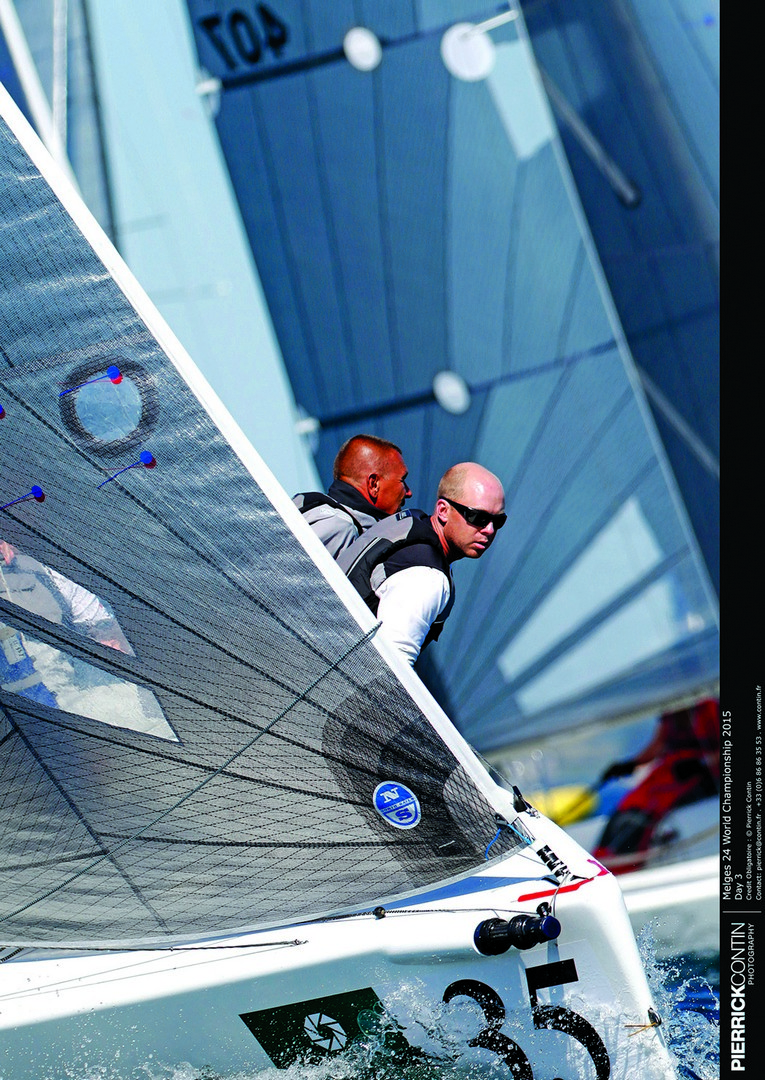 With Wind in Their Sails
Melges24 World Championship likely to bring a windfall and visual spectacle to South Florida
By Martin Lenkowsky
Thanksgiving weekend in South Florida this year will mean more than turkey and stuffing, with the start of Miami's first Melges24 World Championship.
More than 100 sailboats and 500-plus crew members from up to 20 countries are expected to participate Saturday, Nov. 26 through Saturday, Dec. 3.
Although Miami has never hosted this regatta, previous Melges24 Worlds have been held in South Florida – in Key Largo and Key West – and race organizers are eager to come. "The time of the year is great," says Regatta chair Randy Draftz. "The weather is great, and Miami is always a draw for Europeans. It's a great spot for international tourism."
South Florida is a traditional mecca for sailing. "Some people leave their boats in Miami and come down to race them," says Draftz, of Charleston, S.C., adding that he wants to buy a boat and keep it in Miami.
The Melges 24 sailboat takes its name from its 24-foot length. It was introduced in 1993 by the Melges family of Zenda, Wisconsin, on the heels of Olympian Buddy Melges' victory in the America's Cup, aboard Bill Koch's America3, the previous year. "At the time, it was a 'breakthrough boat,'" Draftz says. "It was very lightweight, 1,750 pounds, easy to rig and incredibly fast."
The yearly Melges24 World Championships started in England in 1998.
This year's regatta could be a record-breaker with 125 boats signed up, says spokesman Tim Browne. One reason: Participants want to compete in Miami, he says. "It's one of the best places in the country for sailing."
South Beach is also a big draw. "Sailors like to party after working hard all day," he says.
Browne expects an economic windfall for Miami. "With the 500-plus sailors, their families, crew members and coaches, there'll be a couple of thousand people," he says.
The best place for spectators to see the regatta is on a private boat or yacht – on the water, Browne says.
The course – just south of Government Cut – is the same for the entire run of the race, using Island Gardens Marina on Watson Island as its base of operations. Draftz says organizers chose Island Gardens because of its dock capacity and its proximity to the Miami Yacht Club.
Marieke van Peer, manager for Island Gardens Deep Harbour, says the race will be the biggest event the marina has hosted since its January opening – and a change of pace for the venue. "It's not normally what we do," she says. "It's a yacht marina. It takes a bit of creativity for small boats."
Van Peer says people interested in seeing the sailing craft can view them from Island Marina's outdoor restaurant lounge, The Deck. "It's going to be a beautiful event, watching the boats sail out," she says. "Families can do a day trip on Watson Island. There's Jungle Island and a children's museum."
Christopher Rast, a dual Swiss-American citizen, won last year's championship in Denmark. He'll be in Miami, saying local waters can deliver excellent racing conditions if a nice easterly or northeasterly breeze comes in – and the Melges 24 is a good vessel for it. "It's a great-size boat, easy to manage, to sail with your friends and family, to trailer around," he says.
Browne says the competitors, many of them amateurs, are some of the world's best. "It's kind of a Who's Who of the best yachtsmen in the world," he says.
Jacksonville native and resident Steve Suddath will be competing, too. He started sailing when he was 15 and was part of the Florida State University sailing team. "I'm 62 and have decided to do the Worlds in spite of not sailing much over the course of many years," he says.
"I love competing against the best and learning from these teams that are so committed to the sport," he adds. "There are few sports where amateurs can get on the same court or field with the very best the sport has to offer." ↵
MELGES24 WORLD CHAMPIONSHIP 2016
Schedule
• Saturday, Nov. 26 to Monday, Nov. 28: Measurement and registration
• Monday, Nov. 28: Practice race and opening ceremony
• Tuesday, Nov. 29, to Saturday, Dec. 3: Championship competition
Location
• Docking: Island Gardens Marina, Watson Island
• Course: Open ocean just south of Government Cut channel
Information
• Event: melges24worlds.com
• Island Gardens: islandgardens.com
• Contact: Randy Draftz, regatta chairman, rdraftz@charlestonyachting.com