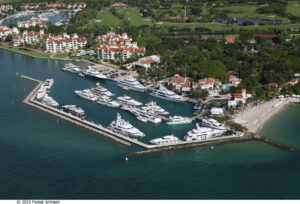 The 33rd Annual Boys & Girls Clubs of Broward County (BGCBC) Yacht Rendezvous will gather luxurious yachts together for one of the most spectacular yachting events in the world. It was founded by Rita and Rick Case and lasts from Nov. 4 to Nov. 6 at the Fisher Island Club in Miami Beach. The weekend features a formal Black Tie Gala and a Costume and Dance Party to help raise money for the Boys & Girls Club, which provides after-school programming to children.
"The Boys & Girls Clubs of Broward County's Yacht Rendezvous is one of the largest gatherings of mega-yachts for charity in the world," says Matt Organ, co-CEO of the Boys & Girls Clubs of Broward County. "All dollars raised directly benefit the youth attending the Boys & Girls Clubs of Broward County. To date, the event has raised more than $30 million for our organization and the more than 12,000 at-risk youth it serves. The BGCBC is forever grateful to Rita & Rick Case for creating and developing this mega event three decades ago."
The Fisher Island Marina is capable of handling over 20 yachts. Guests will choose their accommodations, including the option to spend the weekend on their ship on Fisher Island or at the Marriott Stanton, where they can access the resort's amenities featuring spa retreats, golf, tennis and pool and beach access.
On Fisher Island, the weekend kicks off Thursday, Nov. 4, with a VIP Welcome Reception. The Ports of Call "Costume and Dance Party" occurs on Friday, Nov. 5, where guests dress up in costumes and dance all night on Fisher Island. On Saturday, Nov. 6, guests can enjoy activities with Boys & Girls Clubs members during the daytime and a formal Black Tie Gala at night with a live performance by Colbie Caillat, a two-time Grammy Award-winning singer-songwriter. 
The gala will also feature the induction of philanthropist Larry DeGeorge into the Dream Makers Society. Dream Makers inductees are individuals who have established a long-term commitment to the Boys & Girls Clubs of Broward County for at least 10 years, have played a vital role in developing a program or event and have contributed over $1 million. Dream Makers Society members include Felix Sabates, Rita and Rick Case, Florence & Lawrence J. DeGeorge, Marti and Wayne Huizenga, James E. McDonnell IV, Linda & Douglas Von Allmen, Mary Anne and Richard Kull, Christine Lynn, Terry Taylor and Deborah and Gary Wendt and Christy amd& Larry Hierholzer.
"Helping one of the most viable nonprofit organizations in South Florida, The Boys & Girls of Broward County, to take care of our youth is the greatest way to give back," DeGeorge says. 
For more information or to purchase tickets, visit YachtRendezvous.com